Healthy Holiday Dessert Recipes
The holiday season can be a time to get together with friends and family over food, but it can also be difficult to eat healthy. National Jewish Health's team of dietitians in Clinical Nutrition Services help patients with their nutrition-related health concerns, and have also helped us recipes for some holiday treats.
Award-Winning Old-Fashioned Pecan Pie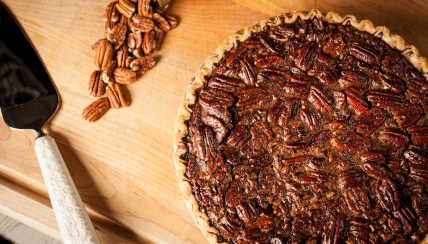 One of National Jewish Health's dietitians claimed a second place in the National Pie Championships with this recipe. Who says dessert can't be a little bit more nutritious and delicious? This recipe minimizes the butter content (but did not eliminate it), and reduced the brown sugar in the filling. Notice the kick of Kentucky bourbon whiskey, and touch of cinnamon for subtle depth and flare.
A special touch is that this recipe also uses a pie crust made with canola oil instead of Crisco or butter. Making crusts with oil is not only easier to make than traditional crusts, but they are also easier to work with too. Learning how to make an oil crust may require a little practice and skill, but it's worth it!
Ingredients
3 extra-large eggs
2/3 cup packed light brown sugar
¼ cup melted butter
½ tablespoon flour
¼ teaspoon salt
1/8 teaspoon cinnamon
1 teaspoon vanilla
¼ cup molasses
¾ cup light corn syrup
1 tablespoon bourbon
1 ½ cup pecan pieces
Bake at 375 degrees F in a 9-inch pie pan for 45 minutes or until done (the filling will "rise" from the steam inside the filling while baking, and will "jiggle" a little when done). Cool and enjoy!
Canola Oil Pie Crust
Ingredients
9-inch double pie crust (half the recipe for a single crust pie like pecan pie)
3 cups all-purpose flour
2 teaspoon salt
2/3 cup canola oil, exactly
4 tablespoon water
1 tablespoon white vinegar
1 extra-large egg
Directions
Mix flour and salt together with a fork in a large bowl.

Pour in oil slowly, mixing continuously with a fork until you have a crumbly mixture. There should be a dusting of flour still apparent on the dough crumbles. Too much oil will make for a dense crust that is not tender and flaky, and too little oil will make it hard to roll out the dough as well as make for a crust that is not quite as good.

Mix water, vinegar and egg in a separate bowl. Add liquids to the crumbly dough with the fork until it becomes a cohesive, somewhat sticky ball. Scoop dough up in hands and press into one ball. Divide dough into 2 equal pieces.

Immediately roll out the dough between floured wax paper or cling wrap.

Oil your 9-inch pie pan and line with the dough.
---
Double Dark Chocolate Brownies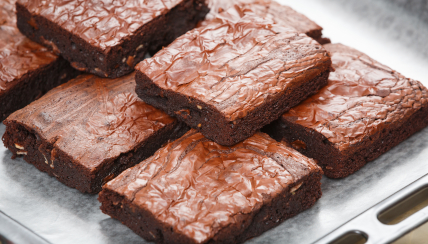 These wonderfully rich double dark chocolate brownies are made with heart healthy canola oil that is high in monounsaturated fats and may improve your cholesterol levels.
Cocoa, being a bean, is also rich in a group of phytochemicals called flavanols, which may improve blood flow and the function of your blood vessels.
A heart healthy oil works as well as or better than butter, shortening or margarine in baking, especially when you are talking about a brownie, cake, pastry, pie crust or quick bread. Try using canola, corn, olive, sunflower and just about any non-tropical vegetable oil in baking.
Since oils and shortening are 100 percent fat, and butter or margarine is 80 percent fat, you only need to use three-fourths of the amount of oil when the recipe calls for butter or margarine. For example, if a recipe calls for 12 tbsp. of butter, then substitute 9 tbsp. of oil and add a little extra moisture (use water or larger eggs) to make up the lost volume of moisture in the recipe.

"This is a heart healthy-fat dessert option for a special occasion. Enjoy!"
– Michelle MacDonald, RD, MS, CDE
Ingredients
9 tbsp. canola oil (as a substitute for ¾ cup or 12 tbsp. melted butter)
1 ½ cups sugar (may reduce per your own preference and taste)
1 ½ tsp. vanilla extract
3 eggs (use extra-large eggs for added moisture)
¾ cup all-purpose flour
½ cup Hershey's unsweetened cocoa
½ tsp. baking powder
½ tsp. salt
1 cup Ghirardelli semisweet chocolate chips
½ cup coarsely chopped nuts (optional)
Directions
Heat the oven to 350 degrees F. Grease an 8-inch-by-8-inch pan with canola oil.

In bowl, stir together oil, sugar, vanilla. Add eggs; beat well with spoon.

Stir together flour, cocoa, baking powder and salt. Gradually add to egg mixture, beating until well blended.

Stir in chocolate chips and nuts. Spread batter evenly into prepared pan.

Bake 40-45 minutes, until brownies begin to pull away from sides of pan. Cool for 10 minutes, and serve with fresh fruit.