Chronic Obstructive Pulmonary Disease (COPD)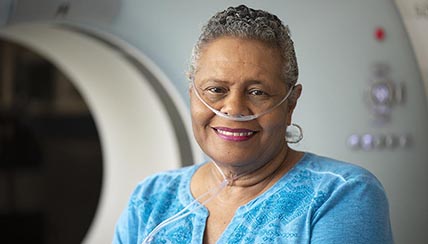 Chronic obstructive pulmonary disease (COPD) describes a group of diseases where airflow in the lungs is limited. COPD is a progressive lung disease and affects millions of people each year. The most familiar diseases in this group are emphysema and chronic bronchitis. A person with COPD may have emphysema or chronic bronchitis; many have both.
If you or a loved one has COPD, National Jewish Health in Denver, Colorado, has the experts you need. Designated as a COPD high performing hospital for 2022-23 by U.S. News & World Report, National Jewish Health also continues to be a top hospital for pulmonary care. Our multidisciplinary team of respiratory specialists will create an individualized plan of care, based on your specific needs.
Our doctors are researchers too, so you will have access to the latest COPD clinical trials and most effective treatments.
Our COPD Program provides:
Advanced diagnostic testing and treatment options for COPD
Surgical options for COPD patients
Specialized pulmonary and physical rehabilitation programs
Personalized education and group classes
Our goal is to help you manage your COPD and to live a full and active life.
Learn more about our COPD Program.
---
Doctors
Ron Balkissoon, MD, MSc, DIH, FRCPC

David A. Beuther, MD, PhD, FCCP

Russell P. Bowler, MD, PhD

Gregory P. Downey, MD

James H. Finigan, MD

Kristen Glisinski, MD

Steven E. Lommatzsch, MD

Vipin Malik, MD

Laurie A. Manka, MD

James K. O'Brien, MD, FACP, FCCP

Irina Petrache, MD

Katherine Rosen, RN, MSN, ANP-C

Howard Saft, MD, MS

Michael D. Schwartz, MD, FCCM

Elaine M. K. Schwartz, MD, FCCP

Jennifer Sederberg, NP

Evan L. Stepp, MD

Ellen Volker, MD, MSPH

Michael E. Wechsler, MD, MMSc

James Woodrow, MD
Patient Stories
---
Patients come here from around the world to receive treatment they can't find anywhere else.
---