Serving healthy holiday fare seems like a contraction in terms, but most recipes have room for improvement. Our dietitians reviewed four holiday recipes and found ways to make them more nutritious without sacrificing great taste and texture. Give them a try!
Caramelized Onion and Cornbread Stuffing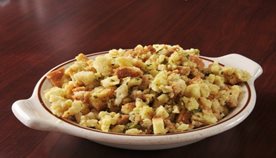 The main issues with this recipe are the high-calorie, high-sodium ingredients and poor quality fats. Butter and heavy cream are high in calories and saturated fats. Substitute extra-virgin olive oil for butter to reduce the saturated fat by 10 grams or 70 percent. Increase the heart healthy monounsaturated fats by substituting half and half for the heavy cream to save 120 calories and reduce the saturated fat by 10 grams or 70 percent. Choose low sodium chicken stock to reduce the overall sodium by 30 percent. Use a cornbread recipe that also contains good quality fats from corn oil or extra-virgin olive oil such as the one suggested below.
Ingredients
2 tablespoon extra-virgin olive oil
2 onions, chopped
Cornbread (see recipe)
1 egg
¼ cup half and half
¼ cup low sodium chicken stock
Handful fresh sage leaves, chopped
Salt and freshly ground black pepper
Directions
Preheat the oven to 375 degrees F. Heat the olive oil in a medium skillet over medium heat (avoid overheating the oil which causes it to smoke). Add the onions and cook, stirring, for about 10 minutes, or until soft and caramelized. Add sage and scrape into a large mixing bowl. Add the cornbread in pieces, season well with salt and pepper, and toss until it's well combined. In a separate bowl, whisk together the egg, half and half and stock, and poor that over the cornbread. Stir until thoroughly mixed and stuff the cavity of the turkey. You could also spoon it into an oiled baking dish and put it in the oven along with the turkey. Bake until hot and crusty on top, about 30 minutes.
Corn Bread
1 ¼ cup all-purpose flour
¾ cup cornmeal
¼ cup sugar
2 teaspoon baking powder
½ teaspoon salt
1 cup 1 % milk
¼ cup vegetable oil (corn oil or extra-virgin olive oil)
1 extra-large egg, beaten

Preheat oven to 400°F. Grease an 8- or 9-inch baking pan. Combine dry ingredients. Stir milk, oil and egg together and add to dry ingredients, mixing just until dry ingredients are moistened. Pour batter into prepared pan. Bake 20-25 minutes or until light golden brown and wooden pick inserted near center comes out clean.
Potato Pancakes
The main problem with traditional potato pancakes is the fact that they are fried in a lot of oil which makes them greasy and very high in calories. We suggest slicing the potatoes into wedges or chopping into cubes, tossing them with extra-virgin olive oil to coat and a little salt and pepper, and roasting them until browned and crisp at 425-450 degrees F. Alternatively, try an even more nutrient-dense dish of spiced and roasted winter vegetables.
Spiced and Roasted Winter Vegetables
Ingredients
1 winter squash (any variety), peeled and sliced into wedges
1 parsnip, peeled and sliced into 1-inch pieces
1 sweet potato, cut into wedges
1 carrot, peeled and cut into wedges
1 red onion, peeled and cut into wedges
2 Yukon Gold potatoes, cut into wedges
4 cloves garlic, peeled
½ teaspoon kosher salt
½ teaspoon black pepper
Extra-virgin olive oil
½ tablespoon brown sugar
1 teaspoon cinnamon
1/8 teaspoon ground cardamom
3 whole star anise
1 tablespoon fresh thyme
Directions
Preheat oven to 400 degrees F. In a large mixing bowl, mix the vegetables, salt and pepper with enough olive oil to just coat. In a separate bowl, mix together the brown sugar, cinnamon, cardamom and star anise. Put the vegetables in a roasting pan and bake for 25 minutes. Add the sugar and spice mixture to the vegetables, stir well and continue to roast another 10-15 minutes until the vegetables are tender. Mix the fresh thyme with 1-2 Tbsp. oil and pour over the cooked vegetables. Serve immediately.
Award-Winning Old-Fashioned Pecan Pie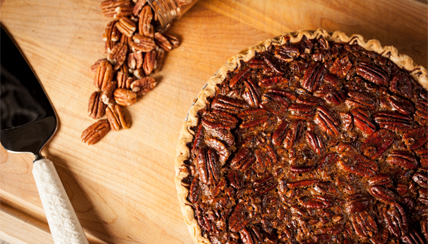 One of our dietitians claimed a second place in the National Pie Championships with this recipe. Who says dessert can't be more nutritious and delicious? This recipe minimizes the butter content (but did not eliminate it), and reduced the brown sugar in the filling. Notice the kick of Kentucky bourbon whiskey, and touch of cinnamon for subtle depth and flare. A special touch is that this recipe also uses a pie crust made with canola oil instead of Crisco or butter. Making crusts with oil is not only easier to make than traditional crusts, but they are also easier to work with too. Learning how to make an oil crust may require a little practice and skill, but it's worth it!
Ingredients
3 extra-large eggs
2/3 cup packed light brown sugar
¼ cup melted butter
½ tablespoon flour
¼ teaspoon salt
1/8 teaspoon cinnamon
1 teaspoon vanilla
¼ cup molasses
¾ cup light corn syrup
1 tablespoon bourbon
1 ½ cup pecan pieces

Bake at 375 in a 9" pie pan for 45 minutes or until done (the filling will "rise" from the steam inside the filling while baking, and will "jiggle" a little when done). Cool and enjoy!
Canola Oil Pie Crust
Ingredients
9" double pie crust (half the recipe for a single crust pie like pecan pie)
3 cups all-purpose flour
2 teaspoon salt
2/3 cup canola oil, exactly
4 tablespoon water
1 tablespoon white vinegar
1 extra-large egg
Directions
Mix flour and salt together with a fork in a large bowl.

Pour in oil slowly, mixing continuously with a fork until you have a crumbly mixture. There should be a dusting of flour still apparent on the dough crumbles. Too much oil will make for a dense crust that is not tender and flaky and too little oil will make it hard to roll out the dough as well as make for a crust that is not quite as good.

Mix water, vinegar and egg in a separate bowl. Add liquids to the crumbly dough with the fork until it becomes a cohesive, somewhat sticky ball. Scoop dough up in hands and press into one ball. Divide dough into 2 equal pieces.

Immediately roll out the dough between floured wax paper or cling wrap.

Oil your 9" pie pan and line with the dough.
Soft Ginger Cookies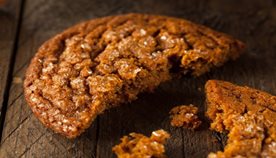 Cookie recipes often call for margarine which has trans fats. Replace the margarine with a saturated fat such as butter or coconut oil, or a more healthy buttery spread such as Smart Balance®.
Enjoy 1 or 2 cookies instead of 3 or 4 or more.
Ingredients
2 ¼ cups flour (may use ½ all-purpose flour and ½ whole-wheat flour)
2 teaspoon ginger
1 teaspoon baking soda
¾ teaspoon ground cinnamon
½ teaspoon ground cloves
¼ teaspoon salt
¾ cup butter or coconut oil or Smart Balance
1 cup sugar (may reduce to 2/3 cup)
1 egg
1 tablespoon water
¼ cup molasses
2 tablespoon sugar (for rolling cookies)
Directions
Preheat oven to 350 degrees F. Sift together the flour, ginger, baking soda, cinnamon, cloves and salt. Set aside. In a large bowl, cream together the butter, buttery spread or coconut oil and 2/3 to 1 cup sugar until light and fluffy. Beat in the egg, and then stir in the water and molasses. Gradually stir the sifted ingredients into the molasses mixture. Shape dough into walnut sized balls, and roll them in the remaining 2 tablespoons of sugar. Place the cookies 2 inches apart onto an ungreased baking sheet, and flatten slightly. Bake for 8-10 minutes in the preheated oven. Allow cookies to cool on baking sheet for 5 minutes before removing to a wire rack to cool completely. Store in an airtight container.