Center for Outpatient Health Now Open to Serve Patients
The National Jewish Health Center for Outpatient Health opened its doors to patients this week. Located on the main Denver campus, it was designed to help serve increasing numbers of children and adults, while also enabling expanded space for research and education and other clinical services in other areas of the campus. The new attached parking garage adds 400 spaces for patients and allows for easy access to the new Center.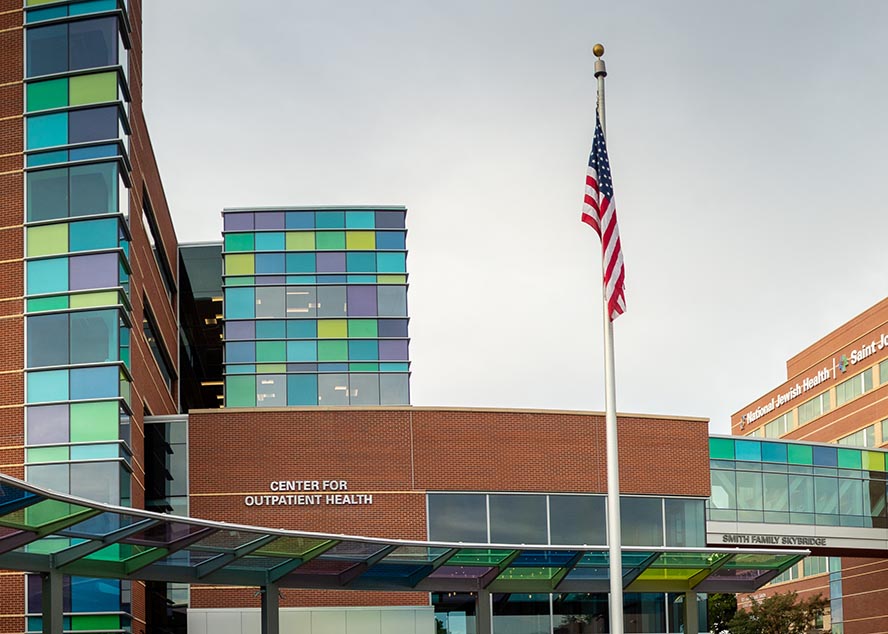 "When we began planning this facility, we knew we needed more space in order to maximize the time that our practitioners could spend with patients, 'listening to them,' evaluating their situations, offering the latest clinical research trials, all of which we believe is critical in finding answers," said Michael Salem, MD, president and CEO of National Jewish Health. "For the millions of Americans who suffer every day with the diseases we treat and research, our Center for Outpatient Health could not come soon enough."
The five-story Center includes 110 exam and treatment rooms, nearly doubling the previous amount of space for patients. Caregivers will treat children and adult patients for a wide variety of illnesses, from COPD, to asthma, allergies, cancer, rheumatologic conditions and more. Additional space is also dedicated to a variety of procedures and access to the latest testing and treatments.
Below are just a few examples of how the Center for Outpatient Health will improve life for our patients and providers.
Expanded time with patients
The 110 patient-care rooms in the Center offer more time and space for patient/caregiver interaction, including opportunities to focus on patient education. Often, after one of our physicians sees a patient, a nurse or other specialist will follow-up with important treatment-related education, part of what makes National Jewish Health care so life-changing.
"It's important for nurses to have these conversations, but if a provider only has one room, those conversations could tie up a room for as much as half an hour," said Carrie Horn, MD, chief medical officer and chief of the Division of Hospital & Internal Medicine at National Jewish Health. "By having more rooms, we have a lot more opportunities to get our nurses and other caregivers back to the patient to provide education."
Dedicated National Jewish Health for Kids Space
The Center has custom-designed space for children as well as dedicated space for adults. The fifth floor houses our pediatric pulmonary, behavioral health and allergy/immunology clinics, all which feature colorful themes and kid-sized furniture. Dr. Horn explained that in addition to keeping kids safer by limiting exposure to unknown adults, the pediatric sections are meant to reduce kids' stress levels.
"Going to the doctor can be really scary for kids. By providing a kid-friendly environment, they're going to feel more comfortable and at ease with their health care," said Dr. Horn.

"For the millions of Americans who suffer every day with the diseases we treat and research, our Center for Outpatient Health could not come soon enough."
- Dr. Michael Salem, President & CEO
New Infusion Center
The 17-bed infusion suite on the third floor was specially designed for comfort and includes the latest state-of-the-art infusion equipment. This space serves patients living with cancer and delivers critical, biologic infusion medications to those with immune-related diseases. Each infusion station is separated by dividing walls. In addition to providing patients with more privacy and improves the caregiver's ability to focus on one patient at a time.

Watch our construction time-lapse video to see how it all came together.
Read Our Press Release: National Jewish Health Opens Center for Outpatient Health
More Parking, Less Walking
The attached parking structure, along with adjacent surface spaces, provides more than 400 accessible parking spaces for patients. The addition of close parking makes visiting for appointments easier. Free valet parking will also continue to be available which is helpful for those patients who have limited capacity for walking.
Collaborative Physician Work Rooms
Dr. Horn said designers were very thoughtful in how they planned work room space for the providers, enabling them to work with their colleagues more efficiently and effectively. Collaboration is one of the key differences in the care offered at National Jewish Health.
Physicians who see patients with similar illnesses or who may consult on the same patients are intentionally located in the same work rooms. This improves communication and collaboration, which is positive for patients.
Primary Care Providers
The Center for Outpatient Health includes a large clinic area for primary care practice providers from our partners at SCL Health to see patients.
"Primary care doctors do a good job of making sure patients are doing the right thing for their age and risk factors, like keeping track of their cholesterol or reminding them to get mammograms," said Dr. Horn. "We want our specialty doctors to be able to focus on their roles and now if a patient needs to see a primary care doctor in our facility, they can do that."
A Spacious Waiting Area and New Pharmacy, Gift Shop and Café
The Center for Outpatient Heath also features a few first floor amenities our visitors are sure to appreciate, with a spacious check-in and waiting area. Further down the lobby is the conveniently located pharmacy which includes a Gift Shop, where visitors can purchase snacks, small gifts, toiletries and over the counter medications. And soon, we will open the Café, where visitors will be able to purchase coffee, tea and baked goods.
Overall, the building is designed to be open and inviting for patients, as it supports the delivery of world-class care for all patients.