Research History (3 of 3)
By 1981, National Jewish was recognized internationally as the leading medical institution for the study and treatment of chronic respiratory, allergic and immune system disorders.
Two highly significant research discoveries were made at National Jewish in the 1980s.
The isolation and identification of one of two genes that code for the human T cell receptor, a key immune system component.

The discovery of superantigens, bacterial or viral toxins which massively stimulate disease-fighting T cells, often with harmful effects, such as attacking the body's own cells.
These two discoveries revolutionized thinking on how the immune system recognizes foreign invaders and mounts it defense. This discovery also led researchers to explore the link between T cells and HIV.
Research in the 1990s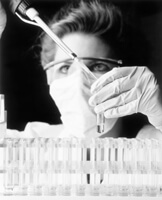 Research efforts doubled in the 1990s, and in 1995 Science Watch rated National Jewish as the top private institution in immunology research in the world. By the mid 1990s, the institution research parameters also expanded to include lung cancer studies as well as a cooperative project with Colorado's Fitzsimons Army Medical Center to help evaluate Persian Gulf War veterans with chronic medical symptoms.
During this decade, research of pediatric asthma also continued to be paramount as specialists designed effective drug regimens to keep children from all socioeconomic levels with severe, life threatening asthma alive and out of the ER.
In 1999, National Jewish established two important research programs:
An unprecedented partnership with the University of Colorado Denver, forming the Integrated Department of Immunology.

The Harry and Jeanette Weinberg Clinical Research Unit opened and completed more than 70 studies in its first year, on subjects ranging from asthma to COPD, drug effectiveness and depression.
A New Millennium for Discovery
During the new millennium, chronic obstructive pulmonary disease (COPD) became a major focus in research at National Jewish. A number of other notable research efforts also got underway, including research to perfect an experimental lung surgery; attempt to develop stronger, safer vaccines; investigations to look for better ways to treat food allergies; and advancing the field's understanding of cystic fibrosis.
Decade of Innovation
In 2007, the board approved a new strategic plan which called attention to personalized healthcare as an emerging trend, enabled by technology, knowledge of genetics and biology, economics and consumerism. Personalized medicine presented opportunities to enable healthcare practices to be increasingly patient-specific by taking into account individual differences in health states, disease processes and outcomes from interventions. This new goal of proactive, individualized medicine required a more complete research continuum to further integrate clinical care with translational and basic science research at the point of the patient.
As part of this new emphasis on personalized medicine, new programs were introduced including the Institute for Advanced Biomedical Imaging, the Advanced Diagnostics Laboratories, the Center for Genetics and Therapeutics, and the Integrated Bioinformation and Specimen Center.
Read about National Jewish Health's clinical history.
Read about National Jewish Health's academic history.