Clinical History (3 of 3)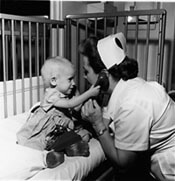 As it entered the 1960s, National Jewish, was a 60-year-old TB hospital, enthusiastically starting a new mission. By then, TB patients comprised only half of the patient population and asthma patients a third. Most of the remainder were cardiac surgery patients. During the early 60s, the hospital treated a wide range of other lung diseases, including emphysema, chronic bronchitis and cystic fibrosis. And it treated more cases of bronchiectasis, silicosis, sarcoidosis and fungus infections of the lungs.
As the hospital continued to extend its reach, it began creating new clinical programs and developing innovative medical technology. It developed a pediatric facility called the Children's Treatment Center allowing it to meet the needs of an increasing pediatric asthma population. And in keeping with important developments in both TB and asthma, the physicians wanted to expand the institution's emphasis on clinical immunology. It soon began building a strong clinical immunology team in 1969.
That same year, a fee-for-service policy was established based on a patient's ability to pay. But the spirit of the hospital's motto since its inception, "None may enter who can pay-none can pay who enter," was still observed.
During the next couple of decades, the hospital's emphasis on research continued to grow and it helped identify numerous new treatment options for respiratory and immunologic diseases.
In 1978 the National Asthma Center (NAC) in Denver began to succumb to financial struggles and proposed a merger with National Jewish. The two consolidated in September of that year and with the merger came a blending of the two pediatric asthma services making National Jewish the world's largest treatment center for pediatric and adult asthma.
A Shift to Outpatient Care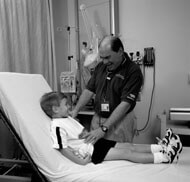 During the 1990s, National Jewish shifted its focus from inpatient care to more cost effective outpatient visits. To that point, in 1995, the hospital officially launched a day-treatment program in pediatrics which allowed for intensive treatment of children during the day but offered the advantage of nights at home, or in a hotel, with their parents. By early 1996, an adult day-treatment program also was introduced.
To accelerate the move to outpatient care, partnerships were forged with other healthcare providers, including The Children's Hospital and University of Colorado Hospital. Under these mutually beneficial agreements, National Jewish patients who required hospital care were admitted at partner institutions. National Jewish also opened a number of off-site clinics throughout the state of Colorado.
By the late 1990s and entering the new millennium, National Jewish began to widen its reach even further as it drew upon its decades-long expertise in treating respiratory diseases to establish a Disease-Specific Care Management (DSCM) service for asthma and COPD. Nurses took calls over a toll-free line and provided guidance to patients, doctors, HMOs and other healthcare professionals. In the following years, National Jewish developed other national telephone-based services, including Quitline, a smoking cessation program, and FitLogix™, a weight management program. These programs also boast online components. In the past 5 years, these programs have helped over 350,000 people who face the two most common behaviorally related causes of death in the United States.
Decade of Innovation
In 2007 the board approved a new strategic plan which called attention to personalized healthcare as an emerging trend, enabled by technology, knowledge of genetics and biology, economics and consumerism. Personalized medicine presented opportunities to enable healthcare practices to be increasingly patient-specific by taking into account individual differences in health states, disease processes and outcomes from interventions. This new goal of proactive, preventive, individualized medicine required a more complete research continuum to further integrate clinical care with translational and basic science research at the point of the patient.
In addition, a continued emphasis on research and education of the next generation of leaders in medicine and science would ensure that National Jewish remain preeminent in its areas of focus.
Read about National Jewish Health's history in research.
Read about National Jewish Health's academic history.