SERCA2: Novel Target for the Treatment of Cystic Fibrosis
Tech ID: 2009-05
Summary
Modulation of the activity of sarcoendoplasmic reticulum calcium ATPase (SERCA2) can profoundly affect Ca(2+) homeostasis. Although altered calcium homeostasis is characteristic of cystic fibrosis (CF), the role of SERCA2 has never been explored. Our scientists have shown that SERCA2 expression was decreased in the airway epithelium of CF patient samples. Decreased SERCA2 expression causes enhanced susceptibility to oxidants and oxidative stress to airway epithelium and can be an important component of disease pathogenesis and exacerbations. Therefore increasing SERCA2 expression or activity could be a valuable approach for the treatment of respiratory diseases like CF or asthma.
Potential Applications
Treatment of airway inflammatory diseases like cystic fibrosis and asthma.
Advantages of Invention
Various SERCA2 activators are currently being tested as drug candidates by third parties.
State of Development
Our scientists have found that
SERCA2 is decreased in the epithelium of proximal and distal airways of CF subjects.


SERCA2 is required for survival of airway epithelial cells under oxidant stress such as those caused by ambient concentration of ozone and concentrations of H2O2 and TNF found in CF airways.

Increasing SERCA2 activity reduces ozone-mediated proinflammatory cytokine production.

SERCA2 activity can be modulated/enhanced in CF airway epithelial cells by drug treatment.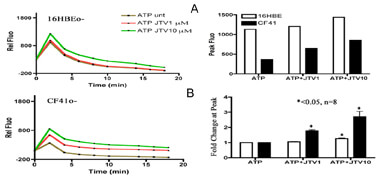 Non-CF 16HBE and CF CF41o- cells plated in a 96-well plate were treated with either 0, 1 or 10 uM of JTV-519 in culture media. After 24 h of treatment cells were loaded with calcium sensing dye Fluo-4 in calcium buffer. ATP stimulations were performed and fluorescence was recorded for 18 mins in a Biotek Fluorimeter. Panel A shows the peak of intracellular calcium and Panel B shows fold change in the intracellular calcium release upon JTV-519 treatment in non-CF and CF cells.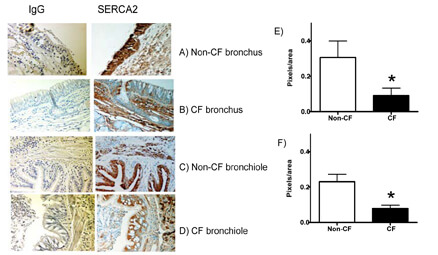 Sarcoplasmic/endoplasmic reticulum Ca21- ATPase (SERCA2) expression in the epithelium of proximal and distal cystic fibrosis (CF) and non-CF airways. Immunohistochemical localization of SERCA2 was performed as described in METHODS using identical conditions for non-CF and CF tissue.
Left panel: Nonspecific IgG control.
Right panel: SERCA2 staining in epithelium (arrowheads).
SERCA2 staining was found predominantly in the epitheliumof non- CF bronchi (n = 5 donors) (A) and bronchioles (C), and it was significantly less intense in the epithelium of CF airways (n = 5 donors) (B and D). (E) Quantitation of SERCA2 staining (SERCA2-IgG) in the non-CF and CF bronchi. The regions containing mucus were excluded during quantitation. For each tissue, two SERCA2 and two IgG-stained sections were analyzed, and 10 nonmucus areas per section were randomly selected for quantitation using Image-Pro Plus version 4.0 (Media Cybernetics, Silver Spring, MD). Similarly, SERCA2 staining in the non-CF and CF bronchioles was quantified (F).
Publications
Ahmad, S., A. Ahmad, E. S. Dremina, V. S. Sharov, X. Guo, T. N. Jones, J. E. Loader, J. R. Tatreau, A.-L. Perraud, C. Schoneich, S. H. Randell, and C. W. White. "Bcl-2 Suppresses Sarcoplasmic/Endoplasmic Reticulum Ca2 -ATPase Expression in Cystic Fibrosis Airways: Role in Oxidant-mediated Cell Death." American Journal of Respiratory and Critical Care Medicine 179.9 (2009): 816-26. PMID: 19201925

Ahmad, Shama, David P. Nichols, Matthew Strand, Raymond C. Rancourt, Scott H. Randell, Carl W. White, and Aftab Ahmad. "SERCA2 Regulates Non-CF and CF Airway Epithelial Cell Response to Ozone." PMID. PLoS ONE, 11 Nov. 2011. Web. 19 Feb. 2014. PMID: 22096575.
Patent Status
U.S. patent application #20100087374. International Patent Publication #WO2010/040130.
Inventors
Shama Ahmad, Ph.D and Carl White, MD
Licensing Status
Available for licensing.
For Further Information, Contact:
Emmanuel Hilaire, PhD
Director
Technology Transfer Office
National Jewish Health
1400 Jackson Street, Room M206b
Denver, CO 80206
Voice: 303.398.1262
Fax: 303.270.2352
HilaireE@njhealth.org