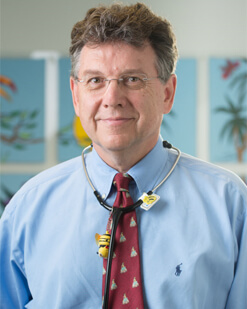 Mark Boguniewicz, MD, is a pediatric allergist and immunologist at National Jewish Health. He is in the Division of Pediatric Allergy and Clinical Immunology.
---
Best Doctors in America® 2019-2020 — Best Doctors, Inc.
America's Top Doctors 2020 — Castle Connolly Medical, Ltd.
---
Patient Ratings
4.9 out of 5
---
Special Interests
---
Research Interests
My research interests include the immunology of the skin, especially as it relates to atopic dermatitis (eczema) and new treatments for this illness.
Education
---
Fellowship
1985 - 1988

Boston Children's Hospital and Harvard Medical School, Immunology, Allergy and Rheumatology
---
Awards & Recognition
---
2023 AAAAI Foundation and Donald Y.M. Leung, MD PhD FAAAI-JACI Editors Lectureship
2020 AAAAI's Bruton Lecture
2015: Best Doctors in America, Best Doctors, Inc.
2013: Distinguished Clinician Award, AAAAI
2006: Richard S. Farr Memorial Lectureship
2003-2014: Best Doctors in America
2002: Clinician of the Year, National Jewish Health Faculty Award
1998-1999, 2010-2011, 2011-2012, 2012-2013, 2015-2017, 2017-2019, 2018-2020 Pediatric Allergy-Immunology Fellows Outstanding Teacher Award

Best Doctors in America since 2003, as well as America's Top Doctors

America's Best Physicians 2023
Board Certification
---
Pediatrics and Allergy-Immunology
Professional Memberships
---
Fellow, AAAAI
Fellow, ACAAI
Member, CAAS
Publications
---
Boguniewicz M, Fonacier L, Guttman-Yassky E, Ong PY, Silverberg JI. Atopic Dermatitis Yardstick Update. Ann Allergy Asthma Immunol 2023;Mar 16 on-line ahead of print

Boguniewicz M, Beck LA, Sher L, Guttman-Yassky E, Thaçi D, Blauvelt A, Worm M, Corren J, Soong W, Lio P, Rossi AB, Lu Y, Chao J, Eckert L, Gadkari A, Ruddy M, Mannent LP, Graham NMH, Pirozzi G, Chen Z, Ardeleanu M. Dupilumab improves asthma and sinonasal outcomes in adults with moderate-to-severe atopic dermatitis. J Allergy Clin Immunol Pract 2021;9:1212-1223.e6

Wang V, Boguniewicz J, Boguniewicz M, Ong PY. The infectious complications of atopic dermatitis. Ann Allergy Clin Immunol 2021;126:3-12

Boguniewicz M. Biologics for Atopic Dermatitis. Immunol Allergy Clin N Am 2020;40:593-607

Boguniewicz M, Fonacier L, Leung DYM. Atopic and Contact Dermatitis. In: Clinical Immunology: Principles and Practice, Sixth Edition. Rich RR, Fleisher TA, Schroeder Jr HW, Weyand CM , Corry DB, Puck JM (eds), Elsevier (Philadelphia) 2023:609-622
Hospital Affiliations
---
Children's Hospital Colorado
Rocky Mountain Hospital for Children
Academic Affiliations
---
Professor, Department of Pediatrics, University of Colorado Denver
Teaching & Professional Positions
---
Professor, Department of Pediatrics, National Jewish Health and University of Colorado School of Medicine
Conflicts of Interest
---
National Jewish Health physicians and scientists may collaborate with pharmaceutical or other industries to develop medical and scientific breakthroughs or to provide education on trends in quality medical practice and outcomes to physicians and health professionals around the country. National Jewish Health maintains a strict conflict of interest policy to ensure that all potential conflicts are clearly visible and that management plans are put in place in order to further innovation and education while ensuring the protection of our patients and the integrity of our research. National Jewish Health publicly discloses any payment to our physicians or scientists. View this faculty member's industry relationships and collaborations.