Division of Allergy & Clinical Immunology
What do we do?
We provide comprehensive care in allergic and immunologic disorders. The common allergic and immunologic conditions that we treat include allergic rhinitis, various subtypes of asthma including allergic bronchopulmonary aspergillosis and aspirin/NSAID sensitive asthma (also known as aspirin-exacerbated respiratory disease-AERD), chronic sinusitis, nasal polyps, drug allergy, food allergy, atopic dermatitis (eczema), urticaria, angioedema (histaminergic and kininergic/complement mediated), anaphylaxis, mast cell disorders such as mastocytosis and mast cell activation syndrome, eosinophilic disorders such as Churg-Strauss syndrome, and hypereosinophilic syndrome, and immunodeficiency conditions such as common variable immunodeficiency (CVID), IgA deficiency, and hyper IgE syndrome. We are a specialized referral center for the foregoing illnesses. Our patients are typically referred by their local doctors/specialists because of difficulty in diagnosing or treating the disease.
Why National Jewish Health?
Our nationally recognized allergy & immunology specialists perform unique consultative services to provide comprehensive clinical care to our patients. Some of the specialized services include allergy diagnostic challenges with drugs, foods, and allergens; and procedures such as aspirin desensitization, drug desensitization, rush and cluster immunotherapy, and laryngoscopy for vocal cord dysfunction and laryngopharyngeal reflux. We are at the forefront of innovative biologics therapy and therapy with immunosuppressive/immunomodulatory agents. Many patients are able to participate in innovative clinical trials that are conducted by our clinicians at National Jewish Health. Other consultative services include pulmonary physiology unit, speech therapy for vocal cord dysfunction, psychosocial medicine, pulmonary rehabilitation, sleep studies, occupational medicine and nutrition.
The divisional basic science and clinical research labs provide a unique opportunity to conduct molecular and personalized diagnostic studies on patient samples that aid diagnosis as well management of difficult-to-control allergic, immunologic and respiratory illnesses.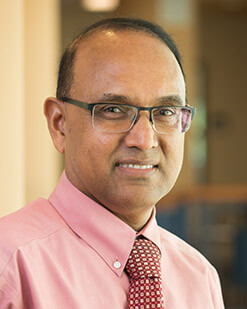 Rafeul Alam, MD, PhD
Division of Allergy & Clinical Immunology
Rafeul Alam, MD, PhD

Jordan Bull, PA-C

Jessica Galant-Swafford, MD

Karen L. Gentile, MSN, RN, CPNP

Magdalena Maria Gorska, MD, PhD

Flavia Cecilia Lega Hoyte, MD

Rohit K. Katial, MD

Harold S. Nelson, MD

Michael Nevid, MD

Kanao Otsu, MD, MPH

Eileen Wang, MD, MPH

Richard W. Weber, MD
Nurses & Medical Staff
Alison Stanton, RN
Jennifer Tafoya, RN
Fariha Jannat, RN
Shiloh Narro, RN
Fellows
Kelly Shibuya, MD
Raffi Tchekmedyian, MD
Lakshmi Gopalakrishnan Nair, MD
Justin Rashtian, MD
Orlando Rivera, II, MD