What do we do?
The Oncology Division is dedicated to the diagnosis, treatment and long-term follow-up and monitoring of individuals with known or suspected cancer. We diagnose and treat all adult cancers, with emphasis on cancer of the: lungs (thoracic), head and neck (ears, mouth, throat and sinuses) or stomach and intestinal (esophageal, stomach, gallbladder, liver, pancreas, colon, rectal, anal) cancers. We are pleased to participate in your evaluation at any point. We can review abnormal X-rays, CTs or PET scans. We offer state-of-the art therapy for patients diagnosed with cancer. Our Oncology team also is available to give second opinions regarding a diagnosis or treatment recommendation.
Why National Jewish Health?
No one knows lungs better than our experts. National Jewish Health is the leading respiratory hospital in the nation. We recently were named a Lung Cancer Screening Center of Excellence. Our lung expertise intimately connects us to the lungs, head and neck. Many years ago we added gastrointestinal (GI) specialists to care for our patients who also developed those issues. Our GI program has grown and now includes cancer screening and care.
Additionally, our Division now treats all types of adult cancers, including blood and bone cancers, prostate cancer, brain tumors, breast cancer and leukemias to name just a few.
Each patient has a multidisciplinary team to help them through every step of the cancer journey. Team members include lung specialists, medical oncology experts, pathologists specifically trained in cancers of the lung, expert radiologists capable of interpreting all types of radiologic images, radiation oncologists to deliver needed radiation therapy, surgeons and dedicated nurses. This expert group, through frequent meetings to review patient progress, ensures that state-of-the art care is provided to everyone.
Click here for more information on cancer care at National Jewish Health.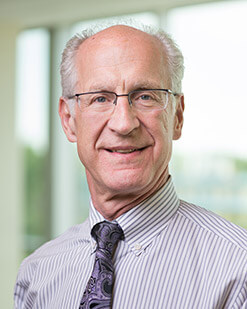 Jeffrey Kern, MD
Division of Oncology
Sofi Abraham, NP

Laurie L. Carr, MD

James H. Finigan, MD

Christopher B. Jones, MD

Robert Kantor, MD

Jeffrey Kern, MD

Bronwyn Long, DNP, MBA, ACHPN, AOCNS, ACNS-BC

Nathan Murphey, NP

Rao Mushtaq, MD

Mohammed Salhab, MD

Cheri Seeley, MS, PA

Jordan Trudell, FNP-C
Collaborators
From the University of Colorado
Robert Meguid, MD, MPH, Assistant Professor, Surgery-Cardiothoracic Surgeon
John Mitchell, MD, Associate Professor, Department of Surgery, Cardiothoracic Division
From Saint Joseph Hospital
Mark A. Chidel, MD, Radiation Oncology
Ari P. Ballonoff, MD, Radiation Oncology
Research
Lung cancer research is performed to obtain a better understanding of tumor formation, discover new therapies, as well as test new drugs and therapies for lung cancer patients. Learn about:
Additional Service Locations
Tests We Offer
Blood Tests
Biopsies
CT Scans - Chest & Body
Ear, Nose & Throat (ENT) Evaluations
Esophageal or GI Track Biopsies
Lung Cancer CT-Guided Biopsy
Lung Function Evaluation
Mammogram
Screening Colonoscopy