Outpatient Clinic (Pediatric)

The Pediatric Clinic at National Jewish Health is designed to provide patients and their families with highly specialized care to manage their child's illness. Our physicians are specially trained to evaluate and manage children with asthma, pulmonary disorders, immunologic disorders, and behavioral disorders. We can see local or out-of-town patients (depending on each patient's situation) in the Outpatient Clinic.
Pediatric Coronavirus Care
Our experts are here to help you when your child is experiencing COVID-19 symptoms and if those symptoms turn into long COVID.
Come to our Immediate Care clinic if your child has COVID-19 symptoms or is experiencing complications with those symptoms. Our clinic is open seven days a week from 8 a.m. to 8 p.m., no appointment is needed.
The National Jewish Health for Kids COVID-19 Assessment Program (CAP) can address the longer-lasting physical and emotional symptoms of the coronavirus outbreak in kids. These symptoms can include persistent shortness of breath, fatigue, anxiety, depression and deconditioning. The CAP program offers evaluation and treatment from a multispecialty team with the goal to help each child return to normal functions at home and school and in social interactions and recreational activities. Make an appointment here.
FAQ
What happens on the day of admission?
What is a first visit like?
What about other family members and visitors?
What about patient billing?
How do I request medical records?
What happens on the day of admission?
Families should arrive 30-minutes before their scheduled appointment. Pediatric and adult patients report to the Check-in desk on the first floor of the Center for Outpatient Health Building.
If you are running late or cannot keep your scheduled appointment, please call 303.398.1355, as it may be necessary to reschedule your appointment.
Attention: National Jewish Health treats many people with respiratory disorders whose symptoms can be triggered by certain scents. Please DO NOT wear any of the following:
perfumes
colognes
aftershave
scented lotions
scented hairsprays
What is a first visit like?
New patients will be scheduled for a one hour (or longer) first-time evaluation with a physician. For patients scheduled in the Asthma and Allergy Clinic, allergy skin testing - which lasts about 30 minutes - is also scheduled (as needed). You may also meet with a nurse to learn about medications and how to administer them properly, which will take additional time. A follow-up appointment is advised to discuss the response to treatment and any additional test results. The satellite office at Highlands Ranch offers additional asthma and allergy care for local pediatric patients.
What about other family members and visitors?
Although finding suitable childcare for siblings may be difficult, it is highly recommended. There is no childcare provided, and all children must be supervised at all times.
See a list of local hotels that offer special discounts and rates to National Jewish Health patients.
What about patient billing?
You may receive and examine an explanation of your bill prior to discharge. You may inquire about the availability of financial aid to assist in the payment of your hospital bill prior to receiving services. You can expect prompt and accurate information and assistance from hospital staff. Please contact our Patient Financial Office at 303.398.1065.
Learn more about billing and payment information.
How do I request medical records?
Print the Release of Information form and fill it out.
Photocopy the completed form for your records.
Mail or hand-deliver the Release of Information form to your child's physician and/or hospital where services have been provided in the past.
Please DO NOT mail the completed form to National Jewish Health.
Doctors
Bruce G. Bender, PhD

Mark Boguniewicz, MD

Genery D. Booster, PhD

James Brock, DO

Divya Chauhan, MD

Karen L. Gentile, MSN, RN, CPNP

Joy Goldberg, PhD

Elizabeth Gyorkos, PA-C

Bruce J. Lanser, MD, MPH

Donald Y M Leung, PhD, MD

J. Tod Olin, MD, MSCS

Pamela L. Zeitlin, MD, MPhil, PhD
---
Reasons to Choose National Jewish Health
The leading respiratory hospital in the nation and the only one devoted fully to the treatment of respiratory and related illnesses
Ranked #1 or #2 in Pulmonology by U.S. News & World Report for 26 consecutive years
Ranked in the top 5% of hospitals in the nation by HCAHPS
Physicians consistently recognized among the best in the nation by multiple services, including Best Doctors in America and Castle Connolly
Among the top 6% of organizations funded for research by the NIH, providing patients access to hundreds of active clinical trials
124-year history of focus on care, research and education serving patients from around the world with lung, heart, immune and related disorders
Make an Appointment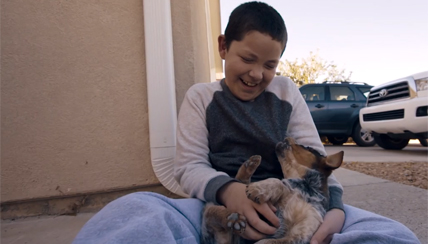 An Innovative Cure Gave This Child a New Lease on Life
Read More
All Patient Stories