Food Allergy Program (Pediatric)

The National Jewish Health for Kids Pediatric Food Allergy Program utilizes a comprehensive team approach that is often not available elsewhere. Our team of physicians, dietitians, nurses and behavioral health specialists work with you, your child and primary care physician to develop and maintain a comprehensive, individualized treatment plan.
We feature nationally recognized food allergy physicians and National Jewish Health for Kids has more than 50 years of food allergy diagnosis, treatment and research experience. Additionally, National Jewish Health has been named a "FARE Clinical Network Center of Distinction" by Food Allergy Research and Education.
Why Come to National Jewish Health
Nationally renowned pediatric allergy and immunology doctors who specialize in food allergies
Dedicated pediatric nursing and patient education staff
National Jewish Health is the only Food Allergy Research and Education (FARE) Clinical Network Center of Distinction in Colorado
Appointments are available at our Main Campus in Denver and at our Highlands Ranch location

When to Schedule an Appointment
When you're concerned about any food allergy and multiple food allergies
To get strategies to prevent infants with eczema from developing food allergies
To learn more about food allergies and how to manage them at home and school
When you want to explore treatment options
Our Services
Complete evaluation including a thorough medical history and physical examination
Multidisciplinary team addresses all aspects of food allergies
Food allergy testing including allergen prick skin testing and other appropriate testing
Food challenges may be performed to accurately diagnose a food allergy, to rule out a true food allergy, to determine that your child can tolerate a food or when other testing is inconclusive
Behavioral health services are available to help integrate food allergy management into home and school environments
Evaluation for other allergic conditions, including eczema (atopic dermatitis), allergic rhinitis and asthma
Customized, age appropriate patient education and action plans
Follow-up visits to address the changing needs of the patient
Immunotherapy (allergy shots) and biologic injections
Doctors
Mark Boguniewicz, MD

Divya Chauhan, MD

Jessica Hui (Beckman), MD

Bruce J. Lanser, MD, MPH

Michael Nevid, MD

Nathan Rabinovitch, MD, MPH
---
Reasons to Choose National Jewish Health
The leading respiratory hospital in the nation and the only one devoted fully to the treatment of respiratory and related illnesses
Ranked #1 or #2 in Pulmonology by U.S. News & World Report for 26 consecutive years
Ranked in the top 5% of hospitals in the nation by HCAHPS
Physicians consistently recognized among the best in the nation by multiple services, including Best Doctors in America and Castle Connolly
Among the top 6% of organizations funded for research by the NIH, providing patients access to hundreds of active clinical trials
124-year history of focus on care, research and education serving patients from around the world with lung, heart, immune and related disorders
Make an Appointment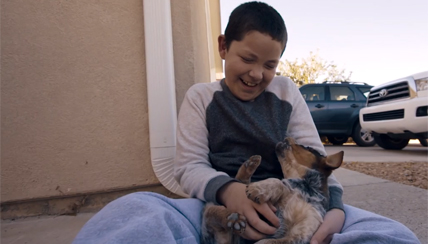 An Innovative Cure Gave This Child a New Lease on Life
Read More
All Patient Stories