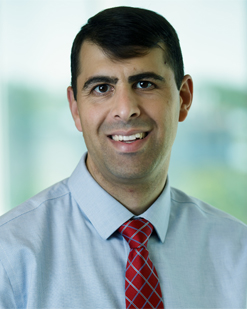 David M. Ferraro, MD, is a pulmonologist at National Jewish Health. Dr. Ferraro is in the Division of Pulmonary, Critical Care and Sleep Medicine.
---
---
Patient Ratings
4.8 out of 5
---
Education
---
Education
2003 - 2007

University of Kansas School of Medicine, Kansas City, KS, MD
---
Residency
2007 - 2010

Brooke Army Medical Center, San Antonio, TX, Internal Medicine
---
Fellowship
2010 - 2013

Brooke Army Medical Center, San Antonio, TX, Pulmonary and Critical Care
---
Awards & Recognition
---
2019: Army / Air Force American College of Physicians Master Teacher Award
2019: James J. Leonard Award for Excellence in Teaching Internal Medicine
2019: Teacher of the Year, San Antonio Uniformed Services Health Education Consortium
2018: Uniformed Services University of Health Sciences AOA Faculty Teacher of the Year
2017-2018: "Most Valued Instructor" (three times)
2011: Outstanding Teaching Fellow of the Year, Brooke Army Medical Center
Board Certification
---
2010: Internal Medicine
2012: Pulmonary Disease
2014: Critical Care Medicine
Professional Memberships
---
2016- Present: American College of Physicians, Fellow
2015-Present: American College of Chest Physicians, Fellow
2020-Present: Society of Critical Care Medicine, Fellow
Publications
---
Ferraro D, Geiling J, Reed M. Fundamental Critical Care Support: Austere Operational Environment. Chapter 4: Acute Respiratory Failure and Mechanical Ventilation. 2019.
Ferraro DM, French SK, Bell DG. Bilateral Indwelling Pleural Catheters for Pleural Effusions Secondary to Nonmalignant Superior Vena Cava Obstruction. Annals Am Thorac Soc 2018; 15(2): 258-62. PMID 29388816.
Ferraro DM, McCann ET, Bell DG. Airway Management in Combat Trauma. Current Pulmonology Reports 2017 Sep; 6(3): 206-213.
Forbes DA, Bassett EA, Auger WR, Ferraro DM. Persistent Pulmonary Artery Filling Defects: Looking Beyond Anticoagulation Failure. Advances in Pulmonary Hypertension 2016; 15(2): 106-112.
Ferraro DM, Hiles PD. Blast-Related Lung Injuries. Current Pulmonology Reports 2016 Jun; 5(2): 70-76.
Teaching & Professional Positions
---
Consultant, Fundamental Critical Care Support Course
Director, Fundamental Disaster Management Course
2014-2019: Associate Program Director, San Antonio Uniformed Services Health Education Consortium Internal Medicine Residency
2014-2019: Assistant Professor of Medicine, Uniformed Services University of the Health Science