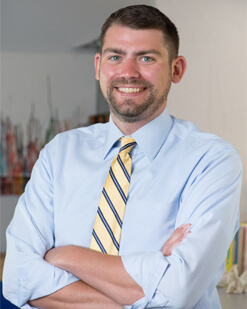 Bruce J. Lanser, MD, MPH, is a board-certified pediatric allergist and immunologist in Denver. Dr. Lanser specializes in anaphylaxis, eczema, food allergies, food protein induced enterocolitis syndrome (FPIES), immunotherapy, and performing oral food challenges.
---
---
Special Interests
---
My primary clinical interests include pediatric food allergy, eosinophilic esophagitis, and food protein induced enterocolitis (FPIES). My clinical research focuses on pediatric food allergy, including the development of more accurate diagnostic testing for food allergy, the role of baked egg in the natural history of egg allergy, and food allergy immunotherapy.
Education
---
Education
2005 - 2009

Medical College of Wisconsin (Milwaukee, WI), MD

2020

University of Colorado, MPH
---
Residency
2012 - 2013

University of Texas Southwestern Medical Center/Children's Medical Center (Dallas, TX), Pediatric Chief Resident

2009 - 2012

University of Texas Southwestern Medical Center/Children's Medical Center (Dallas, TX), Pediatrics
---
Fellowship
2013 - 2015

University of Colorado/ National Jewish Health, Pediatric Allergy
---
Board Certification
---
2015: American Board of Allergy and Immunology
2012: American Board of Pediatrics
Professional Memberships
---
Member, AAAAI
Member, ACAAI
Member, CAAS
Member, AAP
Publications
---
Brar KK, Lanser BJ, Schneider A, Nowak-Wegrzyn A. Biologics for the treatment of food allergies. Immunol Allergy Clin North Am 2020; 40:575-91.

Fleischer DM, [Lanser BJ], et al. Long-term, open-label extension study of the efficacy and safety of epicutaneous immunotherapy for food allergy in children: PEOPLE 3-year results. J Allergy Clin Immunol 2020;146:863-74.

Hui JW, Copeland M, Lanser BJ. Food allergy management at school in the era of immunotherapy. Curr Allergy Asthma Rep 2020;20:32.

Wang M, Strand MJ, Lanser BJ, et al. Expression and activation of the steroidogenic enzyme CYP11A1 is associated with IL-13 production in T cells from peanut allergic children. PLoS One 2020;15:e2033563.

Bird JA, et al. Conducting an oral food challenge: An update to the 2009 Adverse Reactions to Foods Committee Work Group Report. JACI IP 2020;8:75-90.
Academic Affiliations
---
Assistant Professor, Pediatrics, University of Colorado Denver
Conflicts of Interest
---
National Jewish Health physicians and scientists may collaborate with pharmaceutical or other industries to develop medical and scientific breakthroughs or to provide education on trends in quality medical practice and outcomes to physicians and health professionals around the country. National Jewish Health maintains a strict conflict of interest policy to ensure that all potential conflicts are clearly visible and that management plans are put in place in order to further innovation and education while ensuring the protection of our patients and the integrity of our research. National Jewish Health publicly discloses any payment to our physicians or scientists. View this faculty member's industry relationships and collaborations.