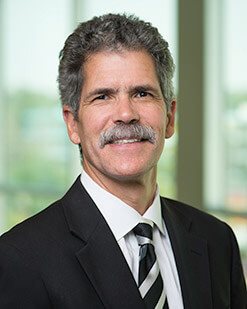 Kevin K. Brown, MD, is a pulmonologist at National Jewish Health. Dr. Brown serves as Chair of the Department of Medicine.
---
5280 Top Doctors 2022
Best Doctors in America® 2019-2020 — Best Doctors, Inc.
America's Top Doctors 2020 — Castle Connolly Medical, Ltd.
---
Patient Ratings
4.9 out of 5
---
Special Interests
---
Research Interests
Mechanisms responsible for the initiation and progression of lung fibrosis. Lung disease in patients with autoimmune disorders such as rheumatoid arthritis and scleroderma, among others.
Education
---
Education
University of Minnesota Medical School, Medical School
---
Internships
Presbyterian Hospital, Pacific Presbyterian Medical Center, Medical Internship
---
Residency
Providence Medical Center, Chief Medical Resident
Providence Medical Center, Medical Residency
---
Fellowship
Maine Medical Center, Pulmonary/ CCM Fellowship
National Jewish Health/University of Colorado Health Sciences Center, Pulmonary/CCM, Research Fellowship
---
Awards & Recognition
---
2001-2016: America's Top Doctors
2002-2016: Best Doctors in America
2004-2005: America's Top Physicians
2002: Clinician of the Year, National Jewish Health
Board Certification
---
Internal Medicine Pulmonary
Publications
---
Raghu G, Brown KK, Bradford WZ, Starko K, Noble PW, Schwartz DA, King TE A Randomized, Double-Blind, Placebo-Controlled Trial of Recombinant Interferon Gamma-1b in Patients with Idiopathic Pulmonary Fibrosis. N Engl J Med 2004 Jan 8; 350:125-33.
Vourlekis JS, Schwarz MI, Cherniack RM, Curran-Everett D, Cool CD, Tuder RM, Lynch DA, King TE, Brown KK. The Impact of Pulmonary Fibrosis on Survival in Hypersensitivity Pneumonitis. Am J Med. 2004 May 15;116(10):662-8.
Collard HR, King TE, Bucher-Bartleson B, Vourlekis JV, Schwarz MI, Brown KK. Changes in clinical and physiologic variables predict survival in idiopathic pulmonary fibrosis. Am J Respir Crit Care Med. 2003 Sep 1;168(5):538-42.
SurattBT, Cool CD, Serls A,Varella-Garcia M, Shpall EJ, Brown KK, Worthen GS. Human Pulmonary Microchimerism Following Hematopoietic Stem Cell Transplantation Am J Respir Crit Care Med. 2003 Aug 1;168(3):318-22.
Academic Affiliations
---
Professor, University of Colorado, Denver School of Medicine
Conflicts of Interest
---
National Jewish Health physicians and scientists may collaborate with pharmaceutical or other industries to develop medical and scientific breakthroughs or to provide education on trends in quality medical practice and outcomes to physicians and health professionals around the country. National Jewish Health maintains a strict conflict of interest policy to ensure that all potential conflicts are clearly visible and that management plans are put in place in order to further innovation and education while ensuring the protection of our patients and the integrity of our research. National Jewish Health publicly discloses any payment to our physicians or scientists. View this faculty member's industry relationships and collaborations.