Interstitial Lung Disease (ILD) Program
Interstitial lung disease (ILD) is a broad category of lung diseases that includes more than 130 disorders characterized by scarring (i.e. "fibrosis") and / or inflammation of the lungs.
Interstitial Lung Disease Center
The National Jewish Health Interstitial Lung Disease Center for Patient Care, Education, Discovery and Innovation is one of the largest interstitial lung disease (ILD) centers in the country. We evaluate and treat thousands of patients each year. Our team of lung specialists partner with patients and their caregivers to develop customized, comprehensive care plans based on the latest research and treatment options. Our goal is to help our patients live full and active lives.
Getting the Right Diagnosis for ILD
Interstitial Lung Disease can take on many forms. Figuring out if a patient has ILD, and which form, can be challenging. Our team of specialists has a deep understanding of ILD and vast experience diagnosing and treating patients with this complex condition. By integrating clinical information, data generated by our world-class Pulmonary Physiology Services and our Institute for Advanced Biomedical Imaging, we are able to accurately diagnose every type of ILD.
Our Mission
The mission of the National Jewish Health Interstitial Lung Disease Center for Patient Care, Education, Discovery and Innovation is to:
Diagnose and treat patients with (ILD), in any of its many forms

Partner with ILD patients and their loved-ones to develop and oversee comprehensive care plans focused on improving their quality of life

Educate the community at large about this complex group of lung disorders

Train the next generations of ILD experts how to diagnose ILD and compassionately care for ILD patients

Partner with investigators inside National Jewish Health, across the nation and around the world in the use of cutting-edge technologies and innovative research methods aimed at improving understanding of how ILD develops and why it progresses

Discover interventions aimed at it improving how patients with ILD feel and function in their daily live
Conditions We Treat
At National Jewish Health, we diagnose and treat all forms of ILD, including:
Alveolar hemorrhage syndromes (e.g., idiopathic pulmonary hemosiderosis, diffuse alveolar hemorrhage)

Fibro-inflammatory airways diseases (e.g., bronchiolitis obliterans and follicular bronchiolitis)

Chronic eosinophilic pneumonia (see hypereosinophilic syndromes)

Connective tissue or autoimmune disease-related ILD (e.g., ILD related to Rheumatoid arthritis, Systemic sclerosis (Scleroderma), Dermato/polymyositis, Sjӧgren's syndrome, Mixed connective tissue disease, inflammatory bowel disease)

Cryptogenic (or known-cause) organizing pneumonia (COP or OP)

Granulomatous interstitial lung disease (e.g., sarcoidosis, GLILD or Granulomatous Lymphocytic Interstitial Lung Disease)

Idiopathic interstitial pneumonia (e.g., Idiopathic nonspecific interstitial pneumonia, acute interstitial pneumonia, desquamative interstitial pneumonia, respiratory bronchiolitis ILD, lymphoid interstitial pneumonia)

Pleuroparenchymal fibroelastosis

Pulmonary Langerhan's cell histiocytosis (formerly Eosinophilic granuloma or Histiocytosis X of the lung)

Systemic vasculitis (e.g., ANCA-associated vasculitis including Granulomatosis with polyangiitis (formerly Wegener's granulomatosis) or Eosinophilic granulomatosis with polyangiitis (formerly Churg Strauss syndrome))
ILD Research
We offer every patient we see the opportunity to participate in research. We believe the path to discovery in ILD involves partnering with patients to advance understanding of ILD, including its epidemiology, natural history, prognosis and treatment. Our team of researchers is committed to studying ILD from every angle using multiple innovative approaches. Together, with our patient research participants, we will continue to blaze new trails of discovery and innovation in ILD.
Doctors
Kevin K. Brown, MD

Joseph Cooley, DO

Gregory P. Downey, MD

Evans Fernández, MD, MS

Stephen K. Frankel, MD, FCCM, FCCP

Tristan J. Huie, MD

Rebecca C. Keith, MD

Matthew Koslow, MD

Richard T. Meehan, MD, FACP

Michael P. Mohning, MD

Amy O'Connell, MS, CCC-SLP

Katherine Rosen, RN, MSN, ANP-C

Joshua J. Solomon, MD

Jeff Swigris, DO, MS

Zulma X. Yunt, MD
---
Reasons to Choose National Jewish Health
The leading respiratory hospital in the nation and the only one devoted fully to the treatment of respiratory and related illnesses
Ranked #1 or #2 in Pulmonology by U.S. News & World Report for 26 consecutive years
Ranked in the top 5% of hospitals in the nation by HCAHPS
Physicians consistently recognized among the best in the nation by multiple services, including Best Doctors in America and Castle Connolly
Among the top 6% of organizations funded for research by the NIH, providing patients access to hundreds of active clinical trials
124-year history of focus on care, research and education serving patients from around the world with lung, heart, immune and related disorders
Make an Appointment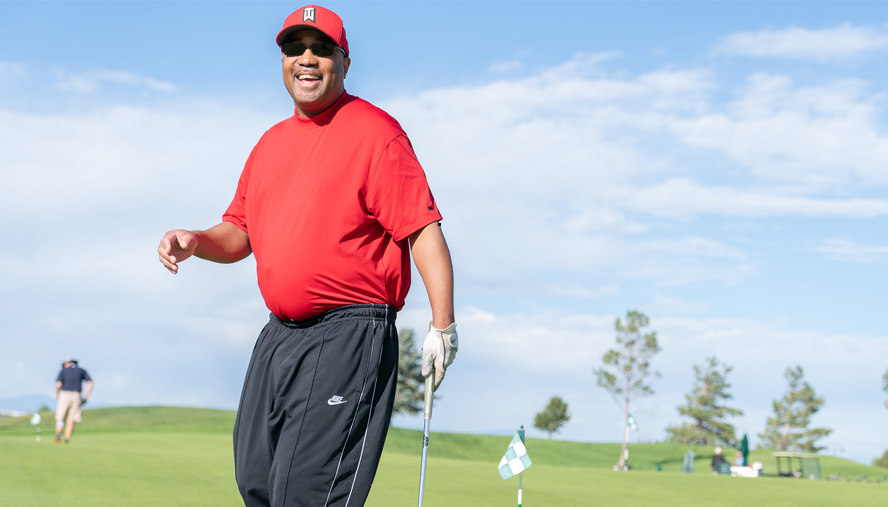 Life Gets Back on the Green
Read More
All Patient Stories