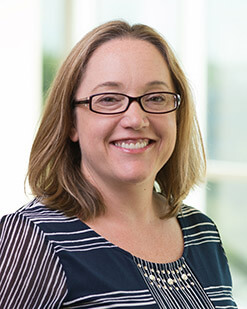 Rebecca C. Keith, MD, is a pulmonologist at National Jewish Health. Dr. Keith is in the Division of Pulmonary, Critical Care and Sleep Medicine.
---
---
Patient Ratings
4.6 out of 5
---
Special Interests
---
My goal is to contribute to the understanding of the pathogenesis of Idiopathic Pulmonary Fibrosis and autoimmune lung disease via basic, translational, and clinical research with the ultimate aim to improve quality of life for patients with pulmonary fibrosis. I have a strong interest in autoimmune lung disease and the intersection between innate immunity and the development of fibrotic lung disease.
Education
---
Education
1999 - 2003

Weill Medical College of Cornell University, New York, NY, MD
---
Residency
2006 - 2007

Emory University School of Medicine, Atlanta, GA, Chief Resident

2003 - 2006

Emory University School of Medicine, Atlanta, GA
---
Fellowship
2010 - 2011

University of Colorado Denver School of Medicine, Research Fellowship

2007 - 2010

University of Colorado Denver School of Medicine
---
Awards & Recognition
---
2011: American Thoracic Society Travel Award, American Thoracic Society
2006: Chief Resident, Emory School of Medicine
2006: Ambulatory Clinic Physician Award- Awarded for outstanding ambulatory clinical care, professionalism, conference attendance and participation, Emory University School of Medicine
2003: Alfred Moritz Michaelis Prize in Medicine- Awarded for "general efficiency" in Medicine, Weill Medical College of Cornell University
1998: Graduation with distinction in all subjects, Cornell University
1997: Golden Key International Honor Society, Cornell University
1994-1998: Isabel Peard Cornell Tradition Fellow, Cornell University
1994-1998: Mening Family Cornell National Scholar, Cornell University
Board Certification
---
2010: Internal Medicine-Critical Care Medicine
2009: Internal Medicine-Pulmonary Disease
2007: Internal Medicine
Professional Memberships
---
American Thoracic Society
American College of Chest Physicians
Publications
---
Redente EF, Jacobsen KM, Solomon JJ, Lara AR, Faubel S, et al. Age and sex dimorphisms contribute to the severity of bleomycin-induced lung injury and fibrosis. American journal of physiology. Lung cellular and molecular physiology. 2011; 301(4):L510-8.PMID:21743030. PMCID: PMC3191751.

Keith RC, Powers JL, Redente EF, Sergew A, Martin RJ, et al.A novel model of rheumatoid arthritis-associated interstitial lung disease in SKG mice.Experimental lung research. 2012; 38(2):55-66.PMID:22185348.

Keith RC, Sokolove J, Edelman BL, Lahey L, Redente EF, et al. Testosterone is protective in the sexually dimorphic development of arthritis and lung disease in SKG mice. Arthritis and rheumatism. 2013; 65(6):1487-93. NIHMSID: NIHMS457088. PMID:23529475. PMCID:PMC3672393.

Roy MG, Livraghi-Butrico A, Fletcher AA, McElwee MM, Evans SE, et al. Muc5b is required for airway defence.Nature. 2014; 505(7483):412-6. NIHMSID: NIHMS571052. PMID:24317696. PMCID:PMC4001806.

Redente EF, Keith RC, Janssen W, Henson PM, Ortiz LA, et al.Tumor necrosis factor-α accelerates the resolution of established pulmonary fibrosis in mice by targeting profibrotic lung macrophages.American journal of respiratory cell and molecular biology. 2014; 50(4):825-37. PMID:24325577. PMCID:PMC4068926.
Academic Affiliations
---
Full faculty appointment, University of Colorado Denver
Teaching & Professional Positions
---
Assistant Professor, VA Eastern Colorado Health Care System
Conflicts of Interest
---
National Jewish Health physicians and scientists may collaborate with pharmaceutical or other industries to develop medical and scientific breakthroughs or to provide education on trends in quality medical practice and outcomes to physicians and health professionals around the country. National Jewish Health maintains a strict conflict of interest policy to ensure that all potential conflicts are clearly visible and that management plans are put in place in order to further innovation and education while ensuring the protection of our patients and the integrity of our research. National Jewish Health publicly discloses any payment to our physicians or scientists. View this faculty member's industry relationships and collaborations.