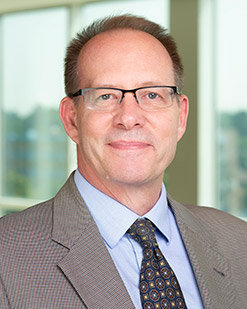 Charles L. Daley, MD, is a pulmonologist at National Jewish Health. Dr. Daley serves as Chief of the Division of Mycobacterial and Respiratory Infections.
---
5280 Top Doctors 2022
Best Doctors in America® 2019-2020 — Best Doctors, Inc.
America's Top Doctors 2020 — Castle Connolly Medical, Ltd.
---
Patient Ratings
4.9 out of 5
---
Special Interests
---
Research Interests
My research has focused on clinical and epidemiological studies of tuberculosis and nontuberculous mycobacterial infections. In particular, I am interested in the molecular epidemiology of these infections and how we can better elucidate issues relevant to the transmission and pathogenesis of these important diseases. I am also interested in studying new diagnostic tests and new drugs and treatment regimens. In addition to my research I am very committed to medical education and training individuals to do clinical and epidemiologic research.
Education
---
Education
1979 - 1983

University of Mississippi Medical School, MD

1975 - 1979

University of Mississippi
---
Residency
1986 - 1987

University of California, San Francisco, Chief Resident

1983 - 1986

University of California, San Francisco, Internal Medicine
---
Fellowship
1988 - 1991

University of California, San Francisco, Pulmonary and Critical Care Medicine
---
Awards & Recognition
---
2014 and 2015: Best Doctors in America, Best Doctors, Inc.
2013: America's Top Doctors, Castle Connolly Medical, Ltd.
Associate Editor, American Journal of Respiratory and Critical Care Medicine
Michael S. Stulbarg Outstanding Teaching Award, University of California, San Francisco
Faculty Ambassador Award, National Jewish Health
Board Certification
---
Internal Medicine Pulmonary Medicine Critical Care
Professional Memberships
---
American Thoracic Society
Colorado Thoracic Society
International Union Against Tuberculosis and Lung Disease
American College Chest Physicians, Fellow
Publications
---
Cattamanchi A, Nahid P, Marras TK, Gotway MB, Lee TJ, Gonzalez LC, Morris A, Webb WR, Osmond DH, Daley CL. Detailed analysis of the radiographic presentation of Mycobacterium kansasii lung disease in HIV-infected patients. Chest 2008;133:875-880.
Mazurek GH, Weis SE, Moonan PK, Daley CL, Bernando J, Lardizabel AA, Reves RR, Tony SR, Daniels LJ, LoBue PA. Prospective comparison of tuberculin skin test and two-whole blood interferon-gamma release assays in tuberculosis suspects. CID 2007;45:837-845.
DeRiemer K, Kawamura M, Hopewell PC, Daley CL. Quantitative impact of human immunodeficiency virus infection on tuberculosis dynamics. Am J Respir Crit Care Med 2007;176:936-944.
Nahid P, Gonzalez L, Rudoy I, de Jong B, Daley CL. Treatment outcomes for HIV-related tuberculosis in San Francisco. Am J Respir Crit Care Med 2007;17:1199-1206.
Burgos M, Gonzalez LC, Paz EA, Gournis E, Kawamura M, Schecter G, Hopewell PC, Daley CL. Treatment of multi-drug resistant tuberculosis in San Francisco: An outpatient-based approach. CID 2005;40:968-975.
Academic Affiliations
---
Professor of Medicine, University of Colorado Denver
Teaching & Professional Positions
---
Chair, Sterring Committee, Bronchiectasis Registry
Chair, Board Member, ATS, MTPI Assembly, ATS
Member, Green Light Committee
ATS/CDC/IDSA Writing Committees for 6 guidelines
Chair, Diagnostic Work Group, CDC
Member, DOTS - Plus Working Group
Conflicts of Interest
---
National Jewish Health physicians and scientists may collaborate with pharmaceutical or other industries to develop medical and scientific breakthroughs or to provide education on trends in quality medical practice and outcomes to physicians and health professionals around the country. National Jewish Health maintains a strict conflict of interest policy to ensure that all potential conflicts are clearly visible and that management plans are put in place in order to further innovation and education while ensuring the protection of our patients and the integrity of our research. National Jewish Health publicly discloses any payment to our physicians or scientists. View this faculty member's industry relationships and collaborations.