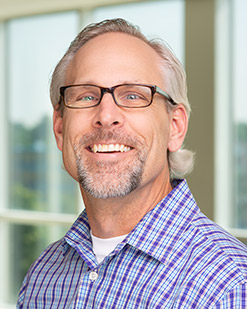 Jeff Swigris, DO, is a pulmonologist at National Jewish Health. Dr. Swigris is in the Division of Pulmonary, Critical Care and Sleep Medicine.
---
Best Doctors in America® 2019-2020 — Best Doctors, Inc.
---
Special Interests
---
Clinical Interests
My clinical interest is in evaluating and caring for patients with interstitial lung disease (ILD) of any cause. The emphasis of my approach to care is on forming a partnership with patients and their spouses/partners/caregivers, so, together, we can make the best decisions possible about their evaluation and management. I run a clinical research lab whose goal is to explore interesting and important clinical questions regarding ILD, including ILD related to connective tissue disease. The global mission of my individual research program is to explore how patients live with and experience ILD, how we assess that experience, and how we, as medical providers, might improve quality of life in patients suffering from ILD. I have a particular interest in developing and investigating so-called patient-reported outcome measures (PRO) in ILD. These are instruments designed to capture patients' perceptions of what life is like with ILD and are used to assess whether and how our therapeutic interventions benefit (or harm) patients.
Education
---
Awards & Recognition
---
2019: National Jewish Health Service Excellence Hero
2013-2014: Outstanding Contributions by a Subspecialist to Adult Ambulatory Care Clerkship Department of Medicine, University of Colorado School of Medicine
2014: Best Doctors in America, Best Doctors, Inc.
2008: Nomination, Clinician of the Year, National Jewish Health
2005: Faculty Teaching Award, Division of Pulmonary and Critical Care Medicine, Stanford School of Medicine
2000: Senior Medical Resident of the Year, Cleveland Clinic Foundation
1997: Internal Medicine Fast Track Intern of the Year, Grandview Hospital
Board Certification
---
Pulmonary Diseases
Critical Care Medicine
Professional Memberships
---
American College of Chest Physicians
American Thoracic Society
International Society for Quality of Life Research
Publications
---
Swigris J, Cutts K, Male N, Baldwin M, Rohr KB, Bushnell DM. The Living with Pulmonary Fibrosis questionnaire in progressive fibrosing interstitial lung disease. ERJ Open Res. 2021 May 24;7(2):00145-2020. doi: 10.1183/23120541.00145-2020. PMID: 34046493; PMCID: PMC8141833.

Swigris JJ, Bushnell DM, Rohr K, Mueller H, Baldwin M, Inoue Y. Responsiveness and meaningful change thresholds of the Living with Pulmonary Fibrosis (L-PF) questionnaire Dyspnoea and Cough scores in patients with progressive fibrosing interstitial lung diseases. BMJ Open Respir Res. 2022 Mar;9(1):e001167. doi: 10.1136/bmjresp-2021-001167. PMID: 35241434; PMCID: PMC8896030.

Aronson KI, Danoff SK, Russell AM, Ryerson CJ, Suzuki A, Wijsenbeek MS, Bajwah S, Bianchi P, Corte TJ, Lee JS, Lindell KO, Maher TM, Martinez FJ, Meek PM, Raghu G, Rouland G, Rudell R, Safford MM, Sheth JS, Swigris JJ. Patient-centered Outcomes Research in Interstitial Lung Disease: An Official American Thoracic Society Research Statement. Am J Respir Crit Care Med. 2021 Jul 15;204(2):e3-e23. doi: 10.1164/rccm.202105-1193ST. Erratum in: Am J Respir Crit Care Med. 2021 Sep 1;204(5):616. PMID: 34283696.

Swigris JJ, Andrae DA, Churney T, Johnson N, Scholand MB, White ES, Matsui A, Raimundo K, Evans CJ. Development and Initial Validation Analyses of the Living with Idiopathic Pulmonary Fibrosis Questionnaire. Am J Respir Crit Care Med. 2020 Dec 15;202(12):1689-1697. doi: 10.1164/rccm.202002-0415OC. PMID: 32634038; PMCID: PMC7737580.

Swigris JJ. Transitions and touchpoints in idiopathic pulmonary fibrosis. BMJ Open Respir Res. 2018 Jun 29;5(1):e000317. doi: 10.1136/bmjresp-2018-000317. PMID: 30018766; PMCID: PMC6045697.
Academic Affiliations
---
Associate Professor of Medicine, Division of Pulmonary Sciences and Critical Care Medicine, University of Colorado Denver
Teaching & Professional Positions
---
2021-Present: Professor, National Jewish Health
2011-Present: Associate Professor of Medicine, University of Colorado
Conflicts of Interest
---
National Jewish Health physicians and scientists may collaborate with pharmaceutical or other industries to develop medical and scientific breakthroughs or to provide education on trends in quality medical practice and outcomes to physicians and health professionals around the country. National Jewish Health maintains a strict conflict of interest policy to ensure that all potential conflicts are clearly visible and that management plans are put in place in order to further innovation and education while ensuring the protection of our patients and the integrity of our research. National Jewish Health publicly discloses any payment to our physicians or scientists. View this faculty member's industry relationships and collaborations.