David A. Beuther, MD, PhD, FCCP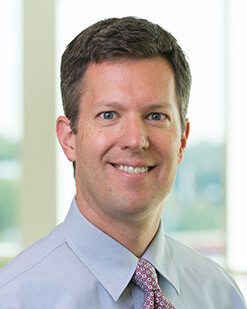 David A. Beuther, MD, PhD, is a pulmonologist at National Jewish Health. Dr. Beuther is in the Division of Pulmonary, Critical Care and Sleep Medicine.
---
---
Special Interests
---
Clinical Interests
Asthma, COPD, and complex chronic airways disorders.
Research Interests
Current research focuses on integration of information systems to improve care delivery, and to enhance the speed and efficiency of clinical trial recruitment. Past research focused on the epidemiology and mechanisms underlying the association between obesity and asthma.
Education
---
Education
2010 - 2019

University of Colorado Anschutz Medical Campus, Clinical Science Graduate Program, Doctor of Philosophy

1999

University of Michigan Medical School (Ann Arbor, MI), MD
---
Residency
1999 - 2002

University of Michigan Health System (Ann Arbor, MI), Internal Medicine
---
Fellowship
2003 - 2005

National Jewish Health, Pulmonary Diseases

2002 - 2005

University of Colorado Denver, Pulmonary and Critical Care Medicine
---
Board Certification
---
American Board of Internal Medicine
American Board of Pulmonary Diseases
American Board of Critical Care Medicine
American Board of Preventive Medicine, Clinical Informatics
Publications
---
"Performance of a Rules-Based, Electronic, Health Record-Driven, Severe Asthma Case Finding Algorithm for Clinical Trial Recruitment."
Murphy KR, Chipps B, Beuther DA, Wise RA, McCann W, Gilbert I, Eudicone JM, Gandhi HN, Harding G, Coyne KS, Zeiger RS. Performance Assessment of the Asthma Impairment and Risk Questionnaire: A Composite Control Measure. Accepted with minor changes, JACI: In Practice, January 17, 2020, in press.
Beuther DA. Recent Insight Into Obesity and Asthma. Current Opinion in Pulmonary Medicine. 16:64-70, 2010.
Beuther DA. Obesity and Asthma. Clinics In Chest Medicine. 30(3):479-488, Sept 2009. Beuther DA. Hypoventilation in Asthma and Chronic Obstructive Pulmonary Disease. Seminars in Respiratory and Critical Care Medicine. 30(3):321-329, 2009.
Sutherland ER, Goleva E, Strand M, Beuther DA, Leung DY. Body Mass and Glucocorticoid Response in Asthma. Am J Respir Crit Care Med. 178(7):682-687, 2008.
Beuther DA, Sutherland ER. Overweight, obesity and incident asthma: a meta-analysis of prospective epidemiologic studies. Am J Respir Crit Care Med. 175(7):661-666, 2007. [PMID 17234901]
Academic Affiliations
---
Associate Professor, University of Colorado Denver
Conflicts of Interest
---
National Jewish Health physicians and scientists may collaborate with pharmaceutical or other industries to develop medical and scientific breakthroughs or to provide education on trends in quality medical practice and outcomes to physicians and health professionals around the country. National Jewish Health maintains a strict conflict of interest policy to ensure that all potential conflicts are clearly visible and that management plans are put in place in order to further innovation and education while ensuring the protection of our patients and the integrity of our research. National Jewish Health publicly discloses any payment to our physicians or scientists. View this faculty member's industry relationships and collaborations.