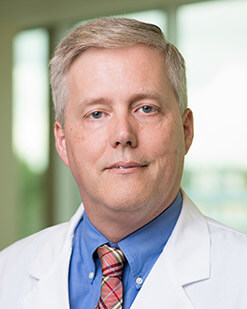 Brian J. Day, PhD, is a Professor at National Jewish Health. Dr. Day serves as the Vice President of Research and Director of the Office of Research Innovation at National Jewish Health.
---
---
Special Interests
---
Research Interests
Cystic Fibrosis, COPD, chronic beryllium disease, interstitial lung disease, sulfur mustard lung injury, drug development. Adaptive glutathione responses to cigarette smoke in COPD. (NIH RO1 HL084469-05) (Primary Investigator). Novel Antioxidant Therapeutics for Sulfur Mustard Toxicity. (NIH U54 ES015678-06) (Project 2 Leader). Modulation of lung inflammation by CFTR-dependent thiols. (Cystic Fibrosis Foundation Research Grant) (Primary Investigator). Targeting oxidative stress in chronic beryllium disease.(NIH RO1 ES017582-04) (Multiple Primary Investigator).
Education
---
Education
1992

Purdue University (W Lafayette, IN), PhD, Pharmacology and Toxicology

1984

University of Montana (Missoula, MT), BS with Honors, School of Pharmacy
---
Fellowship
1995

Duke University (Durham, NC), Post-doctoral Integrated Toxicology & Pulmonary Fellow
---
Awards & Recognition
---
Vice President of Research, Director of the Office of Research Innovation
Chief Science Officer, Aeolus Pharmaceuticals
Chairman, Board of Publications Committee, Mechanisms Specialty Section Councilor, Society of Toxicology
NIH Study Section Member, LIRR
Professional Memberships
---
Society of Toxicology
American Thoracic Society
Society of Free Radical Biology and Medicine
American Heart Association
American Chemical Society
Publications
---
Day BJ, Min E, Huang J, Stanley C. The Use of Thiocyanate Formulations to Create Manganese Porphyrin Antioxidants That Supplement Innate Immunity. Antioxidants (Basel). 2022 Jun 25;11(7):1252. doi: 10.3390/antiox11071252. PMID: 35883743; PMCID: PMC9311894.

Schaunaman N, Crue T, Cervantes D, Schweitzer K, Robbins H, Day BJ, Numata M, Petrache I, Chu HW. Electronic cigarette vapor exposure exaggerates the pro-inflammatory response during influenza A viral infection in human distal airway epithelium. Arch Toxicol. 2022 Aug;96(8):2319-2328. doi: 10.1007/s00204-022-03305-2. Epub 2022 Jun 7. PMID: 35672461; PMCID: PMC9172985.
Academic Affiliations
---
Professor of Medicine, Pharmaceutical Sciences and Immunology, University of Colorado Denver
Professor, Colorado School of Public Health, University of Colorado Denver
Website Information
---