Our laboratory is interested in the role of oxidative stress in lung disease and antioxidant adaptive responses that the lung uses to prevent oxidative stress. In this regard, we are focused on lung thiols and their roles in preventing oxidative injury and in modulating inflammatory host defense responses. We also have active programs developing pharmacological approaches that either supplement antioxidant capacity or stimulate endogenous pathways to increase antioxidant capacity in the lung. Major lung diseases we are currently working on include acute lung injury due to chemical weapons (sulfur mustard gas and chlorine gas), cystic fibrosis, and asthma and interstitial lung disease associated with environmental particulate matter.
Lab Resources and Services
Dr. Brian Day's laboratory is located on the National Jewish Health's campus. Learn more.
Current Projects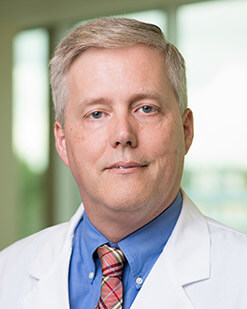 Brian J. Day, PhD
Personnel
Principal Investigator
Brian Day, PhD

Professional Research Assistants

Former Graduate Students
Reena Berman, PhD (Associate Regional Medical Director at Novartis Gene Therapies)
Joshua Chandler, PhD (Assistant Professor in the Department of Pediatrics at Emory University)
Cameron McElroy, PhD (Principal Scientist at Novartis Institutes for Biomedical Research)
Neal Gould, PhD (Senior Scientist at Tegmine Therapeutics)
Heather Brechbuhl, PhD (Instructor at University of Colorado)
Chirag Kariya, PhD (Manager at Provincial Clinical Trials)

Former Post-Doctoral Fellows
Leonard Velsor, PhD (Senior Counsel at Eastman Chemical Company)
Remy Kachadourian, PhD (Director of Innovation and Quality at Schwazze)
Preston Bratcher, PhD (Assistant Professor in the Department of Pediatrics at National Jewish Health)
Publications
Day BJ, Min E, Huang J, Stanley C. The Use of Thiocyanate Formulations to Create Manganese Porphyrin Antioxidants That Supplement Innate Immunity. Antioxidants (Basel). 2022 Jun 25;11(7):1252. doi: 10.3390/antiox11071252. PMID: 35883743; PMCID: PMC9311894.
Schaunaman N, Crue T, Cervantes D, Schweitzer K, Robbins H, Day BJ, Numata M, Petrache I, Chu HW. Electronic cigarette vapor exposure exaggerates the pro-inflammatory response during influenza A viral infection in human distal airway epithelium. Arch Toxicol. 2022 Aug;96(8):2319-2328. doi: 10.1007/s00204-022-03305-2. Epub 2022 Jun 7. PMID: 35672461; PMCID: PMC9172985.
Berman R, Rose CS, Downey GP, Day BJ, Chu HW. Role of Particulate Matter from Afghanistan and Iraq in Deployment-Related Lung Disease. Chem Res Toxicol. 2021 Dec 20;34(12):2408-2423. doi: 10.1021/acs.chemrestox.1c00090. Epub 2021 Nov 22. PMID: 34808040.
Lab Activities