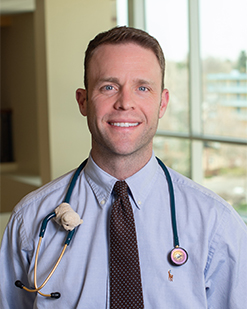 James Brock, DO, is a board certified pediatric pulmonologist in Denver. Dr. Brock treats asthma, bronchopulmonary dysplasia and other pediatric respiratory conditions in Denver and Highlands Ranch.
---
---
Patient Ratings
4.6 out of 5
---
Special Interests
---
Pediatric Asthma, Bronchopulmonary Dysplasia
Education
---
Education
2008 - 2012

West Virginia School of Osteopathic Medicine, Lewisburg, WV, Doctor of Osteopathic Medicine

2002 - 2006

University of Colorado at Boulder, Boulder, CO, Bachelor of Arts
---
Residency
2012 - 2015

University of California, Pediatric Residency
---
Fellowship
2015 - 2018

University of California, Pediatric Pulmonology Fellowship
---
Awards & Recognition
---
2013: UCSF Community Pediatrics and Advocacy Award
2003-2006: CU Buffalo Bicycle Classic Scholarship
Board Certification
---
2016: General Pediatrics
2018: Pediatric Pulmonology
Professional Memberships
---
2008: American Osteopathic Assoc
2012: American Academy of Pediatrics
2015: American Thoracic Society
Publications
---
Brock J, Nussbaum E, Shows J, Nguyen S, Setty S. "An Unusual Cardiac Cause of Unilateral Neonatal Wheezing." Case Reports in Pediatrics, 2019; 2019: 1-4.
Brock JP, Nussbaum E, Morphew TL, Sandhu VS, Marsteller NL, Yang BS, Randhawa IS. "Allergy Evaluation During Hospitalized Asthma Improves Disease Management Outcomes." SN Comprehensive Clinical Medicine, 2019; 1(5):328-333. DOI 10.1007/s42399-019-0044-9
Brock J, Nussbaum E, Randhawa, I. "Case Report: Pleuropulmonary Blastoma, Type 1R." MOJ Anatomy & Physiology, 2017. 4(3): 00138. Reference number: MOJAP-17- CR-264.
Teaching & Professional Positions
---
Assistant Professor of Clinical Pediatrics