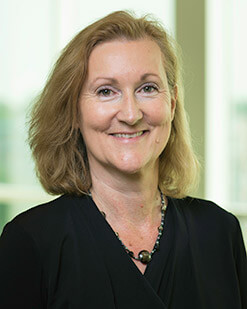 Carlyne D. Cool, MD, is a pathologist at National Jewish Health. Dr. Cool is in the Division of Pathology and Department of Medicine.
---
5280 Top Doctors 2022
America's Top Doctors 2020 — Castle Connolly Medical, Ltd.
---
Education
---
Education
1992

University of Colorado Denver, MD
---
Residency
1992 - 1997

University of Colorado Denver, Pathology
---
Awards & Recognition
---
2015: Best Doctors in America, Best Doctors, Inc.
Board Certification
---
Anatomic and Clinical Pathology
Publications
---
Cool CD, Rai PR, Yeager ME, Serls AE, Bull TM, Brown KK, Routes JM, Tuder RM, Voelkel NF, Human Herpes Virus 8 (HHV-8) expression in primary pulmonary hypertension. N Eng J Med. 2003. 349(12):1113-22.
Suratt BT, Cool CD, Serls A, Chen L, Varella-Garcia MV, Shpall EJ, Brown KK, Worthen GS. Human pulmonary microchimerism following hematopoietic stem cell transplantation. Am J Resp Crit Care Med. 2003. 168(3):318-22.
Cool CD, Stewart JS, Werahera P, Miller GJ, Williams RL, Voelkel NF, Tuder RM. Three-dimensional reconstruction of pulmonary arteries in plexiform pulmonary hypertension using cell specific markers: Evidence for a dynamic and heterogeneous process of pulmonary endothelial cell growth. Am J Path 155(2): 411-419, 1999.
Cool CD, Kennedy D, Voelkel NF and Tuder RM. Pathogenesis and evolution of plexiform lesions in pulmonary hypertension associated with scleroderma and human immunodeficiency virus infection. Hum Pathol 28:434-442, 1997.
Lee S-D, Shroyer KR, Markham NE, Cool CD, Voelkel NF and Tuder RM. Monoclonal endothelial cell proliferation is present in primary but not secondary pulmonary hypertension. J Clin Invest 101:927-934, 1998.
Academic Affiliations
---
Associate Professor of Pathology, University of Colorado Denver