New York Financial Industry Leaders Raise Nearly $500,000 for Nation's Leading Respiratory Hospital,
William "Bill" D. Brewer, Winston and Strawn LLP, Honored at 37th Annual Financial Industries Dinner
---
New York, NY —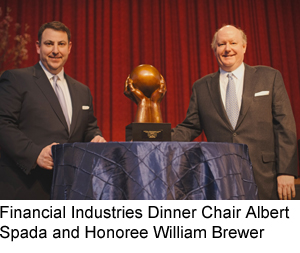 National Jewish Health, the leading respiratory hospital in the nation, welcomed more than 600 leaders of New York's financial industry, who raised nearly $500,000 for the institution at the 37th annual Financial Industries Dinner at the New York Hilton. William "Bill" D. Brewer of Winston and Strawn LLP was honored during the event. Brewer is the co-chair and practice group leader of the firm's global finance practice and head of the firm's New York finance practice. He was joined at the dinner by his wife, Erika, and daughters, Elizabeth and Annie.
One of the most prestigious philanthropic events for New York's financial industry, the Financial Industries Dinner was first held in 1977, spearheaded by the late New York banker and philanthropist Lou Moskowitz. Over the years, the Financial Industries Dinner has raised nearly $14 million for National Jewish Health, supporting its research, clinical care and educational mission. Through its care, research and education programs, National Jewish Health has improved the lives of people in New York and in cities throughout the world. This past December, it was announced that National Jewish Health is partnering with Mount Sinai in New York to create a Respiratory Institute.
Albert Spada, national sales leader of RBS Citizens Business Capital, served as the dinner chair and emcee for the evening. The dinner's honorary chair was Craig Stillwagon, executive vice president and Eastern Division executive of PNC Business Credit, who was also the 2013 honoree. Serving as treasurer was John G. Kalyvas, partner at Winston and Strawn.
Also during the dinner, Joseph Pollicino, Jr., honorary chairman of the 2013 Financial Industries Dinner and 2012 Humanitarian Award recipient, was inducted into the National Jewish Health Council of National Trustees. Pollicino is senior vice president and regional manager of Wells Fargo Bank N.A.
Members of National Jewish Health Council of National Trustees attending the Financial Industries Dinner included:
Robert J. Arth, Bank of America N.A., Merrill Lynch, Pierce, Fenner & Smith Inc.
Philip F. Bleser, Global Corporate Banking NA, J.P. Morgan Securities Inc.
Donald J. Gibson, Middle Market Credit Administration, JPMorgan Chase & Co.
Lawrence A. Marsiello, Pine Brook Road Partners LLC
Steven J. Seif, Hahn & Hessen LLP
Harry C. Steinmetz, WeiserMazars LLP
Andrew H. Tananbaum, Capital Business Credit LLC
Carl A. Toriello, Jefferies Finance LLC
Terrence J. Ullrich, Agenta Partners LLC
George T. Wendler, MMG Consulting Firm
Other trustees involved in the dinner included Herbert L. Ash, Esq.; William A. Kosis, PNC Business Credit; John F. Daly; David J. Kantes; Warren K. Mino, Webster Business Capital Corp.; Joseph F. Nemia, TD Bank N.A.; and Joseph A. Pollicino Sr.
Financial Industries Dinner Benefactors included:
Audax
Bank of America, Merrill Lynch, Pierce, Fenner & Smith, Inc.
CIT Group, Inc.
Citibank, NA
Cole Taylor Business Capital
GE Capital Corp.
GE Capital Markets Inc.
Hahn & Hessen LLP
Holland & Knight LLP
JPMorgan Chase & Co.
KPS Capital Partners, LP
McGuireWoods LLP
Wendy & Thomas Naratil
Otterbourg, Steindler, Houston & Rosen, P.C.
PNC Business Credit
Quality King Distributors
RBS Citizens Business Capital
The Renco Group, Inc.
TD Bank, N.A.
United Refrigeration, Inc.
Winston & Strawn LLP
National Jewish Health is the leading respiratory hospital in the nation. Founded 124 years ago as a nonprofit hospital, National Jewish Health today is the only facility in the world dedicated exclusively to groundbreaking medical research and treatment of children and adults with respiratory, cardiac, immune and related disorders. Patients and families come to National Jewish Health from around the world to receive cutting-edge, comprehensive, coordinated care. To learn more, visit the media resources page.
Media Resources
---
We have many faculty members, from bench scientists to clinicians, who can speak on almost any aspect of respiratory, immune, cardiac and gastrointestinal disease as well as lung cancer and basic immunology.
Media Contacts
---
Our team is available to arrange interviews, discuss events and story ideas.