Kids 5 to 11 Can Now Receive a COVID Vaccine
Millions of American parents breathed a sigh of relief on Nov. 2 when the Centers for Disease Control and Prevention (CDC) gave final clearance for children ages 5 to 11 to receive the Pfizer-BioNTech's COVID-19 vaccine. This decision came after the U.S. Food and Drug Administration (FDA) granted emergency use authorization just a few days earlier. Now an estimated 28 million kids, almost a tenth of our population, can begin to get vaccinated.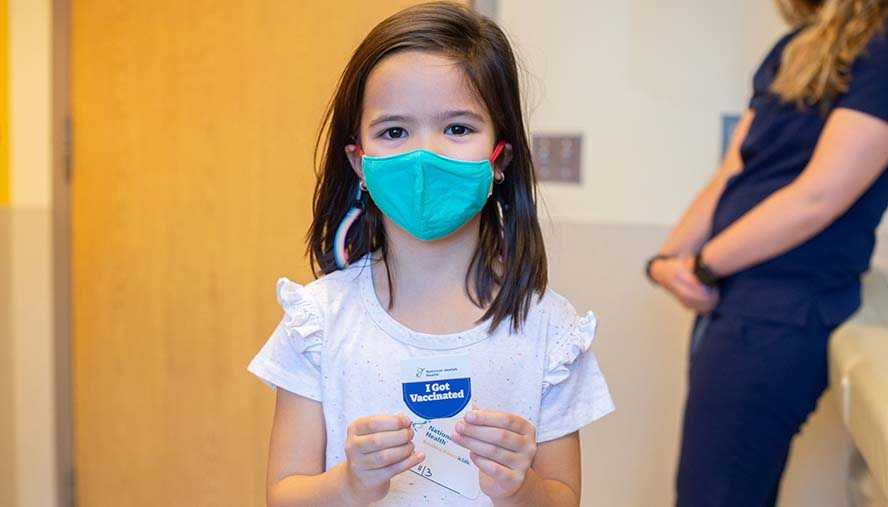 Nathan Rabinovitch, MD, a pediatric allergist and immunologist at National Jewish Health, thought the approval was a big, necessary step forward. "I think there has been an under appreciation on COVID in kids because it's so overwhelmingly an adult disease, but it also impacts kids," he said. "And if we're ever going to get COVID under control, we need to be able to vaccinate as much of this population as possible. This was a good development."
Pfizer reported that in this age group, two doses of their vaccine is nearly 91% effective against symptomatic infection. The authorization comes at a critical time as, with the rise of the Delta variant, the number of children being infected has steadily increased. More than 6 million children have tested positive for COVID-19 since the start of the pandemic.
Below are some answers to questions you might have about this situation.
Is the vaccine for young children different than for adults and teens?
Mainly, the Pfizer vaccine is the same as what teens and adults receive, but it will be administered at a third of the dosage, so 10 micrograms for kids ages 5 to 11 compared to 30 micrograms for anyone older. Administration of first and second shots is recommended to be three weeks apart, the same as the adult vaccine. Pfizer said the smaller dosage was chosen for this age group because they have more robust immune systems and although the chance of side effects is very small, the lower dosage minimized chances for serious side effects.
The only other difference in the vaccine is a chemical called tri-sucrose, which increases the amount of time the vaccine can be stored in a refrigerator to 10 weeks, and makes it easier to dilute.
What are the possible side effects?
For the most part, kids will likely experience minor reactions such as sore arms, fatigue and chills. Pfizer said the side effects in their study were "generally comparable to those observed in participants 16 to 25 years of age." The FDA noted there is a small risk of kids developing myocarditis, inflammation of the heart muscle, but said the benefits of the vaccine far outweighed the risk. The condition is very rare and treatable, and COVID-19 is actually more likely to cause it than the vaccine.
"If we're ever going to get COVID under control, we need to be able to vaccinate as much of this population as possible. This was a good development."
– Nathan Rabinovitch, MD
Why do kids need to be vaccinated if they don't get as sick as adults?
It is true that most children with COVID-19 will exhibit mild or no symptoms, but there is still a risk of severe illness and even death. One development that concerns doctors like Dr. Rabinovitch is a syndrome called multisystem inflammatory syndrome in children (MIS-C). This serious and potentially deadly condition is characterized by inflammation of different body parts, like the heart, lungs or kidneys. It isn't known what causes MIS-C, but it appears to be linked with COVID infection or exposure. Dr. Rabinovitch is also concerned about "long COVID," a condition where patients continue to suffer with various symptoms for weeks or months after their initial infection.
"We are definitely seeing and treating long COVID in pediatrics. That's something else to think about, not just the acute effects, but the long-term effects, too," he said. "Does it affect their cognition, their learning, as well as their bodies? We just don't know."
Further, even if they don't get that sick, younger children are a large group that is potentially spreading the virus to adults, the elderly and the immunocompromised. And experts still fear the possibility of a more dangerous mutation of the virus.
"The more this virus percolates in the unvaccinated population, the more likely we will have a variant that may theoretically escape the vaccine," Dr. Rabinovitch said. "As a public health issue, we need to minimize how much virus is circulating around us."
What other benefits could this have?
Dr. Rabinovitch emphasizes that the more people of any age get the vaccine, the closer we get to herd immunity, which has always been a major goal. As a pediatric expert, he also hopes the vaccine can provide a less direct benefit to kids, regarding their mental and social wellbeing.
"We know kids have experienced real anxiety through this pandemic with so much disruption in their young lives. They are afraid of getting sick, dying, the unknown," he said. "Not only could getting the vaccine give them confidence, but it will allow them to socialize normally again and get back to regular schooling. Let's not underestimate the huge benefit this could make for them."
Where can my child receive their vaccine?
Rather than at mass vaccination sites, most children will be able to get their shots in places like pediatric offices, health centers and in many pharmacies. They might even be administered at some schools. You can log on to vaccines.gov, a new CDC website to help Americans search for nearby COVID-19 vaccine providers.
What about the other vaccines? Should I wait?
Pfizer is the only vaccine that is currently approved for 5-year-olds in the near future. Moderna recently announced that its vaccine is safe and effective for children ages 6 to 11 and that it will seek FDA approval soon. Johnson & Johnson's vaccine is still only authorized for people over the age of 18. The company is expected to begin clinical trials in kids as young as 12 years old in the coming months.
"I don't think, clinically, the difference between the Moderna and Pfizer vaccine in kids this age will be that significant and don't really see the value in waiting," Dr. Rabinovitch said. "This vaccine has been tested with a huge sample size and has proven to be extremely effective."
When could even younger kids get their vaccine?
Soon. Pfizer is expected to apply for EUA approval from the FDA for the administration of their vaccine for children between the ages of 6 months and 5 years old in November. The dosage would be even smaller for this age group. Moderna is also running clinical trials, so your really little ones might be eligible by the end of the year or early 2022.