What's New With COVID Boosters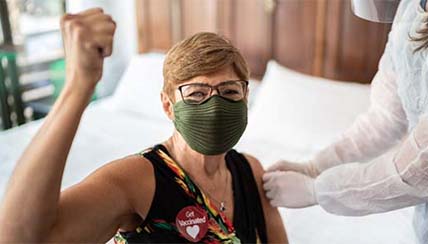 There are now more options available if you are looking for a COVID-19 booster. On Oct. 26, 2021, the U.S. Food and Drug Administration (FDA) amended its emergency use authorizations (EUA) to allow for single-dose boosters of the vaccines made by Moderna and Johnson & Johnson. They join the Pfizer-BioNTech vaccine, which was authorized in August. Now, a reported 99 million Americans are eligible for a booster shot.
The FDA said in their approval that the recent decision making boosters available is important for continued protection and demonstrates their commitment to public health. Carrie Horn, MD, chief medical officer and chief of the Division of Hospital & Internal Medicine at National Jewish Health, agrees that the decision is a good one.
"With Pfizer already approved, a lot of people who received the Moderna or Johnson & Johnson vaccines also were eager to get their booster," she said. "We know antibody levels start to wane about 6-8 months after your last dose, and while that doesn't tell you the whole picture around immunity, we do know that all three vaccines behave in a similar manner, which means they should all be treated the same in terms of booster doses."
The FDA also authorized "mixing and matching" of booster doses for all approved vaccines. Below are some answers to questions you might have about these topics and other COVID-19 vaccine news.
"Whether you mix or match or stay the same, you're still getting good results out of the booster."
– Carrie Horn, MD
Who is eligible to receive the new boosters and when?
The Emergency Use Authorization (EUA) Fact Sheets list the following conditions for each vaccine:
Pfizer
Boosters may be administered at least six months after the second dose to people that are at least 16 years of age.
Moderna
Boosters may be administered at least six months after the second dose to people that are at least 16 years of age.
Johnson & Johnson
Boosters may be administered at least two months after the original dose to people 18 years of age and older.
Why is it possible to mix and match with different vaccines?
Each variety of vaccine – Pfizer, Moderna and Johnson & Johnson – give our immune systems instructions on how to identify and attack the virus that produces COVID-19. They just use slightly different roads to get to the same destination.
The Pfizer and Moderna vaccines both utilize mRNA, while the Johnson & Johnson vaccine uses an altered virus. The endpoint is the same.
Is mixing and matching better?
There isn't enough information to know for sure yet, but some small, early studies suggest your immune system could be stronger if you mix and match. Dr. Horn said one theoretical advantage to mixing and matching could be that because the three vaccines are a little different, they could help you produce a broader range of antibodies to fight the virus. Currently, there is no known extra health risk to mixing and matching.
"I think regardless of which vaccine you use, you're boosting your antibody production for an early response and, whether you mix or match or stay the same, you're still getting good results out of the booster," she said.
What about boosters for healthy people under age 65?
The FDA could authorize boosters for healthy people as young as young as 40 years old soon, but no official announcement has yet been made. Dr. Horn points out that vaccinating this age group is important. They likely received their vaccines as long as eight months ago and their immunity might be starting to decline.
"That's also a group that's going to be at a higher risk of transmission because they are a lot more active," she said. "And unfortunately, they are who we are seeing more of in hospitals, so we need to ask ourselves what extra steps can we take to protect them."
What about a combination COVID/flu vaccine?
Work is underway to develop a combination COVID/flu vaccine booster, but likely not for this season. People are able to get separate vaccines for each virus in a single visit, but Dr. Horn said simplifying the process even more could help get better compliance.
"Patients are just more likely to accept one jab than two because it's easier and saves them from having two sore arms," she said. "Some people are also a little reluctant to get the booster and flu shot on different days because they think they will feel terrible twice instead of once. So in terms of getting people to actually get both vaccines, a one-shot stop would be highly valuable."
Do I need a COVID vaccine since there are now more treatments?
Scientists continue to develop new ways to combat Covid-19 beyond vaccines, such as monoclonal antibodies or the antiviral drug remdesivir, which must be given intravenously as outpatients at a hospital. There are also oral therapies being proposed, but these do not replace a vaccine.
Dr. Horn added, "We would much prefer people be proactive with the vaccine because you could also still get the treatment if you need it. Prevention is better than hoping that treatments work once you are really sick."
Will I need a fourth-dose booster, or more?
Many people will be happy to get second or third dose boosters, but it won't necessarily end there. The Centers for Disease Control and Prevention (CDC) recently said some immunocompromised people can get a fourth dose of an mRNA vaccine for additional protection, six months after their third. Will the general population continue to need more boosters down the road, as well?
Dr. Horn said the answer is complicated by factors like how strong our antibody levels and cellular immunity will be in the near future. The prevalence of COVID-19 in the world and the goals we want to achieve will also play a role. Right now, the goal is to minimize infections and death. She suggests that COVID-19 will eventually become a smaller disease that we all manage, like the common cold. If that becomes the case, then recommendations would likely be revised.
Do I need a booster if I have had COVID?
For most people, there is, unfortunately, no one right answer. Generally speaking, Dr. Horn said that people who were infected with COVID-19 have sufficient antibody levels for about 90 days during which they are unlikely to be re-infected. And, there is a common feeling that one infection of COVID is equivalent to one dose of vaccine. The problem is that it is hard to test this theory for any conclusive answers, especially considering the wide range of ways different people experience COVID infections.
"This is a great conversation for you to have with your doctor because there are so many nuances around the timing of your infection, timing of vaccine doses and your underlying health conditions," she said.
She did, however, recommend that patients with weak or compromised immune systems should probably get a booster.
Which vaccine is best for you?
While each vaccine has shown different rates of protection for different strains of COVID-19, Dr. Horn reminds people that all are highly effective in protecting you against severe disease and death, even without booster doses. The number of unvaccinated people in hospitals far outweigh the number of vaccinated people.
"You know which vaccine is the best for you?" she asks. "The one in your arm."

We would encourage you to talk to your health care provider about your medical condition, and whether getting an additional dose is appropriate for you.