Your Guide to Summer Travel During COVID Surges According to a Medical Expert
This information was reviewed and approved by Carrie A. Horn, MD (June 2022).
Balancing the desire to travel and enjoy life this summer with the need to stay safe from new COVID variants is just as difficult as it sounds. Fortunately, we were able to consult with our own Chief Medical Officer Carrie Horn, MD, to learn strategies for getting the most out of the season.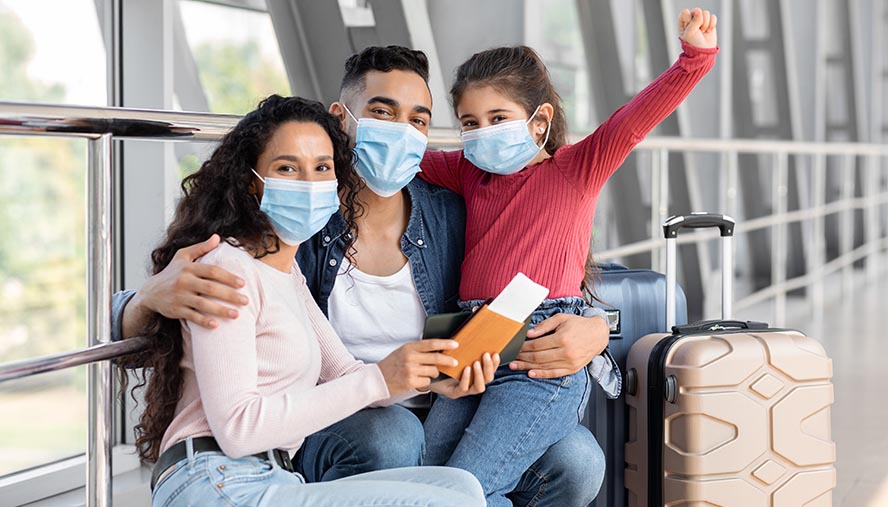 Q: How should we approach traveling during new COVID surges?
A: There are a couple of things. While they don't have a mask mandate on planes, it's still an enclosed space, so wearing a mask is certainly a reasonable thing to do, especially with numbers going up.
If you're immunocompromised, if you're a high-risk person, you might be more willing to mask than otherwise. Make sure you're vaccinated and boosted if you haven't already done that. If you qualify, now's a good time, as this surge is going on.
Remember that it's okay to cancel and change your plans if you're sick, if the person you're visiting is sick or if someone coming to visit you is sick. You can reschedule. It's okay. Also, have a backup plan in case you get sick while you're there. For instance, what if you take that swab test before you come home and it's positive? Do you have a place to stay or an alternate way to get home?
Q: What should you consider when traveling domestically vs. abroad?
A: For both cases, again, remember that it's okay to cancel and reschedule. You need to have that backup plan in case you get sick. That's definitely true for both, though it's much harder with international travel. When abroad, you've really got to pay attention to their rules, not just the rules you are used to following in the U.S. Different countries have different rules about vaccination, when you have to test and what kind of test you have to get before you leave and arrive. Restaurants may have different vaccination and mask rules as well. Also recognize that if case rates surge while you are out of the country, the requirements to return may change with little notice, so watch the rules while you are traveling.
Q: Are there any particular COVID variants we should be concerned about this summer?
A: You know, the several different Omicron variants have been increasing. I think there's always a chance that if there's a surge we will see a new variant. I don't think anyone quite knows what that looks like, but there's always that risk. Vaccination is still really helpful though. If you haven't had a booster and you qualify, that's a really good thing to do a few weeks before you travel so you've got that extra protection ahead of time. With the changing variants, there is a risk that you can get infected more than once in a shorter time frame, so having had a recent infection may not provide as much protection from getting sick as it has in the past.
Q: What should you do if you're traveling and immunocompromised?
A: If you're immunocompromised, you're going to want to be a little more careful about making sure you wear a mask — again, wear one that's well-fitted and high quality. You want to make sure that you've had that fourth dose. And, if somebody else is sick, just simply leave. I think that people often feel pressured to stay. If you go to a movie and someone is sitting behind you coughing the whole time, it's not worth the money to possibly get exposed and sick.
There are people who qualify for the monoclonal treatment as a preventative measure. If you didn't have a good response to the vaccine, then ask your doctor if you qualify for Evusheld™. If you do, get that medication before travel or big events.
Q: Are there special considerations for traveling by plane vs. traveling by car?
A: I don't know if we saw a ton of direct plane transmission. But you should still be aware of your surroundings. Turn on the air so that you have better circulation. Remember that air goes underneath the seats as it circulates, so less baggage underneath can give you a little better airflow.
Think about where you're sitting in the airport. Are you going to sit down in the most crowded terminal or do you want to get a seat out by yourself?
For traveling by car, I tend to worry less about the COVID risk than, say, aspects like making sure you're stopping to go to the bathroom and stretching your legs because sitting for long periods of time is hard on the body.
If you're someone who would qualify for treatment with an oral agent, like molnupiravir, Paxlovid™ or monoclonals, it's probably worth understanding how to get that prescribed where you're going. If you do get sick and you qualify, can you get treatment? Research that ahead of time. Most major institutions have it. A lot of the big pharmacies have telehealth options for people who don't have a doctor. It's under the Test to Treat approach from the U.S, Department of Health & Human Services. Know where the options are where you're headed, so if you do get sick you can get treated right away.
Q: What should you do if you get COVID symptoms while traveling?
A: Definitely get tested. I think it's a good idea to have somebody traveling with you who can get you symptomatic treatment. If you have a fever and you need ibuprofen or Tylenol®, or throat lozenges, it's nice to have someone help you with things like that.
Be seen if you really are sick. If you don't carry an oximeter with you, go somewhere where you can get your oxygen levels tested if you're really feeling ill. Then stay away from people. Please don't spread it.
Q: What medication to bring while traveling, and what can you get in a pinch?
A: When you travel, make sure to bring basic things like acetaminophen or ibuprofen with you. But if you forget, those items are available over-the-counter and usually are not too hard to find outside of the U.S. A lot of places have drive-up grocery pickup and delivery, so you don't even have to get out of the car. If you don't feel well and you're in a place you don't know, sometimes it's more challenging to find the local pharmacy. Also remember to bring an extra supply of your normal medications, not just enough to last the trip. Access to prescription medications will vary by country.
Know where you're going. If you're going somewhere rural where the nearest pharmacy is 30 minutes away, you might want to bring your own medicine. If you're staying in downtown Manhattan above a Walgreens®, it's a little different. I think now is a good time for people to be more aware of the situation at their destination in terms of access to care.
Q: What should you do if you're traveling with children?
A: Good hygiene is important. Make sure they wash their hands a lot, because they're touching a lot of stuff that other people have touched when you're traveling. Sometimes little kids will touch their mouths often. So make sure that they're not touching everything and that you have hand gel, wipes and things like that when you don't have access to soap and water.
Q: Is it safe to send children to camp?
A: If they're vaccinated, I would say yes. Especially with many summer camps being outdoors. If your kid is high-risk, you can certainly make sure that they're wearing a mask, and that it's a high quality, well-fitting mask. But I think, overall, if you take the appropriate precautions of vaccination and masking as needed, yes, I would say it's safe.
For more health and travel tips, you can read our additional guide here.