How to Talk with People Who Are Hesitant to Get Vaccinated
This information was reviewed and approved by Gabriel C. Lockhart, MD (July 2022).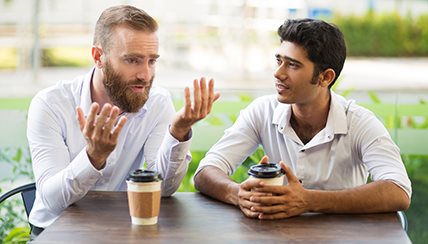 The decision to get vaccinated is shaped by personal beliefs, emotions and life experiences. Sometimes, vaccine hesitancy is driven by mistrust of the government or medical system, or by personal finances. The most effective way to help people in the decision-making process is to build trust, answer questions and inspire hope. Use the following suggestions to guide your conversations.
Build Trust
To build trust while calming fear and anxiety, use a friendly tone and acknowledge that questions about the vaccine are normal and understandable.
Answer Questions
Answer questions as straightforward as you can with respect and honesty. Do not overwhelm them by providing too many details or emotional appeals.
Inspire Hope
Help vaccine-hesitant people find the connection between getting vaccinated and being able to experience normal activities that were lost during the pandemic, such as hugging, sharing meals and seeing family and friends.
Understand Vaccine Hesitancy
Remember, most people who are reluctant to get the COVID-19 vaccine are exposed to an overabundance of information. They want to find out what information is accurate. Your job is not to convince them to get vaccinated but rather to be a trusted source of information so they can make an informed decision.
"Your job is not to convince them to get vaccinated, but rather be a trusted source of quality information so they can make an informed decision." Gabriel Lockhart, MD
Ask About Their Concerns
Reasons that someone may be hesitant to get the vaccine are often personal. Approach people from a place of love, respect and support so they know that you want to understand their concerns. For example, "I would like to understand the reason you are hesitant to get the COVID-19 vaccine. Is there something specific that's making you hesitate?"
Have a Two-Way Conversation
Be a good listener so you understand what the other person is saying. Reflect what they are saying and ask clarifying questions in a calm, friendly and respectful way.

Not Everyone Can Be Influenced
Confirm that you understand their reasons and then ask if they want to hear another viewpoint. If they are open, then calmly provide them information from reliable sources in a helpful way.

Share Why You Got the Vaccine
Explain the concerns you had, how you overcame them and what your experience was with getting the shot. People trust others who are within their circle of family and friends.

Know Common Vaccine Concerns
Some of the reasons people may be hesitant to get the vaccine may include concerns about: the fast development, long- and short-term safety, side effects, misinformation, not understanding the science, distrust of government and health care entities or other issues. Research these topics.
New But Not Unknown mRNA Vaccine Technology
The U.S. has 20+ years of experience with mRNA vaccine technology. It has been studied in chemotherapies as well as vaccines for flu, rabies and the Zika virus. Efforts all around the world were focused on developing a vaccine using existing mRNA technology instead of starting from scratch.

Think of it as a construction company tasked to quickly build a skyscraper that normally takes a long time to build. When multiple construction companies are suddenly asked to all work on the same skyscraper, the building can be finished in record time.
Vaccines and DNA
The mRNA vaccines DO NOT affect or change your DNA at all. This vaccine contains a piece of genetic code that tells the immune system to create antibodies against the COVID-19 virus. This code is then destroyed after helping your body create the antibodies.
Can You Get COVID from the Vaccine?
No, none of the currently approved vaccines contain any live virus, so you can't get the disease from the vaccine.
Development Safety Concerns
A vaccine for COVID-19 became the world's hope to end the pandemic. Organizations such as the Centers for Disease Control and Prevention and the U.S. Food and Drug Administration (FDA), closely monitored every step of vaccine development. No shortcuts were taken during any part of the process, and the FDA and CDC continue to ensure safety and effectiveness.
Clinical Trials
Clinical trials for these vaccines were under the strictest standards to ensure safety and effectiveness. The Pfizer-BioNTech vaccine trial included more than 43,000 participants. Eight of the vaccine group and 162 of the placebo group developed COVID-19. In the Moderna vaccine trial, five participants in the vaccine group and 90 in the placebo group developed COVID-19 out of the more than 30,000 participants. The Johnson & Johnson vaccine trial had about 44,000 participants. There were 116 COVID cases in the vaccine group and 348 in the placebo group. The efficacy in these trials far surpassed the initial goals. There was even more effectiveness than typical influenza vaccines.
Emergency Use Authorization and Approval
The FDA granted Emergency Use Authorization to the Pfizer, Moderna and Johnson & Johnson vaccines because they proved to be at least 50% more effective than the placebo in preventing COVID-19, which is the goal of any vaccine the FDA reviews.

After further review, the FDA granted full approval for both the Moderna and Pfizer vaccines, with the Johnson & Johnson vaccine being recommended only for specific cases.

Side Effects
Vaccines for COVID-19 have the same common side effects as other vaccines. These include soreness at the injection site, mild flu-like symptoms, weariness, low fever, headache or body ache. Some people report having more side effects after their second dose of the mRNA vaccines. It may be a good idea to plan a day off from work after the second or booster dose.
Allergic Reactions
An allergic reaction to a COVID-19 vaccine is very rare. Only two to five people out of one million vaccinated had this reaction. These reactions happened within 30 minutes of getting the shot. Even though this is a rare situation, precautions are taken, with people asked to stay where they are vaccinated for 15 to 30 minutes to watch for a reaction.
Johnson & Johnson Vaccine
Erring on the side of extreme caution, the FDA paused the use of the Johnson & Johnson vaccine in 2021 while reviewing data on the risk of blood clots and severe side effects. Despite the rarity of these side effects, the FDA has limited the authorized use of the Johnson & Johnson vaccine to specific individuals. This is an example of the safety oversight applied to all COVID vaccination.
Distrust of Health Care Officials Due to Historical Wrongs Against BIPOC
The U.S. acknowledges many historical examples where Black, indigenous and people of color (BIPOC) have suffered from worse medical outcomes due to conscious and unconscious biases. The aim is to guard against such injustices going forward. In the vaccine trials mentioned above, racial and ethnic backgrounds were well-represented in the distribution of people tested. They were also well-represented in the outcomes showing great results. This matters, especially when BIPOC populations have suffered greater losses in severe COVID-19 disease than white populations.
Vaccine and Pregnancy, Breastfeeding Mothers
Pregnant women were excluded from initial trials, which is typical for these circumstances. However, The Society for Maternal-Fetal Medicine and The American College of Obstetricians and Gynecologists each released statements encouraging pregnant women to consider getting the vaccine and enrolling in further studies and ongoing monitoring.

Breastfeeding mothers who are vaccinated can continue breastfeeding. Antibodies against COVID-19 can be found in breast milk, which is safe for babies. It is not clear if this provides added protection against COVID-19 disease for these babies.
Vaccine and Fertility
There is no evidence that the COVID-19 vaccine or any other vaccine causes fertility problems.
Already Had COVID
Even if you already were diagnosed and treated for COVID-19, it's important to get the vaccine. Scientists and doctors are still collecting data to determine how long protection lasts after having the disease or getting the vaccine. The vaccine has proven effective at protecting against developing severe disease.
Reliable Resources
Share and suggest only well-known and credible resources such as the Centers for Disease Control and Prevention (CDC), the World Health Organization, Global Advisory Committee on Vaccine Safety, National Jewish Health and Colorado Department of Public Health and Environment (CDPHE).
How to get the vaccine in Colorado:
www.Covid19.Colorado.gov/vaccine or www.Covid19.Colorado.gov/vacuna (Spanish site)
Call COVAX Hotline. 1-877-CO VAX CO (1-877-268-2926)
The vaccine is free. You do not have to have an ID nor health insurance to receive the vaccine (both may be asked for but are not required). Immigration and Customs Enforcement (ICE) will not be present at any vaccination site.
Explain Why Vaccination Matters – Inspire Hope
The currently available vaccines for COVID-19 have proven over and over to be safe and effective at preventing serious, life-threatening disease. Without the vaccine and the majority of the population getting vaccinated, we would not be able to get back to doing the activities you love while not wearing masks. This enables you to safely see family across the nation, hug and share a meal without fear of consequence. The vaccine ensures that you don't miss work and can provide for your family. This is how you protect yourself, your family, and your community.
Be Patient
It can take people weeks to months to do their research on the COVID-19 vaccine. Give them time and let them know you are available to help them research.
Know When to Let the Subject Drop
If you ask the person if there is anything that might change their mind about getting the vaccine and you are told "absolutely not" then, it is okay to agree to disagree.
Source: Colorado Health Foundation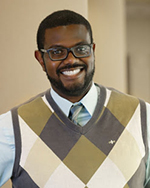 Gabriel C. Lockhart, MD, is a critical care pulmonologist at National Jewish Health and director of the Intensive Care Unit at National Jewish Health ǀ Saint Joseph Hospital. Dr. Lockhart has also worked as part of the medical advisory group for the Colorado Expert Emergency Epidemic Response Committee to address the pandemic in Colorado.