A Series of Articles on the Science Behind COVID-19
COVID-19 Vaccine for Kids
By: Pamela Zeitlin, MD, MPhil, PhD, pediatric pulmonologist, chair of the Department of Pediatrics at National Jewish Health
July 2022
On June 17, 2022, the U.S. Food and Drug Administration (FDA) issued an emergency use authorization (EUA) for the Moderna COVID-19 vaccine and the Pfizer-BioNTech COVID-19 vaccine for children starting at six months of age.

The vast majority of children who develop COVID-19 have mild or asymptomatic infections, but in both cases they can transmit the disease to others of any age. Children under the age of 21 make up about 25 percent of the U.S. population.

Vaccinating children against COVID-19 will protect them and their families from serious infection. Currently both the Pfizer and Moderna vaccines have approval by the FDA for children ages six months and older. Learn more from the Centers for Disease Control and Prevention (CDC) or from the U.S. Food and Drug Administration (FDA).

"COVID may be on the run, but we need to run it into the ground."
Pamela Zeitlin, MD, chair of National Jewish Health for Kids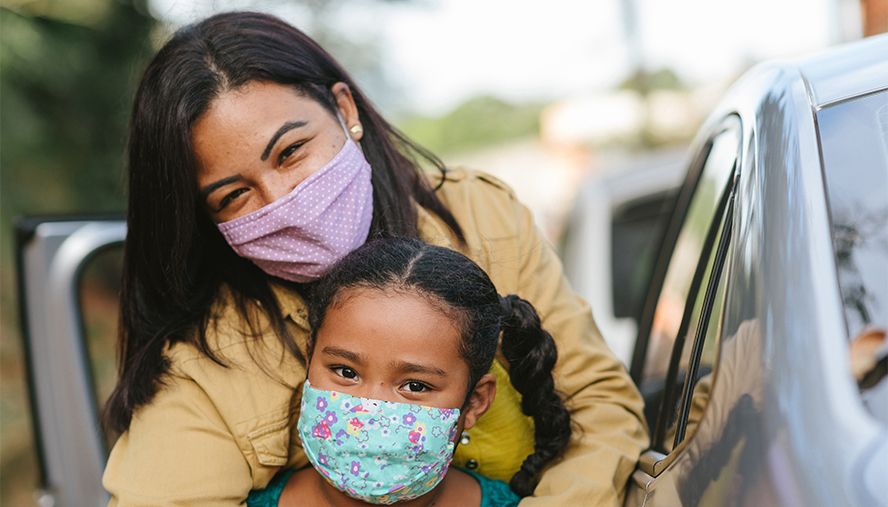 Common Vaccine Side Effects in Children
Common side effects for children 6 months to 5-year-olds were crying, loss of appetite, sleepiness, pain, redness and swelling at the injection site, headache, muscle/joint pain, nausea/vomiting, chills and fever. After the first dose of their COVID-19 vaccine, Dr. Zeitlin finds that her patients can have a little bit of soreness in the arm where vaccine was injected, but it doesn't limit activity. She recommends waiting 24 hours after the vaccine to resume very strenuous activity, for example, no weightlifting right after getting the vaccine. "It's your muscle that's taking the vaccine. You can move it around and massage it, but maybe wait for very heavy exercise," she recommended.

She's finding after the second dose that there are more side effects reported, such as low-grade fever, muscle aches in general around the body, sleepiness, fatigue, shaking and chills. "So we often recommend that kids take it easy after the second dose. Don't have anything major scheduled," said Dr. Zeitlin. Some parents worry that their children will have a hard time with the second shot. "Kids are reporting fewer side effects to us than adults. It's good to know what could happen, but don't expect your child to have the same reaction that you did. Everybody's different."

If you are concerned about the COVID-19 vaccine because your child has severe allergies, asthma, food allergies or other chronic health conditions, remember that complications are rare, and we encourage you to talk with your child's specialist to determine what's best for your child's health needs.

A very small number of people with a history of allergies have developed severe allergic reactions after receiving the vaccine. If your child is receiving their vaccinations at National Jewish Health for Kids, the clinic staff will ask about your child's history of allergic reactions and ask you to remain at the vaccine site 15 to 30 minutes after receiving the shot to make sure your child does not develop an allergic reaction. All vaccination sites are equipped with medications to treat allergic reactions.
Reasons to Get the Vaccine
You might wonder why your children 6 months to 17- year-olds should be vaccinated against COVID-19, since they're less likely to have a severe or fatal infection. But Dr. Zeitlin explained, "It matters tremendously. I'm on the front lines. I care for children who are in the hospital with active COVID-19 infections who have been quite sick and in the ICU on very high oxygen flows. I saw one yesterday. Some of the children have very severe illnesses; some of them even die, and the vaccine is good protection."

Dr. Zeitlin reminds parents, "We still vaccinate against polio and measles. When people let up on vaccination in different communities, then outbreaks occur, and children suffer. They can have very serious, lasting consequences from a measles infection, such as losing their hearing. We can all be encouraged that COVID-19 rates have declined in this country. We recommend vaccinating your children to prevent serious illness. COVID may be on the run, but we need to run it into the ground."

Lasting consequences from COVID-19, or long-haul COVID, are real. Dr. Zeitlin noted that, "Even if your child has mild symptoms, in a couple of months they can come up with exercise intolerance, unusual fatigue and muscle and joint pains. We have a special program for that at National Jewish Health. But you don't want your children to get it at all. People say COVID-19 doesn't affect kids — but it definitely does."
Children with Special Circumstances
Dr. Zeitlin fields questions from parents about getting the COVID-19 vaccine for their children who have different specific circumstances, including:

• Children Who've Had COVID-19
You can still get COVID-19 even after having had the virus. Dr. Zeitlin said, "The CDC recommends the vaccine for people who have had COVID-19, but if they were treated with monoclonal antibodies or convalescent plasma, wait 90 days after symptoms have ceased."

• Children with Chronic Conditions
If you have a child with a chronic condition such as asthma, diabetes or heart disease, they should be vaccinated against COVID-19, because, Dr. Zeitlin offered, "There's no increased risk they'll react to the vaccine."

• Immune-Deficient Children
"If your child is immune deficient, there's concern that he or she won't respond fully to the vaccine," said Dr. Zeitlin. "Get the vaccine, and work with your provider — test for antibodies to check how it's working."
Don't Delay Vaccination
There are still children who remain at home because their parents don't want to send them to activities until they are vaccinated. Those children could be missing out on socializing with their friends, sports, summer camp and travel. The safest way to do any of those activities is, if you are eligible, to get vaccinated.
Safe with Other Childhood Vaccinations
The Centers for Disease Control and Prevention (CDC) previously recommended that people separate the COVID-19 vaccine by two weeks from other vaccines, such as those for HPV, tetanus or meningitis. However, the CDC recently announced that COVID-19 vaccine co-administration with other vaccines is safe. Dr. Zeitlin pointed out, "This really opens up more flexibility for families and care providers, especially as kids get their vaccines before they go to school or college. If they happen to get one of those, but they also need to go get a COVID-19 vaccine at the same time, it'll be ok now."
Continue to Follow the Rules
Once your child is vaccinated, Dr. Zeitlin reminds parents, "Follow the rules wherever you are. A vaccinated person can still get the virus and not know it; they won't feel sick. But they could transfer it to their younger siblings or unvaccinated friends and loved ones. Still practice plenty of hand-washing and general hygiene. Wearing masks whenever they're supposed to is a good idea."