COVID, Flu & RSV – Reduce Your Risk During This Triple Threat Season
There's never been a time when understanding COVID was simple. And 2023 is no different. In some ways, we've advanced far beyond where we were at the start of the pandemic. In others, the same old safety guidelines apply. However, one thing that hasn't changed is the importance of staying informed on how to protect yourself and your loved ones from a virus that can have long-lasting consequences.
So, with a new rollout of variant-targeting vaccines on the horizon (expected by late September), it's a good time to learn how the COVID conversation has evolved. We spoke to National Jewish Health Chief Medical Officer Carrie Horn, MD, who provided an update on the virus, along with guidance on how to navigate the coming year.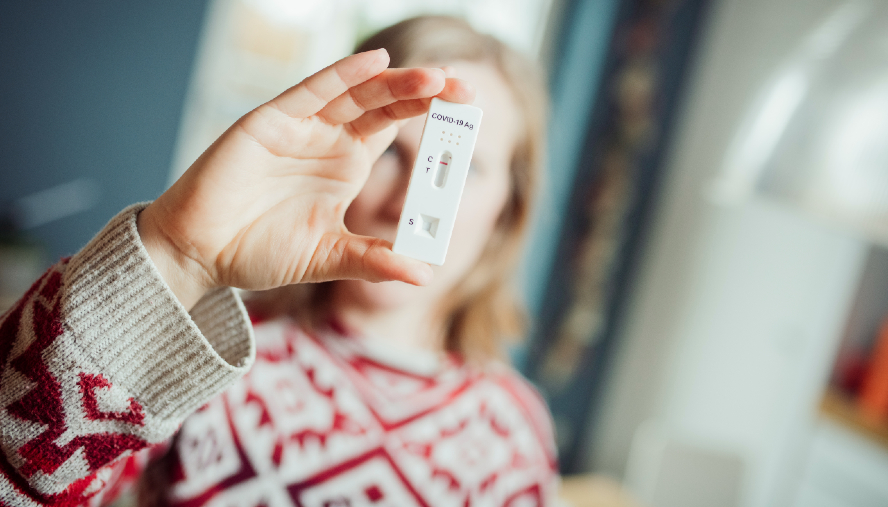 Another RSV-Flu-COVID Tripledemic?
In the fall and winter of 2022, respiratory syncytial virus (RSV) cases were spiking, followed closely by the flu. When these infections threatened to combine with COVID, experts warned of a "tripledemic," in which cases from the three separate viruses could put a strain on health care resources.
"We've always had this winter surge from respiratory viruses," said Dr. Horn. "The RSV surge that happened within the last year was really unique. And so I don't necessarily think it's going to happen like that again. But there's always the risk. Every winter we're facing a question of which combination of viruses are going to lead the pack."
Fortunately, there are treatments and vaccines available for each of these viruses. Along with the flu and COVID vaccines, a new RSV vaccine was just approved by the Food and Drug Administration (FDA) this year, which should help high-risk populations prepare for the winter season. Additionally, the FDA also has approved a drug to help prevent RSV in babies and toddlers, who are particularly vulnerable to the illness.
In addition to staying up-to-date on preventive medicine, taking personal hygiene seriously also can make a big difference. Remember to practice proper handwashing, cover your cough with your elbow and try to avoid large crowds when infections are peaking. By following prevention tips, you can help take down the tripledemic this season.

Annual COVID Shot vs. Boosters?
Many health experts are attempting to move people away from thinking of new COVID shots as boosters. COVID is constantly mutating, and new variants require updated doses that target each year's dominant strains. This is very similar to how flu vaccines work. Every year, the Centers for Disease Control and Prevention (CDC) updates its flu shot recommendations to give people the best protection possible.
"Is it a booster? Well, not exactly, because you're putting in different components, as opposed to using the original strain," Dr. Horn clarified. "So they're going to be targeting different parts of that spike protein to try to match currently circulating variants. And they make the COVID-19 vaccine based on that."

The Latest Variants and Symptoms
You probably remember some of the major variants from the last few years, largely due to the Omicron and Delta waves. And while we haven't gotten better at workshopping catchy names for these viral spinoffs, we have gotten better at understanding them.
Right now, the most dominant strains of COVID are both descendants of Omicron. These two subvariants— called XBB.1.5 and EG.5 — will be targeted by this season's updated vaccines. So make sure to stay current with your shots, especially if you're immunocompromised or at-risk for disease (if you have a preexisting heart or lung condition, for instance).
COVID symptoms are notoriously inconsistent, but the latest variants can be even more difficult to spot than their predecessors. According to Dr. Horn, XBB.1.5 and EG.5 rarely lead to the loss of smell that was such a tell-tale sign for the original COVID strain. "Most people are not getting that with new infections," she noted. "Really, it's much more traditional. Fevers and chills, body aches, cough, runny nose and congestion. Some people will get shortness of breath. There is still a risk of severe disease."

The Next Wave?
Unfortunately, there's no end in sight when it comes to the possibility of new variants. However, with the right precautions, we can minimize their impact.
"If you think about it, if the vaccine is going to decrease the amount of virus in your system, you're decreasing the number of people getting infected," said Dr. Horn. "So you're also decreasing the speed at which the virus is replicating and spreading. The less a virus can replicate, the fewer variants it tends to produce."
So make sure you're doing your best to stay at home when you're sick. If, for whatever reason, you find yourself in a public space when you have symptoms, put on a well-fitting mask.
There are no guarantees, of course. But Dr. Horn stressed that every preventive measure helps reduce not only your risk but others' risk as well. "We don't live in a bubble like some of us did at the start of the pandemic," said Dr. Horn. "When you interact with people all day long, you never know, who's highly susceptible or who has highly susceptible family members. So every little bit helps."
The information on our website is medically reviewed and accurate at the time of publication. Due to the changing nature of the COVID-19 pandemic, information may have since changed. CDC.gov and your state's health department may offer additional guidance.
More on COVID-19 (Coronavirus)
---