Moving Forward in a COVID-19 World
Reviewed by: Jared J. Eddy, MD, infectious disease physician, National Jewish Health
January 5, 2022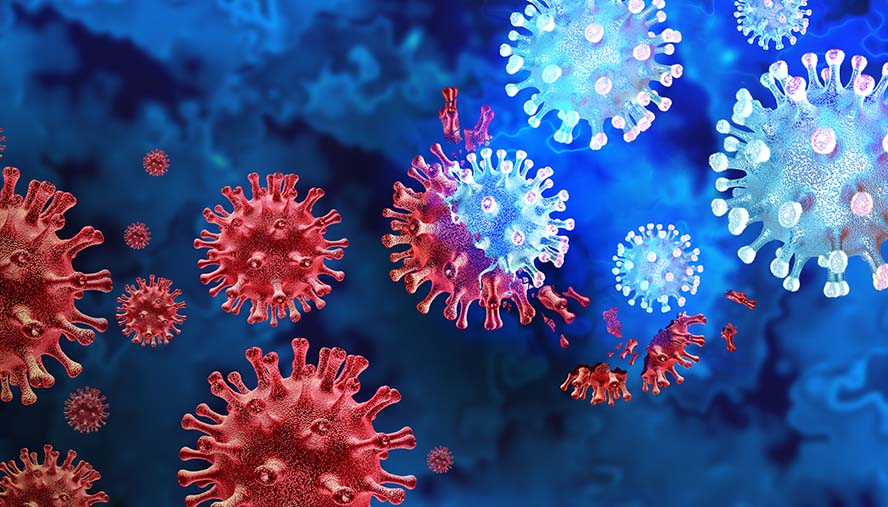 When COVID-19 changed life as we knew it in early 2020, we began wondering when things would return to "normal." Now, despite effective vaccines for ages 5 and older in the U.S., the Delta and Omicron COVID-19 variants are causing the rate of illness to rise and fall and rise again. As we move into 2022, what will it take to keep moving forward in a world where COVID-19 continues to persist?
Controlling the Spread
"COVID-19 is proving to be more difficult to control than other emerging viruses," said Jared J. Eddy, MD, an infectious disease specialist and the director of Infection Prevention and Antimicrobial Stewardship at National Jewish Health.
"COVID-19 is better at spreading than many other respiratory viruses. Although the virus that causes COVID-19 and the virus that causes the flu are transmitted primarily by inhalation of respiratory particles, the COVID-19 virus is now more contagious, generates super spreader events in large crowds, and can continually spread throughout all seasons. Additionally, people may be infectious without knowing it either a few days before developing symptoms or during very mild infections.
"Each phase of the pandemic has brought a more infectious variant. There was the initial strain, then Alpha, Delta, and most recently Omicron," adds Dr. Eddy. Variants "compete" with one another to infect the population, and are most spreadable among those who are unvaccinated.
The Delta variant introduced the additional challenge that vaccinated people, although less likely to contract COVID-19 if exposed, could still sometimes become sick and transmit the virus. "We learned that even if vaccinated, with Delta a person could have a high viral load similar to someone unvaccinated albeit for a shorter period of time." But people who are vaccinated are far less likely to have serious infections and the majority of spread still occurs amongst the unvaccinated.
The Omicron variant
Since November 2021 when this variant was designated a Variant of Concern in the U.S., it quickly has become the dominant strain. Over 95% of new COVID-19 cases are attributed to the Omicron variant, indicating that it is more transmissible than Delta and the original virus. Though most cases in the U.S. appear to be mild, cases of Omicron across Europe show no signs of being milder than Delta. Though more data about Omicron will develop over coming weeks, current vaccines and boosters are expected to continue protecting against severe illness, hospitalizations and death. Vaccines are still the best defense against this virus.
Vaccination Makes a Difference
According to Dr. Eddy, there is so much virus circulating that it has never dropped to the low levels needed to better control the spread. With only 62% of the U.S. fully vaccinated, there are unfortunately more people to drive the next wave of infection.
Vaccination has changed the trajectory of the pandemic by preventing more than 1 million deaths (by November 2021). Estimates suggest that COVID-19 deaths would have been more than three times higher and hospitalizations nearly five times higher without a vaccine.
Based on data from October 2021 from the CDC unvaccinated people compared to vaccinated people are:
Five times more likely to test positive for COVID (10 times more likely vs. those who have been boosted)
Eight times more likely to be hospitalized as an adult (10-12 times in ages 12-64 years)
Fourteen times more likely to die from COVID (20 times more likely vs. those who have been boosted)
Protection from the vaccine will decrease over time, so vaccine booster doses are needed to extend immunity. Some studies have shown that the vaccine's effectiveness decreases from 80-90% down to 40% against symptomatic infections after five or six months, so a booster is important to keep you protected.
"Most 'breakthrough' cases in vaccinated people are mild. However, severe infection is possible in people who are immunosuppressed or those who are elderly or have other medical conditions and have not gotten booster shots."
Jared J. Eddy, MD, infectious disease physician
Moving Forward Starts with You
"We need to understand that there may not be an end to COVID," said Dr. Eddy. "Many were expecting this virus to just go away. But across the world, there are areas that are seeing more COVID. Those variants will make their way to the U.S. sooner or later." We need to interrupt the spread of this virus by continuing to use the preventive measures we've used throughout the pandemic:
Vaccination: Everyone ages 5 and older in the United States is eligible for a vaccine, and many are eligible for booster shots. "Even in places where there are high vaccination rates, most of the surge is in the unvaccinated. Most 'breakthrough' cases in vaccinated people are mild. However, severe infection is possible in people who are immunosuppressed or those who are elderly or have other medical conditions and have not gotten booster shots," said Dr. Eddy. Booster shots are proving especially important for protection again the Omicron variant. Keep your vaccination up to date.
Community Spread: Check the rate of spread in your community often. "It's a lot like checking the weather. If you're planning to hike this Saturday, you would check to see if there will be a storm. If you want to go to the movies, check the local COVID-19 infection rate. If it's high, wear a mask in the theater even if other people aren't, or watch the movie at home," explained Dr. Eddy.
Ventilation: Avoid large groups indoors, open windows or take other measures to increase airflow when you are indoors.
Social Distancing: Even being unmasked outdoors in a closely packed crowd can lead to spread.
Testing: Keep COVID-19 self-testing kits on hand, and test yourself as soon as you have any cold-like symptoms. New anti-viral medications, including monoclonal antibodies (and hopefully soon COVID pills), may keep you from having severe infections and going to the hospital, but they must be taken within five to 10 days of becoming ill. Also, they must have appropriate activity against the variants currently common in your community. The sooner you know that you have COVID-19, the more treatment options may be available, and the less you will spread infection to others. Ask your doctor if you are eligible for these treatments. "We should also be doing more routine testing even without symptoms before social gatherings," said Dr. Eddy.
Masking and Handwashing: Wear a mask in public and wash your hands frequently with soap and water. Data shows that these two measures dramatically help prevent getting sick from many viruses, not just COVID-19.
The COVID-19 virus may never be eliminated, but we are headed in the right direction with vaccination largely preventing serious disease and death. With the knowledge gained from the past two years and ongoing, we can make wise choices about how to protect ourselves and each other while getting back to a more normal life.