Household Cleaning and Disinfecting for COVID-19 (Coronavirus)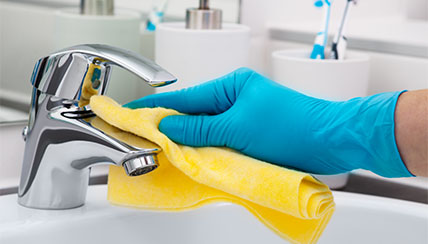 Wear gloves
Use disposable gloves when cleaning and doing laundry. Throw away gloves after each use and wash hands.
Clean surfaces
Before disinfecting, if surfaces are dirty, clean them with a detergent or soap and water.
Hard surfaces
To disinfect hard surfaces, use an EPA-approved product on this list or use a diluted household bleach solution of 1/3 cup of bleach per gallon of water or 4 teaspoons of bleach per quart of water.
High touch surfaces
Frequently clean tables, doorknobs, light switches, handles, desks, toilets, faucets, sinks, cell phones and other surfaces that are touch repeatedly.
Soft surfaces
Remove visible dirt, etc. from carpeted floors, rugs, drapes, etc., and launder according to manufacturer's instructions in the warmest water possible and dry completely.
Laundry
Wear disposable gloves when handling the dirty laundry of someone who is or was ill. Throw the gloves away after each use and wash hands after using. Do not shake the dirty laundry. Wash clothes according to manufacturers' instructions. It's ok to wash dirty clothes from a healthy person with those of a sick person.
Dirty clothes container
Clean and disinfect dirty clothes containers when empty.
Dishes
Wear disposable gloves when handling dishes that an ill person has used. Wash them in hot water with dish soap or in a dishwasher. Wash hands with soap and water after.
Trash can in sick person's room
Give the person who is ill their own trash can, lined with a garbage bag, in their own room if possible. Wear gloves when removing garbage bags and disposing of trash. Throw away the gloves and wash hands with soap and water.
This information has been reviewed and approved by Jared J. Eddy, MD and Shannon H. Kasperbauer, MD (March 2020)