Stay on Track with Safe Travel
This information has been reviewed and approved by Lisa Maier, MD and Rosine Angbanzan, MPH (February 2022)
Staying healthy while traveling during the COVID pandemic can be challenging, especially if you have a chronic health condition.
"While traveling is certainly different right now, by planning ahead and taking precautions you can feel safe when traveling," says Shannon Kasperbauer, MD, infectious disease expert and co-chair of Infection Control at National Jewish Health.
Before traveling, make sure you're vaccinated against COVID infection. You should also check the latest CDC guidelines, along with those provided by your state, to make sure you're taking the correct precautions. As this is written, travelers not up-to-date on their vaccination are encouraged to get a COVID test before departing.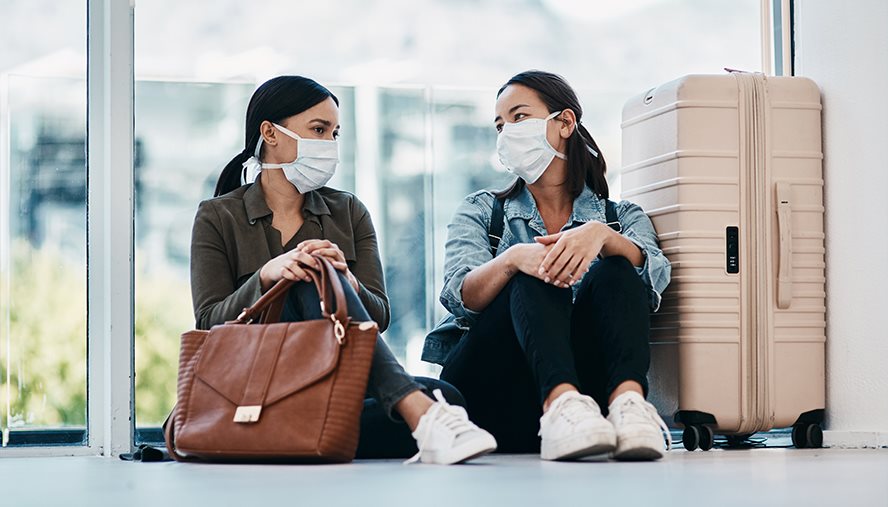 Travel by Car
"Driving allows you to avoid crowded environments that may be found at airports," says Dr. Kasperbauer. "When you stop to fill up for gas, wear latex-free gloves to use the gas pump, wear your mask and hand sanitize after disposing of the gloves and before touching your mask."
Travel by Plane
There are several things you can do to make traveling by plane a safer experience. In a carry-on bag, pack hand sanitizer, multiple pairs of latex-free plastic gloves, sanitizing wipes and at least two masks.
When you are in the airport, always wear your mask. Your mask needs to cover your nose and your mouth, and avoid touching your mask and face. Wipe down any area you plan to sit in the airport with sanitizing wipes while wearing plastic gloves. Dispose of the wipe and gloves after wiping the area down. It's also important to maintain social distancing and to avoid crowded areas within airports.
Dr. Kasperbauer also recommends that you wear your mask while on the plane. Take a few minutes to wipe down your seat, especially the arm rests, tray table, and seatbelt, with a sanitizing wipe while wearing latex-free plastic gloves. If you need to eat or drink on the flight, do your best to check that those around you are not unmasked at the same time. "If everyone's eating at the same time on the plane and they're all taking their masks off, that's not going to be ideal," Dr. Kasperbauer explains.

What to Pack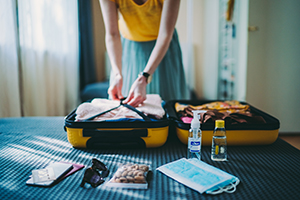 When you're packing, make sure to bring multiple masks in case one gets soiled or damaged. According to the Centers for Disease Control and Prevention, you should don a well-fitting mask while traveling. You can read more about mask types and proper usage here.
Finally, Dr. Kasperbauer reminds you to pack extra hand sanitizer, gloves, tissues, masks, and necessary medications in your carry-on bag and in your checked suitcase. Extra preparation is key when traveling.
Using Local Transportation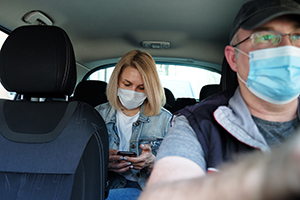 Whether you're using a rideshare service, a taxi, or even a hotel shuttle service, make sure the driver is wearing their facemask properly. Wipe down the handles of the vehicle and the area where you'll be sitting, if possible. If you're in a smaller vehicle, ask the driver to open the windows to increase circulation or to make sure the air conditioning is not recirculating air. You should also sit in the back of the vehicle to maintain distance between you and the driver. "Always use hand sanitizer after you touch something in or on the vehicle, and especially once you leave the vehicle," says Dr. Kasperbauer.
Tips for Dining and Hotels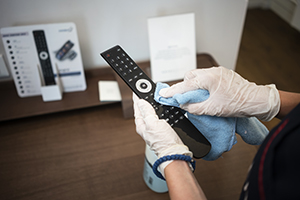 If you're staying in a hotel, call ahead to ask about no-touch check-in and check-out. You can also ask what steps they're taking to keep the hotel environment safe. Once at the hotel, avoid crowded places like the lobby and maintain six feet social distancing guidelines.
If staying in a rented home, you can message or call the host ahead of time to ask similar questions. Ensure that they are taking precautions to keep the home clean and ask about no-touch options for accessing the home. If staying in a shared home, wear your mask when in shared areas.
Wipe down door handles, light switches, television remote, phone, desk and any other high touch surfaces in the space you're staying in with sanitizing wipes while wearing latex-free plastic gloves.
For dining, choose takeout or delivery rather than dining-in, and enjoy your meal in a park or in your room away from others.
"In general, wear your mask when you're in public or shared spaces, and well ventilated spaces are always better, like outdoor spaces or opening the windows in a ride share vehicle. Always wash your hands frequently and always social distance. Those are the tenets of safe traveling," says Dr. Kasperbauer.