A Series of Articles on the Science Behind COVID-19
COVID-19 Variants & Vaccines: Why Does a Virus Mutate?
By: Ahmad M. Rashid, MD, pulmonary and critical care physician, National Jewish Health
June 7, 2021.
Updated and reviewed by Lindsay Sense, RN, infection prevention specialist, National Jewish Health
August 4, 2022.

"COVID-19 is proving to be more difficult to control than other emerging viruses," said Jared J. Eddy, MD, an infectious disease specialist and the director of Infection Prevention and Antimicrobial Stewardship at National Jewish Health.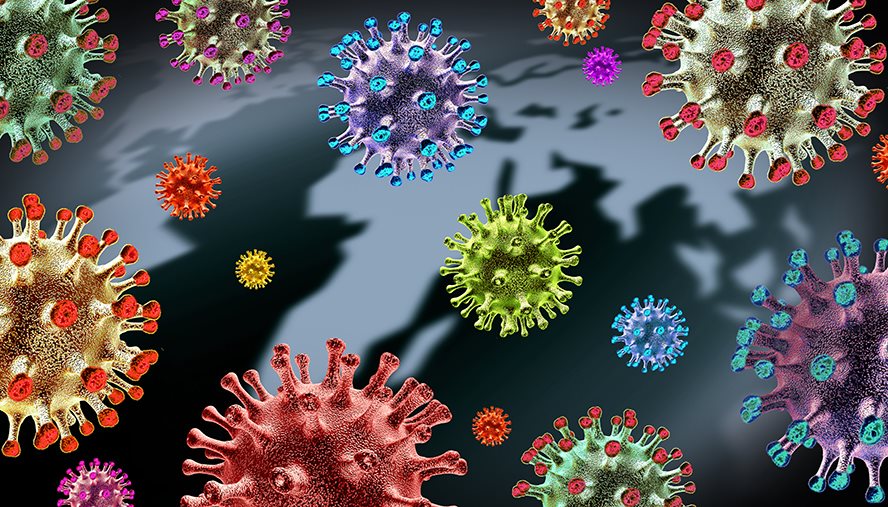 Why does the virus mutate?
Viruses, like all living things, go through mutations throughout their lifespan. If a mutation provides a survival advantage, then that mutated version becomes the dominant strain. Just like the chameleons have evolved to change skin pigment shades to avoid predators, the COVID-19 virus evolves to avoid the human immune system.

Virus mutation happens quickly over weeks to months due to the high number of viruses and infected people. Since it was first discovered, SARS-CoV2 has been acquiring two mutations in its genome (complete set of DNA) every two weeks. That may sound like a lot, but the influenza virus mutates at a much faster rate.

Do mutations make big changes in a virus?
A mutation is a subtle change in the genes of the virus. Some mutations make the virus more unstable and more vulnerable. Some mutations increase rates of transmission and severity. We become concerned when mutations make the virus more deadly, more contagious or both.

What do the mutations mean?
In a lab, these mutations make the virus more "sticky," so it binds more tightly with human cells. This makes it difficult to dislodge. Some mutations in the S. African variant might also make it able to evade the first set of antibodies the immune system uses against it.

What are the variants of concern right now?
The Omicron variant, B.1.1.529, spreads more easily than the original virus that causes COVID-19. Omicron has become such a dominant strain that most COVID-19 infections can now be linked to Omicron's subvariants, including BA.4 and BA.5. As more Omicron subvariants and COVID strains emerge, it's a good idea to monitor the World Health Organization's tracking page to stay up to date.
Do these variants make COVID-19 more contagious?
According to the CDC, the Omicron variant is more easily transmitted than the original strain of the COVID virus. There is also evidence that Omicron variants are more capable of getting around the protections from the primary series of COVID vaccine shots. This makes COVID boosters shots more important than ever.
Are these strains more deadly than SARS-CoV-2?
Although Omicron variants and subtypes are more transmissible, there's evidence that infection tends to produce milder symptoms. As with previous strains of COVID, you should monitor your symptoms carefully and be mindful of treatment options if your condition worsens.
Do the vaccines protect us against these new variants?
So far, the studies have shown that the mutations have not changed the "big picture" of the virus. The immune system can still recognize the actual virus and act against it even if there are mutations.

Vaccination has changed the trajectory of the pandemic by preventing an estimated 20 million deaths. Estimates suggest that COVID-19 deaths would have been more than three times higher and hospitalizations nearly five times higher without a vaccine.

Based on the CDC, unvaccinated people compared to vaccinated people are:
Five times more likely to test positive for COVID (10 times more likely vs. those who have been boosted)
Eight times more likely to be hospitalized as an adult (10-12 times in ages 12-64 years)
Fourteen times more likely to die from COVID (20 times more likely vs. those who have been boosted)
Protection from the vaccine will decrease over time. Vaccine booster doses are needed to extend immunity. Some studies have shown that the vaccine's effectiveness decreases from 80-90% down to 40% against symptomatic infections after five or six months. A booster is important to keep you protected.

Multiple studies have shown that all available vaccines can neutralize variants in the lab. Real-life data show that the vaccines provide a very high degree of protection against mild or moderate disease. They dramatically reduce the risk of severe disease and death.
Bottom Line:
Vaccination and boosting work well to protect against severe illness arising from COVID variant infection. As the situation progresses, be sure to follow your state and local guidelines, while taking the following precautions:
Get the vaccine as soon as possible
Wear a mask indoors, if required or if you feel at risk.
Limit large indoor gatherings with poor ventilation
Wash your hands
Protect the vulnerable
The COVID-19 virus may never be eliminated, but we are headed in the right direction with vaccination largely preventing serious disease and death. As we learn more, we can make wise choices about how to protect ourselves and each other while getting back to a more normal life.