Wyoming Family Can't Say Enough 'Good Things' About National Jewish Health
Wyoming Family Can't Say Enough 'Good Things' About National Jewish Health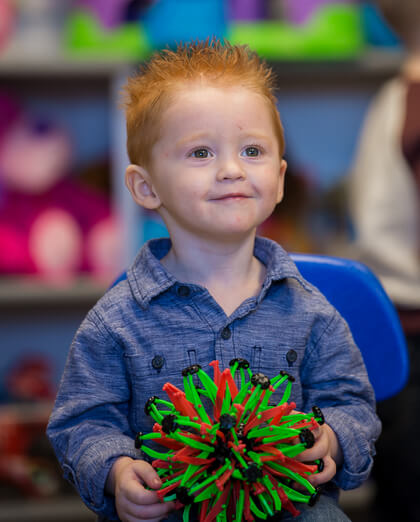 Misti McMackin knew she needed to bring her son to National Jewish Health when the 11-month-old started pulling for breath while running around the house.
The mother of three, who lives with her family in Gillette, Wyoming, saw similar symptoms in her oldest child 13 years earlier, before he was treated in Denver at the nation's leading respiratory hospital.
"Because we had been to National Jewish Health, and we had been to all the training and spoken with the doctors, we became educated," Misti said. "I was able to notice the signs right away."
While playing with his 3-year-old brother, Christian would cough, wheeze and struggle for air.
"I knew he should be able to run more than he was without having issues breathing," Misti said, noting she and her husband initially thought Christian's trouble might be related to the lung trauma he experienced at birth.
Christian was born in 2015 with a collapsed lung and had to be airlifted to Presbyterian-St. Luke's Medical Center in Denver. His other lung collapsed during the flight.
"We needed to make sure this was not related to his issues at birth," Misti said.
She took Christian to his pediatrician in northern Wyoming, and the doctor agreed it would be wise to visit the experts at National Jewish Health.
The McMackin family spent nearly a week at the hospital in September 2016. Christian met with several doctors, including Pia Hauk, MD, and he underwent a battery of tests.
"The staff was great, especially when working with a little guy," Misti said. "I can't say enough good things about National Jewish Health."
Dr. Hauk and her team discovered that Christian's breathing problems were not related to his issues at birth. He actually had asthma, eczema, acid reflux and seasonal allergies.
He was prescribed a proton pump inhibitor to control his acid reflux and an inhaled corticosteroid to treat his asthma and seasonal allergies. Dr. Hauk also prescribed albuterol for minor episodes of coughing and wheezing.
Christian's symptoms are under control thanks to National Jewish Health and the care and treatment he received from Dr. Hauk and her team.
"We wanted to ensure all the tests were taken care of and to get it right the first time so we didn't have any issues down the road," Misti said. "Now there's no guessing game. We know exactly what we are dealing with and what we need to treat."
Misti, an elementary school reading-recovery teacher, also appreciates that Dr. Hauk and her team work in tandem with Christian's Wyoming pediatrician to provide the best quality care.
"National Jewish Health is helpful in managing Christian's symptoms rather than just treating them," she said, indicating Christian's energy level now allows him to keep up with his older brother. "I would recommend anybody having issues go to National Jewish Health. We just appreciate everything they've done for us."
Your gift today will support children and adults with lung, heart, immune and related conditions.
Make a Donation Today