Why I Chose to Celebrate my 71st Birthday at National Jewish Health with Dr. Charles Daley
By Carole Goldstein
Most birthday celebrants choose to spend their birthdays with those most near and dear to them. That is precisely why I chose to have my semi-annual checkup at National Jewish Health on my 71st birthday on May 10, 2016.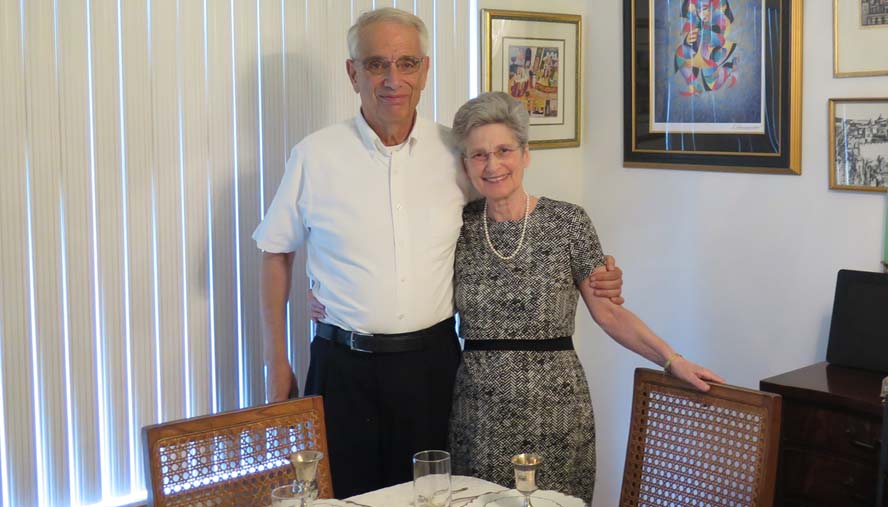 Rabbi Nason and Carole Goldstein celebrating Passover Seder in April 2016.
Let me share some background history. I don't want the reader to think that I am a total nerd whose only pleasure is a doctor's appointment.
Ten years ago, I was extremely sick. I was bleeding severely from my lungs, and it was coming out of my mouth. I couldn't walk more than a few feet because my lung capacity was so poor. The doctors in the West Palm Beach area of Florida had no idea how to treat me. They had put me on prednisone decades earlier when they diagnosed sarcoidosis, but my condition had not improved. When I arrived at National Jewish Health in May 2006, I thought that I had celebrated my last birthday just three weeks prior.
Within five minutes of meeting with Charles Daley, MD, and his team at National Jewish Health, I learned I had been misdiagnosed for 31 years. I was suffering from bronchiectasis, not sarcoidosis. I had been given incorrect treatments and medicines, and consequently my health had been deteriorating the whole time.
Dr. Daley and his excellent team had the task of applying their knowledge to my correctly diagnosed lung disease in order to turn me around and restore me to a level of good, maintained health. They immediately put me on a personalized cocktail of antibiotics. That took away the major symptoms, but every year and a half to two years I had an exacerbation, and had to go back on antibiotics. A while back, he started me on a nebulizer with a saline solution. It clears my lungs every day. The cough it produces is not pretty, but it is medicine free and it works.
Each time Dr. Daley prescribes something new, he contacts my local physicians to explain the medications so they can continue my care locally. His personalized treatment is why I feel it is vital for me to return to National Jewish Health for regular checkups. I haven't been sick in three years, but my husband, Rabbi Nason Goldstein, and I make the schlep twice a year so I can continue feeling fine.
As a rabbi, Nason preaches from the pulpit; I now preach to anyone who has a lung disease. I tell them they should get to National Jewish Health. It is the best place in the world to treat people with rare lung problems. The facility has state-of-the-art scans and labs but is only as good as its medical team. It is the doctors, like Dr. Daley, who look at all the test results, examine the patient and connect the dots. They take that information and work on a personalized treatment plan to return a sick patient to good health.
So, I chose to spend my birthday at National Jewish Health with Dr. Daley, who gave me my best birthday presents ever – the past 10 birthdays. I was elated to sit in the examination room with two of the most important men in my life – my dear husband of more than 50 years and my competent, knowledgeable and caring doctor.
So a toast to Dr. Daley and National Jewish Health from the Goldstein family: thank you for giving me more birthdays.
Your gift today will support children and adults with lung, heart, immune and related conditions.
Make a Donation Today