Allergy Treatment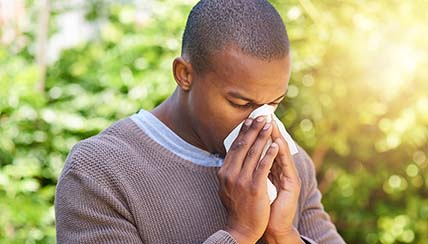 If you have allergies, your immune system reacts to a foreign substance (an allergen) as if it were dangerous, even though it is harmless to others. For some people, allergies may just be an annoyance, for others, they are life threatening.
No matter where you are on the allergy spectrum, get care from the international leader in allergy research and treatment, National Jewish Health in Denver, Colorado. Our multidisciplinary team of specialists uses the latest allergy testing and the newest treatments for your allergy symptoms. Some are not available anywhere else.
Our doctors are researchers too, so you have access to the latest clinical trials and most effective treatments.


Allergy Treatment at National Jewish Health
Our comprehensive allergy program offers many services for you:
Advanced allergy testing
A therapy plan customized for you
In-depth, one-on-one teaching, including training in self-care
Continued follow-up to treat your changing needs
We don't just manage your allergy symptoms; we also look for the things that could make them worse.
The goal of our allergy treatment programs is to treat your condition and help you manage your allergies at home, allowing you to lead the life you want.
---
Doctors
Rafeul Alam, MD, PhD

Jordan Bull, PA-C

Flavia Cecilia Lega Hoyte, MD

Kanao Otsu, MD, MPH

Eileen Wang, MD, MPH
Patient Stories
---
Patients come here from around the world to receive treatment they can't find anywhere else.
---