Morgridge Academy Has Been a Life-Changer for Denver-Area Family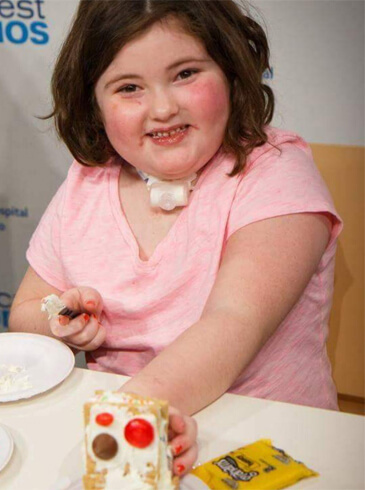 A house fire in September 2016 shattered all sense of normalcy for the Sublet family, whose youngest member, Natalie, was trapped inside the home during the ordeal.
Natalie's father, Chad, tried repeatedly to rescue the then-5-year-old, who was eventually saved by firefighters. Thankfully, the youngster wasn't burned in the blaze, but she suffered smoke inhalation, significantly injuring her lungs. To help improve her breathing, Natalie had to have a tracheostomy – a surgical procedure to create an opening in the throat. Air passes through a tube inserted in the opening and into the lungs.
Natalie was hospitalized for most of the fall following the fire and was homebound during spring 2017, meaning she couldn't go to school.
"Her pulmonologist was adamant she wasn't going to attend school," said Angie Sublet, Natalie's mother. "A viral infection could have been devastating to her."
Angie said a medical team at Children's Hospital Colorado, where Natalie was being treated, told her about a unique, free school at National Jewish Health, also in Denver.
The Morgridge Academy for chronically ill children is the only K-8 school located on the grounds of a medical institution in the country. It serves children – like Natalie – who are living with health issues that would otherwise prevent them from attending school.
In August 2017, Natalie was enrolled in first grade at Morgridge Academy, which employs three full-time and two part-time nurses on its staff. Her brother, Thomas, started fourth grade at the school at the same time. He wasn't physically injured in the fire, but he did suffer some emotional trauma. He qualified to attend because he has diabetes and asthma.
Angie said Morgridge Academy has helped restore some of the normalcy that her family lost in an instant.
"It is the one place where both our kids can go to do the things kids are supposed to be doing in the first and fourth grades," Angie said. "From a parent's perspective, it's a place where they can thrive academically, and they are safe medically. My husband and I don't have to worry about Natalie being in crisis for her breathing."
Before the winter break, Natalie was hospitalized for a week because she contracted a virus. She didn't fall behind in her schoolwork because the dedicated teachers and staff at Morgridge communicated with her parents about lessons. Plans were also in place for Natalie to participate with her class online and for a teacher to come to her house if needed. Upon her return, the nurses and teachers continued to be flexible with a modified school schedule to help balance Natalie's health with her academics.
"Morgridge is fabulous at accommodating kids," said Angie. "Without them, my daughter would not be going to school. We would be homebound and a tutor would have to visit us."
While Angie admits that scenario would not be the end of the world, she recognizes the benefits her daughter enjoys by interacting with her peers and multiple teachers.
"Part of the Morgridge curriculum is how to manage their own medical conditions, advocate for themselves and learning life skills about how to deal with people who have differences," she said.
When the family has visited the neighborhood park since Natalie suffered her injury, other children have stared because she has a tube protruding from her throat.
"They don't know what to do or say," Angie said. "At Morgridge Academy, everybody's got something, so it gives children the opportunity to talk about what they've been through, which helps build their confidence and self-esteem."
Angie is thrilled she and her husband can send their children to the school with no out-of-pocket expenses.
"To be provided with the level of specialized care it takes to have my children in school while also being afforded a quality education is beyond measure," she explained. "We are eternally grateful to the professionals at the school and also the donors that make our experience at Morgridge Academy possible."
Your gift today will support children and adults with lung, heart, immune and related conditions.
Make a Donation Today