Morgridge Academy Provides Peace of Mind for Parents of Chronically Ill Children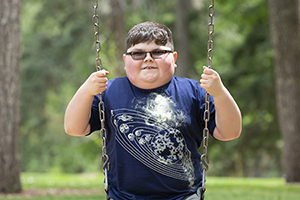 Dane Orion Cuesta is a living miracle. The 12-year-old is among a rare group of children who survive a double lung transplant. He was born with surfactant dysfunction, a rare genetic disorder that causes the lining of the lungs to be less pliable, making breathing nearly impossible. Dane received his transplanted lungs when he was just 4½ months old.
"My grandson shouldn't be here," said Linda Cuesta, Dane's grandmother. "These children don't typically survive."
To assure that Dane not only survives, but also thrives, he attends Morgridge Academy for chronically ill children, a free day school. National Jewish Health operates the kindergarten through eighth-grade school for students living the metropolitan Denver area. It is the only K-8 school in the country located on the grounds of a medical institution.
A Unique School
Students who attend Morgridge Academy have been diagnosed with a range of chronic conditions, including severe asthma, cystic fibrosis, diabetes and cancer, among other diseases. Due to their medical conditions, many of these children have not experienced much success in a traditional academic environment.
The coordinated approach Morgridge Academy uses to address each child's individual medical and educational needs has a proven track record. Since opening in 1977, more than 2,000 students have benefited from the school's unique mission.
Morgridge Academy is much more than a school. It represents an educational concept that allows students to grow, develop and learn in a warm, friendly and caring environment. Staff focuses on each student's overall well-being — socially, physically and emotionally — to achieve academic success.
Despite constant doctor visits, Dane has been a student at Morgridge Academy since he started kindergarten when he was 6. He is now in sixth grade.
"I don't know what our family would do without this school, because we could not send him anywhere else," Linda explained. "When he misses school, we don't have to apologize, we don't have to bring notes. It's a special place."
Thriving Academically and Medically
Linda estimates Dane missed 20% of his fifth-grade year, but he remains at grade level thanks to the talented teaching staff at the school.
"Academically, I'm shocked at where Dane is when you consider how much school he has missed," Linda said. "With a gentle, firm touch, this school has expectations of these kids, and if you don't meet them, they will find somebody to help their students meet them."
The school has five nurses on staff, including three full-time, and its proximity to the hospital — literally across a courtyard — provides parents peace of mind knowing help is mere steps away in case of a medical emergency.
"You really have to be on guard all the time with a chronically ill child," Linda remarked. "We have never once hesitated to drop Dane off at school because we know he is safe. He's in better hands there than he is in our hands."
Delaying Another Lung Transplant
Dane, whose body has been trying to reject his transplanted lungs since he received them as an infant, is also a patient at National Jewish Health.
In May 2018, Dane and his family were considering another double lung transplant. Fortunately, they met with National Jewish Health Pediatric Pulmonologist Pamela Zeitlin, MD, PhD, who serves as chair of the Silverstein Department of Pediatrics, and she suggested an alternative therapy.
She recommended extracorporeal psoralen photopheresis treatment, a process in which a third of Dane's blood mass is removed once a month to treat his white blood cells with a light therapy designed to prevent the cells from attacking his transplanted organs.
Linda said the family knew about the therapy and had been against it until speaking with Dr. Zeitlin.
"She was very kind, and her guidance helped us make an informed decision," Linda said, noting the therapy has been successful. "It has been a game-changer for us."
Your gift today will support children and adults with lung, heart, immune and related conditions.
Make a Donation Today