Patient Finds Relief from Breathing Problems Following GI Diagnosis
Being knocked down by unrelenting breathing problems was not something with which Travis White was familiar. In his early 70s, Travis was living an active retirement, splitting his time between Austin, Texas and Incline Village, Nevada, when his breathing problems came about somewhat suddenly.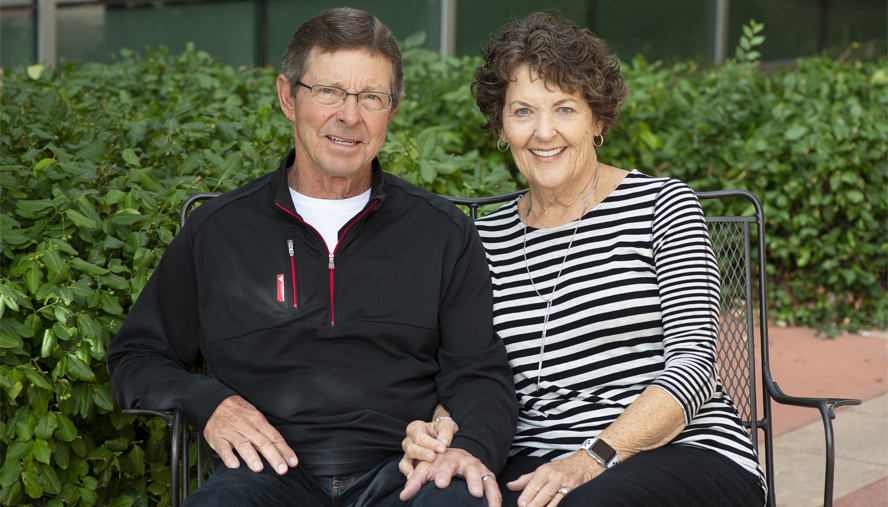 Within months of first onset, Travis was experiencing regular and serious asthma attacks, shortness of breath, coughing and trouble swallowing. At times, his symptoms were so severe he ended up in the emergency room (ER), in desperate need of medical attention.
Travis recalls August 2017 as a particularly stressful month. He was in and out of the hospital, including on the night of his 51st wedding anniversary.
'I really wasn't sure if I was going to make it'
Travis didn't dismiss the severity of what was happening to him. His mother passed away from a chronic asthma attack at the age of 52. When he found himself experiencing similar medical distress, he questioned whether he would survive. "I really wasn't sure if I was going to make it," said Travis.
He visited numerous specialists across the country, searching for answers to his medical problem. His specialists were able to tell him what they thought was going on — he was having asthma attacks — but no one could explain why it was happening to him.
His wife, Sharon, began researching, looking for a hospital or a specialist that could help Travis. "When your spouse is ill, you'll do just about anything to help him," said Sharon.
In her research, she learned about National Jewish Health, which Travis then brought up to his pulmonologist in Austin.
"My pulmonologist had already thrown up his hands — he didn't know how to explain my medical condition. When I mentioned National Jewish Health, he agreed that that was where I needed to go," said Travis.
Placing Trust in His Doctors
Retired from a high-stakes, demanding career as a corporate turnaround specialist, Travis was no stranger to stress. But what challenged him the most was being out of control, unable to fix the one problem in his life that was beginning to affect everything. When he arrived at National Jewish Health, his team of experts quickly put his mind at rest.
"I couldn't have been luckier with my providers," Travis recalls. "I was initially seen by Dr. James Good. We are approximately the same age, and we hit it off almost immediately." Sarah Sidey, RN, a nurse who worked alongside Dr. Good, also played a large role in Travis's care.
After a series of tests over several days, Dr. Good recommended that Travis see Dr. Jeff King, the current chief of gastroenterology at National Jewish Health. Dr. King began more testing, observing Travis closely for clues. Looking beyond Travis's lungs is what made all the difference.
"Like many of our patients, Travis was being treated symptomatically. At National Jewish Health, we think outside the box. Although his symptoms were based in the lungs, it often takes looking outside of the lungs to find the root cause of a patient's symptoms. It is only then that we can provide treatment that will have a lasting effect," explains Dr. King.
Finally, after some testing of the esophagus, Dr. King was able to provide Travis with the reason behind his symptoms. Travis was diagnosed with hypercontractile esophagus, also referred to as jackhammer esophagus. This condition occurs when the end of the esophagus contracts too vigorously, disrupting normal muscle movement. The strong contracting was pushing food back up through Travis's esophagus, which would then land in his airways causing major irritation.
The exact cause of hypercontractile esophagus is not known, explains Dr. King. It is not uncommon and affects people of all ages.
Dr. King performed a procedure in which injections of Botox are applied to the lower body of the esophagus. Botox allows the muscles to relax, halting disruptive contractions. By relaxing the muscles, food is allowed to pass into the stomach more effectively.
Working Toward Normal
Travis underwent the procedure twice before experiencing real relief. Motility testing to evaluate how the esophagus is functioning after the second procedure revealed success.
Travis receives repeat Botox injections every four-to-six months. He still faces some health challenges, but his life is resembling a form of normalcy again. In addition to routine visits to National Jewish Health, Travis uses his emergency inhaler about 15 times a year, but he has stayed out of the ER.
He is also able to participate again in all of his many activities — he is involved in numerous organizations and companies, enjoys performance sports car driving and plays golf. Travis and Sharon celebrated their 52nd wedding anniversary in August.
He is grateful to his doctors at National Jewish Health for restoring his life.
"The bottom line to my story is that I believe National Jewish Health saved my life. I have never felt in all of the testing that I got the runaround. I was never misled. Two years ago, I was ready to give up. To see where I am now, it's amazing."
Your gift today will support children and adults with lung, heart, immune and related conditions.
Make a Donation Today