One-Year-Old vs. COVID-19
What started with a cough and a runny nose, quickly became much more alarming for 17-month-old Ivan Paez's parents. "All of a sudden he started wheezing, so we took him to a local hospital," Ivan's mom Crystal Medrano said. A chest X-ray was performed and Medrano said doctors told her "he just has a cough and will be fine." Ivan was sent home, but by the next day, Ivan's cough and other symptoms were only getting worse. He also began developing a fever, prompting a second trip to the hospital. This time, Ivan was diagnosed with croup. "They gave him a dose of steroids and then they sent us home," Medrano states.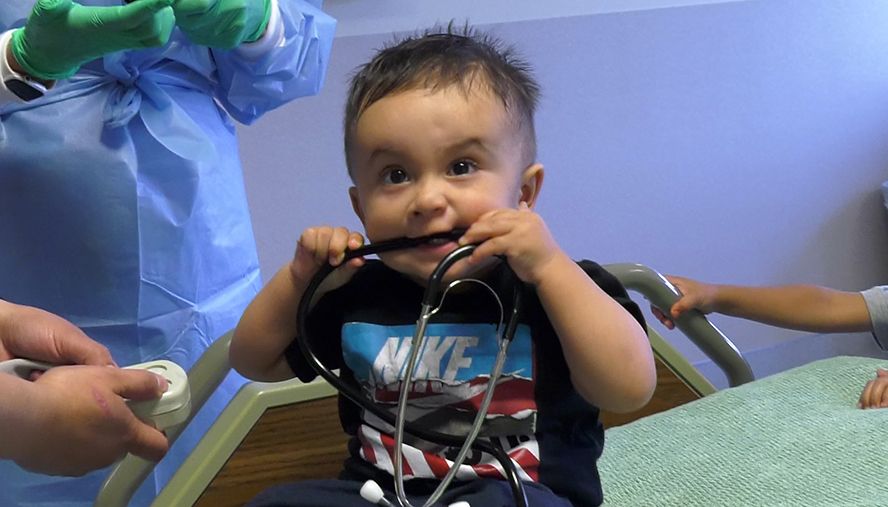 Despite the dose of steroids, Ivan's temperature soared to 104 degrees the next day and his ability to breathe worsened. "The scariest moment was when we were at home and he was trying to drink his milk and he couldn't drink it. He was struggling to breathe, choking on his milk," Medrano described. "He was really working with his abdomen muscles and his muscles were contracting in really deep because he was struggling to take a breath."
Ivan's symptoms triggered yet a third trip to the emergency room. Doctors offered Medrano a repeat chest X-ray which revealed that he was suffering from pneumonia. As expected, antibiotics were prescribed, but what the doctor told Medrano next was not expected. "He said, 'you know what, I think Ivan has coronavirus. But we can't test him,'" she recalled the doctor saying. Medrano said she was told COVID-19 tests were being saved for older patients and those who were already very sick. "My response was, 'Am I just supposed to wait and see if he dies or gets better? What are we supposed to wait for?' So, then I finally called National Jewish Health."
Medrano's call to National Jewish Health to find help for Ivan led to a same day appointment. "We went in and got him tested. When we got the results, we were shocked because he not only had RSV, but he had COVID-19," she said. "That's why he was really sick. That's why he was having trouble breathing, the high fever, the cough, the wheezing." Respiratory syncytial virus, or RSV, is a common respiratory virus that affects the lungs and respiratory tract. The virus causes symptoms much like the common cold, and most children have been infected by RSV by age two.
Pediatric allergist and immunologist Dr. Carah Santos treated Ivan for both RSV and COVID-19. Within a week, he was feeling much better. "I'm thankful that we were able to come and get tested because we would have never known. We would have probably never gotten the treatment that Ivan needed."
Ivan's family is still unsure of where one-and-a-half-year-old Ivan could have picked up the disease, as no one else in the family was sick. Weeks later, the family received secondary swabs to confirm that Ivan, his two brothers and parents are no longer COVID-19 positive. The family also received antibody testing at National Jewish Health to understand who of the five was also sick.
Ten months later, Medrano started to notice that Ivan began coughing and wheezing again. "He wheezed for a while after he recovered from COVID last summer but eventually got better," Medrano explained. "Then about a week ago, I noticed Ivan had symptoms again."
Ivan and his family were tested for a second time, and unfortunately were positive for COVID. "We thought we wouldn't get COVID again since reinfection is so rare," Medrano said. After six days, she said the family was beginning to recover. However, she will schedule an appointment for Ivan with Dr. Santos and the pediatric pulmonary care team at National Jewish Health once the family tests negative for COVID. "I know it has affected his lungs, so I want to make sure he's seen," she said.
National Jewish Health is the leading respiratory hospital in the nation, serving pediatric and adult patients. For more information on COVID-19 testing and antibody testing, click here.
Your gift today will support children and adults with lung, heart, immune and related conditions.
Make a Donation Today