Philadelphia Lawyer Still Practices Lessons Learned at National Jewish Health 50 Years Ago
Lewis Hoch was born with severe asthma in New Jersey in 1952. At the same time, and thousands of miles across the country in Denver, asthma research and treatment became a focus at National Jewish Health.
Lewis eventually became a patient at the hospital, where he learned and refined the asthma management techniques that have allowed him to lead a full and rewarding life.
"National Jewish Health had an enormous influence on me, for which I am very grateful," Lewis said.
First Treatments Introduced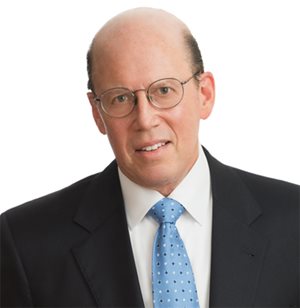 Early in Lewis' childhood, the first treatments for asthma, including steroids and rescue inhalers, were introduced. In 1957, he began seeing a local doctor who taught him that asthma is a manageable condition.
"Dr. Sidney Smith took a great interest in me and wanted my life to be as normal as possible," Lewis said. "I was never hospitalized, and I never went to the emergency room for an asthma flare."
In the 1950s, doctors across the country were struggling to understand the cause of the condition, and many thought that asthma was psychosomatic.
"Dr. Smith bought into none of that," Lewis recalled. "He taught me that the symptoms of asthma were very real with triggers in allergies, infection and exercise."
For 10 years, Lewis, his family and Dr. Smith kept his asthma under control with an inhaler and treatments of bronchodilators, steroids and antibiotics. "We addressed the challenges, experienced ups and some downs, and I grew up with adventures and misadventures much like any boy," he said.
Lewis' parents made sacrifices to ensure he received required care. This was not without financial difficulty because through the 1970s, health insurers viewed asthma like Lewis' as a pre-existing condition and excluded coverage. "Without insurance coverage for asthma, the cost of my medical care took a big bite from the family budget," Lewis said.
Seeking Treatment at National Jewish Health
In 1967, Lewis' family moved to a different area in New Jersey, and he left the care of Dr. Smith. The move coincided with a deterioration of Lewis' asthma.
"It's not clear why, but my asthma worsened," Lewis said. "It was no longer controlled."
Lewis was hospitalized in 1969, and afterward, he and his family decided he needed expert care to improve his health. "The decision was made to seek treatment at National Jewish Health," he said.
At that time, the hospital was building a reputation as a leader in the treatment and research of asthma, and patients traveled to Denver from around the country for the care that National Jewish Health offered. That legacy endures today, and National Jewish Health has held the #1 or #2 ranking in pulmonology on the U.S. News & World Report Best Hospitals list for 24 years.
Applying for Care and College
As a senior in high school, Lewis began applying to college and knew he wanted to be close to National Jewish Health in the event he was accepted for treatment. In late 1969, Lewis was accepted to both the University of Denver (DU) and National Jewish Health. In June 1970, he arrived in Denver to start treatment and college. At that time, most patients at National Jewish Health were admitted to the hospital for inpatient care.
"Dr. Richard Farr, chair of the Department of Medicine at National Jewish Health, decided to try something different with me," Lewis said. "I became an outpatient and lived on campus at DU."
With care that extended over four years from a "wonderful" team of physicians, including Charles Sisco, David Hurwitz and Jane Harnett, Lewis' asthma was brought under control again. His care at National Jewish Health, however, went beyond clinical treatment of asthma.
"A psychologist at the hospital, Bob Kinsmen, taught me relaxation techniques so I would better manage some of the stress that came with college, graduate studies and career," Lewis said. "I learned a very important life lesson at National Jewish Health: The role I needed to play in managing my asthma and my health."
Lewis also benefited from major advancements in asthma care, including the introduction of preventive treatments. Doctors at National Jewish Health believed that "as-needed" treatment was the wrong approach. They thought that medications should be taken daily to prevent asthma attacks from recurring. The asthma research conducted at the institution in the 1970s laid some of the groundwork for current treatment.
Lewis' doctors also observed that what sometimes presented as an asthma flare was actually esophageal reflux, which could improve with reduced asthma medications and changes in diet.
Mentors Shape Future
During his senior year of college, Lewis completed a summer internship in the Department of Biophysics and Genetics at University of Colorado Health that explored the early onset of emphysema. The experience – along with guidance from Dr. Arthur Robinson, chief of Professional Services at National Jewish Health and a mentor to Lewis – led him to pursue a law career with an emphasis in health care policy. Lewis earned his undergraduate and law degrees at DU and remained in Denver where he began his legal career.
"I had a fortunate experience in my first job as a lawyer," Lewis said. "Wayne Fowler, the partner who trained me, and Glenn Saunders, the managing partner of the law firm, were adamant that I exercise and eat healthy foods. This emphasis on wellness has followed me my entire adult life."
For patients whose asthma is controlled, structured exercise can help them avoid triggering an asthma flare. Exercise improves conditioning, reduces weight, thereby reducing cardiopulmonary effort for any daily activity.
Thirty-seven years ago, Lewis returned to the East Coast, settling in Philadelphia where he raised three sons, Ross, 30, Benjamin, 28, and Adam, 26. He also has continued his legal practice, and for the last 23 years has hung his shingle at Blank Rome LLP. Lewis still follows the lessons he learned in Denver, and his asthma remains under control with occasional flares addressed much the way they were when he was an outpatient at National Jewish Health.
"I want asthmatics and their families to know that if you work with your doctors, take your medications and live a healthy lifestyle, this is a manageable disease," Lewis explained. "I am 65 years old, and my lung function is better today than it was when I first arrived at National Jewish Health in 1970. More importantly, with the skills to manage a chronic disease honed at National Jewish Health, I have been able to pursue dreams that I never would have imagined almost 50 years ago. For those facing the challenges of chronic, pulmonary and related diseases, I would like my story to be a reminder of the availability of special institutions like National Jewish Health and the caring people who define them."
Your gift today will support children and adults with lung, heart, immune and related conditions.
Make a Donation Today