Specialized Care Helping Cystic Fibrosis Patient Breathe Easier
Specialized Care Helping Cystic Fibrosis Patient Breathe Easier
Kori Tolbert was diagnosed with cystic fibrosis (CF), an inherited disorder that causes severe damage to the lungs, digestive system and other organs, when she was 2 months old. The first time she was hooked up to an IV at age 8, she felt like she was watching a movie. "I remember thinking, 'This is real.'"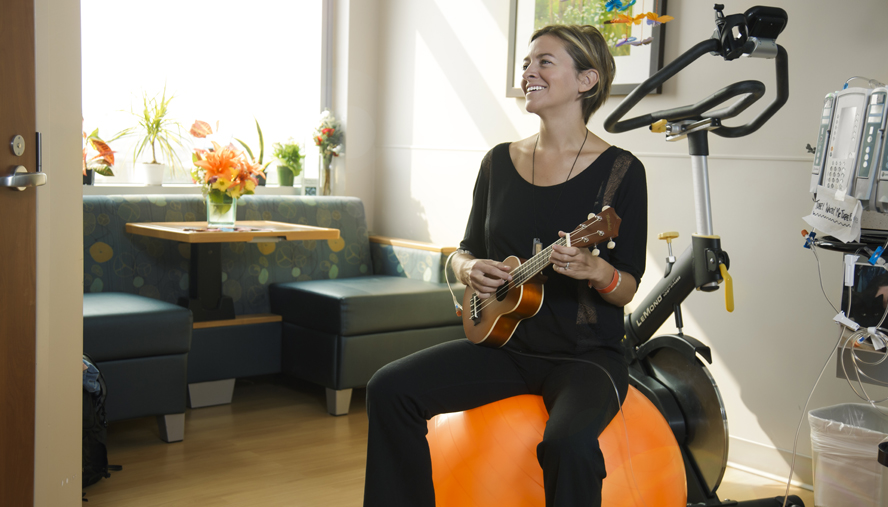 By high school, Tolbert was having "tune-up" visits, a preventive course of intravenous antibiotics and respiratory therapy, twice a year at a hospital in her hometown of Rochester, N.Y. When she developed a recurring nontuberculous mycobacteria (NTM) infection, her doctors felt they needed help — and found it at National Jewish Health and Saint Joseph Hospital.
National Jewish Health operates the largest adult CF program in the nation, and Saint Joseph Hospital has one of the few inpatient units in the country devoted to adults with CF.
'New Level of Interest, Expertise and Professionalism'
Tolbert was confident she had come to the right place when she met Milene Saavedra, MD, a pulmonologist at National Jewish Health. "She's awesome, so smart and thoughtful," said Tolbert. Always an active participant in her own care, Tolbert found Dr. Saavedra to be equally committed to understanding her individual health care needs. "She took so much time to get to know me and really understand my case," said Tolbert.
The Adult CF Unit at Saint Joseph Hospital also was different. At home in New York, Tolbert, now 38, had been treated on pediatric floors or in adult units not devoted exclusively to CF. "I experienced a new level of interest, expertise and professionalism at National Jewish Health and Saint Joseph Hospital. The resources here are incredible," she said.
In addition to pulmonologists who have expertise in CF, Tolbert said the nurses and respiratory techs at Saint Joe's are exceptional. "The nurses were really responsive. They and Dr. Saavedra would answer any questions I had, and had reasoning to back it up," she said. "The respiratory techs were kind and fun, but they were there to do a job, and that was to make me healthy."
Making Room for Recovery
Another feature of the Adult CF Unit that helped Tolbert get healthy was her room. Completely customized for CF patients, the rooms have refrigerators so patients have easy access to the nutritious, high-calorie foods they need to maintain their weight and strength. The rooms also are equipped as needed with an exercise bicycle, yoga mat, exercise ball and other items, helping CF patients get the exercise that helps clear mucus from their lungs and slow decline in lung function.
"Having them here in the room was awesome," Tolbert said. "Using the ball helped me open my chest, which helps my breathing. The equipment in my room really helped my body handle being in the hospital."
She was most grateful, though, for the "guest" sitting area that can be converted to a bed, allowing family members to stay with her. After a difficult first day that included an adverse reaction to her medication, being able to have her husband close meant a lot. "Having my husband stay with me in my room was essential, especially that first night when I was adjusting to a new hospital," Tolbert said. "Having him close was a really great gift."
Tolbert arrived at National Jewish Health and Saint Joseph Hospital very sick and unsure of what to expect. After expert care from doctors, nurses and respiratory techs who understand CF, she left healthier, stronger and more hopeful. "This experience has restored my hope and a level of trust," she said. "I'm glad this place exists. It's a good thing, not just for me, but for everyone."
Your gift today will support children and adults with lung, heart, immune and related conditions.
Make a Donation Today