Correct Diagnosis of HP Leads to Life-Changing Treatment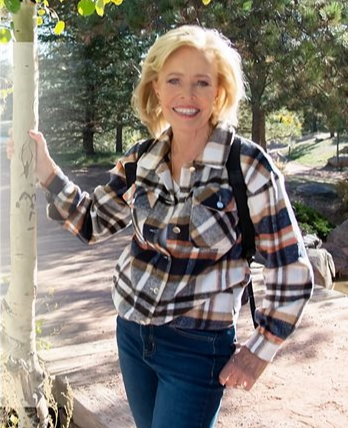 Linda Silveira, MD, used to think of herself as a mover and shaker in her role as a family medicine physician in Colorado Springs, Colorado. She took pride in seeing her patients every day and doing whatever needed to be done to provide quality care with compassion. She would frequently skip lunch or work late to accommodate patients with urgent needs. But, in 2014 when she started to feel symptoms of what she would later learn was hypersensitivity pneumonitis (HP), that approach to work began to change.
Dr. Silveira found herself becoming the patient. She developed a persistent, dry cough, shortness of breath and fatigue that no amount of naps, long nights of sleep or cutting back on work could cure. Eventually, her declining health hastened her retirement. "I loved what I did and didn't have any plans to retire, but moving and shaking was not a possibility at the end of my career," she said. "The fatigue just really slowed me down in terms of steam."
She sought answers from many doctors, who slowly ruled out allergies, infections and rheumatoid disorders as culprits. In 2020, she finally found an answer when she met National Jewish Health pulmonologist Evans Fernández, MD, who diagnosed her with HP.
"She was a tough case, with a lot of potential explanations, but the data ultimately pointed to HP," said Dr. Fernández. "I think she was relieved to finally have an answer, and it was gratifying for us to give her a therapy she would respond to."
Hypersensitivity pneumonitis is a lung condition in which a person's immune system reacts to foreign substances in the air they breathe such as mold, dust or bacteria. This leads to lung inflammation that causes problems in absorbing oxygen and exhaling carbon dioxide. Both Dr. Fernández and Dr. Silveira suspect she was reacting to either bacteria or mold from well water in her home or from her hot tub.
Unfortunately, Dr. Fernández says HP can resemble many lung diseases, making it challenging to arrive at the correct diagnosis.
He prescribed two medications for Dr. Silveira and put her on oxygen. Her condition improved over several months, and she now needs only one medication and is off the oxygen. While she remains retired, she now moves and shakes as a health care volunteer and even says she can out-hike most people.
"The care I received at National Jewish Health has been outstanding, and I consider myself quite fortunate to be treated by some of the best providers nationwide," she said. "It's been a journey, but thankfully, it has taken a turn for the better, and I am so grateful for that."


Your gift today will support children and adults with lung, heart, immune and related conditions.
Make a Donation Today