Changing Gears and Adding Years: A Hot Rodder's Recovery Story
Something ignites in Rodney Cascio-Weldon when you ask about his car collection. He's been building things all his life — from homes to hot rods — and the passion has paid off. He thumbs through picture after picture of mint condition classics: a royal maroon Galaxy, a goldenrod 1972 Grand Torino. Soon he'll resume work on a coveted '56 Bentley.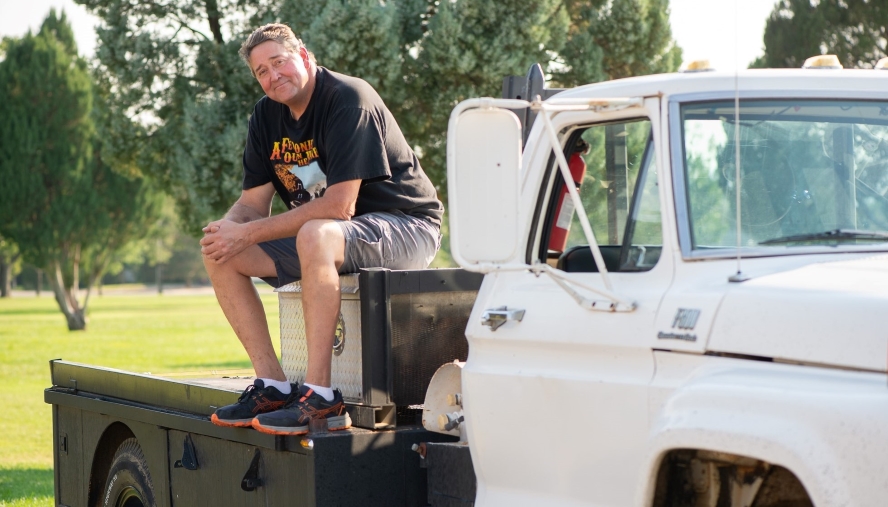 His next build is going to be special, no doubt. In January of 2022, when he arrived at National Jewish Health, Cascio-Weldon's normally hardy 6-foot-6-inch frame was wheelchair-bound. After a few months since his symptoms began, he lost 80 pounds and could barely breathe.

"He couldn't even walk to the mailbox," said Dana, Rodney's wife of 27 years, sitting by his side in the infusion center. Since that first visit, she's learned that if they had waited much longer, her husband may have never recovered.

A Misdiagnosis
In September of 2021, Cascio-Weldon got sick with what seemed like just a cold. When his symptoms worsened, he visited his local doctor, who informed him that he was simply dealing with post-COVID syndrome, as he had been infected a few months earlier. However, this wasn't the case. "Come December, I just wasn't getting any better. In fact, I was getting worse. My skin was gray, literally gray," Cascio-Weldon said.

Left untreated, his condition deteriorated. After receiving a recommendation from a friend, he and his wife decided to travel over 100 miles north from their home in Pueblo, Colorado to National Jewish Health.

Because of his previous diagnosis, he was initially treated at the post-COVID clinic. It was here, however, that the hospital's unique system of coordinated care kicked into gear. While in the clinic, nurse practitioner Katie Rosen, NP, noticed that Cascio-Weldon showed signs of interstitial lung disease (ILD). Rosen immediately advised that he see pulmonologist Matthew Koslow, MD.

"Her experience with the team here helped the patient to be directed to us with a disease that we see commonly," said Dr. Koslow, remembering Rosen's quick thinking. "That was the important first step."

Changing Gears
Once alerted to the patient's needs, Dr. Koslow developed a more accurate diagnosis with a core group of specialists, including hospitalist and Chief Medical Officer Carrie Horn, MD; internist Amy Silverberg, MD; neurologist Jinny Tavee, MD; and rheumatologist Liudmila Kastsianok, MD.

Cascio-Weldon was placed on a precise treatment plan at once. According to Dr. Koslow, because National Jewish Health acts as a close-knit neighborhood of specialists, what could have taken six weeks to diagnose and treat was abbreviated to a few days of intense care. Cascio-Weldon, who came to National Jewish Health in a wheelchair, was able to walk within 48 hours. "It was phenomenal," Cascio-Weldon said. "The way they took care of me, it was like family."

Cascio-Weldon improved even more over the following months. Sitting in the infusion center, he and his wife reveal plans to attend their first car show in over a year. Cascio-Weldon pulls up a picture of a hulking Ford F-550, a fitting entry to signal the return of his old strength. As Cascio-Weldon rises to his feet, he's beginning to feel like more than a match for the road ahead. And now he's ready for the right kind of wheels.
Your gift today will support children and adults with lung, heart, immune and related conditions.
Make a Donation Today