Grete H. Cohnen Nursing Scholarship
The Grete H. Cohnen Nursing Scholarship celebrates the life, work and memory of Grete H. Cohnen. This scholarship provides financial assistance to a National Jewish Health employee who is pursuing either an Associate Degree in Nursing or a Bachelor of Science in Nursing degree.
2014 Scholarship Recipient:
Allison Duba, CNO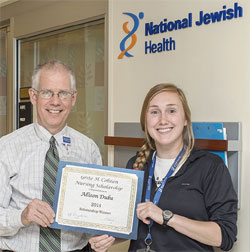 Allison has worked as a CNA in our float pool since 2012. She is currently enrolled in the Denver School of Nursing's RN program. In Allison's own words, she describes her interest in Nursing.

"I became a certified nursing assistant to gain experience and really find out if I had what it took to work in this field. The impact this field has on people's lives goes beyond what the average job provides. Being a CNA is not always glamorous, but the experience furthered my drive to pursue a life career in nursing, something I truly realize I Iove".

Allison received letters of recommendation from co-workers. One expressed "Allison is instrumental in day-to –day clinic operations and patient flow. Not only did she work up new patients as they arrived, she went above and beyond the call of duty to ensure that every patient she worked with had all they needed and were on time for their appointments. She consistently demonstrated advanced knowledge beyond her years of training, a fantastic bedside manner, and is extremely eager to improve and learn."

Allison's drive and ambition has gained respect from her co-workers. Grete Cohnen would be proud her scholarship is going to such a deserving student.

Previous recipients of the Grete H. Cohnen scholarship include:
2013 - Lindsay Munoz
2011 - Rachel Vichorek
2010 - Lori McEnaney-Preble, RN; Holly E. O'Brien, RN
The Legacy of Grete H. Cohnen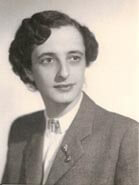 This scholarship is dedicated in loving memory to Grete H. Cohnen, our beloved mother and friend. She was the embodiment of the virtuous, intelligent, and supremely capable woman, serving her family and friends with much love and devotion throughout her life.
An overview of Grete Cohnen's early years will provide a fuller portrait of this remarkable woman. Growing up Jewish in Nazi Germany, Grete's early life was filled with great suffering and trials in the face of persecution, losing her dear mother and sister in the tragedy of the Holocaust. Fate had other plans for her, though, and she was able to flee her native land for the relative safety of England at the start of WWII. Working first as a housekeeper with no command of English, she picked up the language quickly, and then went on to pursue her interest as a nurse. In short order, she trained for and received her nursing diploma, excelling in her class. Grete worked in a London hospital during the numerous aerial bombardments of the war, helping treat many of the resulting casualties. This love of caring for the hurting and ill would serve her well as she moved to the United States after war's end, where she worked as an R.N. at Newark's Beth Israel Hospital for many years. Her favorite rotations were with preemies, and children in general. In the ashes of war's devastation, she found much comfort in healing the smallest and most vulnerable patients.
Marriage and motherhood in the Dominican Republic followed her nursing career, but Grete still found time to assist at a clinic for war refugees and locals there. She continued to be a true helper to all, not just to her family, in an area that was known for tropical diseases like malaria. Still, the refugees survived and thrived, in part thanks to the care of people like Grete.
Having suffered from respiratory distress during her own childhood, Grete felt a close empathy with other pulmonary patients. She heard of National Jewish Health's pioneering work in the treatment of lung ailments, and was able to visit the facility in 1976. It was during this time that she saw firsthand how the hospital was at the forefront of respiratory treatment and research, and she continued in her support of the facility throughout the rest of her life.
All who knew Grete's care recall her to this day with a smile and great fondness for the love and laughter she shared in their lives. In honor of her memory, may the recipient of this scholarship model the same compassion, intelligence and devotion to the nursing profession that were the hallmarks of Grete H. Cohnen.

~The Family of Grete H. Cohnen