Lung Cancer Screening CT Program
Can Lung Cancer Be Prevented?
The best thing you can do to prevent lung cancer is to quit smoking. Call the National Jewish Health QuitLine at 1.800.QUIT.NOW to get help to quit.

Lung cancer can also be prevented by avoiding other environmental exposures, such as secondhand smoke, radon gas, and asbestos. Lung cancer screening is the best way to detect lung cancer early so it can be treated. We are a supporter of Image Gently through the Alliance for radiation Safety.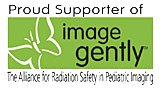 What is a Lung Cancer CT Screening Program?
Screening looks for a disease before a person has symptoms. Screening is recommended if a person is at high risk for disease, but has not developed symptoms of the disease.
The Lung Cancer Screening Program at National Jewish Health focuses on early detection of lung cancer. Because a screening CT identifies suspicious lesions in high-risk individuals before there are any symptoms, lung cancer can be detected earlier when it is more easily treated.
Lung cancer screening at National Jewish Health includes:
an evaluation to see if you fall into a high-risk category and will benefit from screening,

smoking cessation counseling if you are currently smoking,

and a chest CT scan.
People at high risk to develop lung cancer are defined by their age and smoking history. The results of a large study in the US, the National Lung Screening Trial (NLST), showed screening high-risk individuals with yearly low-dose CT scans can detect lung cancer early and significantly improve lung cancer survival. The ability to find lung cancer early, in high-risk patients, by CT scanning has been proven in a large study performed in Europe, the NELSON study. You can read a paper describing the study on the Radiology website.


National Jewish Health is recognized as a Screening Center of Excellence by the Lung Cancer Alliance and a Designated Lung Cancer Screening Center by the American College of Radiology. Our lung cancer screening program also has been certified by the State of Colorado as a Healing Arts Screening Program.

Who should consider participating in the Lung Cancer CT Screening Program?
You fall into the category of high risk for developing lung cancer, and experts recommend lung cancer screening, if:
You are 50 to 80 years old and

You are a current or former smoker, with at least 20 pack-years of smoking,

Pack-years are determined by the number of cigarette packs smoked per day multiplied by the number of years you smoked.

Or you are a former smoker, who quit within the past 15 years.


Know your lung cancer risk
When the CT scan finds a lung nodule, the nodule needs to be examined and watched closely, because it may or may not be a cancer, or could become cancerous in the future and need to be treated.

The Lung Cancer Screening Program at National Jewish Health helps patients at risk for lung cancer monitor their screening results along with their primary care doctor, and start treatment at the earliest possible time.

Many nationally respected organizations recommend lung cancer screening CT scans for high-risk individuals.
American Cancer Society
American College of Chest Physicians
American Society of Clinical Oncology
National Comprehensive Cancer Network
American Thoracic Society
American Lung Association
American Association of Thoracic Surgery
United States Preventive Services Task Force
American Medical Association
Doctors
Debra S. Dyer, MD, FACR

James H. Finigan, MD

Valerie A E Hale, MD

Jeffrey Kern, MD

Elizabeth Klopper, MPH, MMSc, PA-C

Tilman L. Koelsch, MD

David A. Lynch, MB

John D. Mitchell, MD

Katherine Rosen, RN, MSN, ANP-C

Shawn D. Teague, MD, FNASCI, FACR
---
Reasons to Choose National Jewish Health
The leading respiratory hospital in the nation and the only one devoted fully to the treatment of respiratory and related illnesses
Ranked #1 or #2 in Pulmonology by U.S. News & World Report for 26 consecutive years
Ranked in the top 5% of hospitals in the nation by HCAHPS
Physicians consistently recognized among the best in the nation by multiple services, including Best Doctors in America and Castle Connolly
Among the top 6% of organizations funded for research by the NIH, providing patients access to hundreds of active clinical trials
124-year history of focus on care, research and education serving patients from around the world with lung, heart, immune and related disorders
Make an Appointment