---
Genetics and Genomic of Pulmonary Fibrosis
Candidate genes that are identified using genetics and genomic approaches in humans are examined for their functional role in pulmonary fibrosis using mouse lines with targeted mutations and transgenes, and established mouse models (bleomycin, environmental tobacco smoke, asbestos etc).
---
Genetics of Innate Immunity and Host Defense
One of the goals of the innate immunity project is to identify novel genes involved in innate immunity and consequently determine if polymorphisms in some of these genes regulate the innate immune response to Gram negative sepsis and other microbial infections in humans. Novel genes are identified using genetic mapping (whole genome association and quantitative trait loci mapping) and expression studies in mice and cultured macrophages stimulated with bacterial, viral, and fungal PAMPs. Candidate innate immune genes identified using these approaches are tested functionally by RNA interference in macrophages and in mouse lines with targeted mutations. Polymorphisms in human orthologs of candidate genes are then tested in patient cohorts.
---
Epigenetic Regulation in Asthma
Methylation of CpG islands within regulatory regions of DNA is an important epigenetic mechanism controlling transcriptional activity, with the level of CpG methylation within specific genetic regions being heritable. It has been demonstrated that the concentration of methyl donors in the diet of pregnant agouti mice has transgenerational effects on coat color of the progeny due to altered expression of the agouti gene, a result of methylation of the agouti promoter. Emerging research indicates that epigenetic mechanisms affect the expression of transcription factors that control the lineage of Th1, Th2, and Treg cells.
---
Children's Environmental Health Center (CEHC)
Asthma and other forms of airway disease/illness are the most common chronic illnesses in children.
The environment results in unique combinations of exposures to children that affect lung immunity and consequently alters the risk of developing airway disease.
Environmental models of airway disease provide an ideal opportunity to investigate basic mechanisms involved in the development of childhood airway disease such as the basic immunology and persistence of airway disease.
This theme builds on existing scientific expertise and relationships with community stakeholders and members to ensure a highly interactive program.
The overarching hypothesis that unifies this research program is that lung host defense and lung immunity are dynamic biologically, are affected by ozone and endotoxin, and that this dynamic biology can alter susceptibility to agents known to cause airway disease in children (Figure 3).
We believe that understanding the basic and translational aspects of this hypothesis will provide the scientific rationale to develop primary, secondary and tertiary prevention programs that reduce the morbidity and mortality of childhood airway disease/illneses.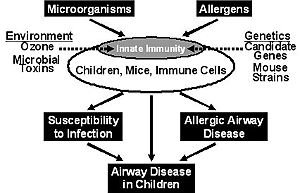 Our Project-Specific Hypotheses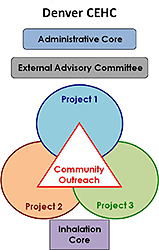 Project 1 : Higher levels of endotoxin exposure cause persistent, problematic asthma and that key environmental (ozone and allergens) and genetic modifiers (endotoxin receptor polymorphisms) contribute to endotoxin susceptibility and pathological asthmatic responses.
Project 2: Ozone exposure in the early postnatal phase alters lung development and modifies the host immune response to early life viral infection and allergen exposure, thereby contributing to the development of reactive airway disease.
Project 3: Expression of toll-like receptors (TLRs) in the lung are influenced by environmental (ozone and/or PAMPs) and genetic factors, and the dynamic expression of TLRs has profound effects on lung host defense and consequently the development of lung infections and allergic airway disease. Community Outreach and Translation Core: This core serves as a forum for dialoguing and exchanging information among investigators, practitioners, and community stakeholders regarding the activities of the Children's Health and Environment Center. The overarching hypothesis of this core is that a community-based outreach program can effectively educate children to modify environmental exposures that cause respiratory illnesses and associated morbidity.