Alumnus Uses Training on Humanitarian Mission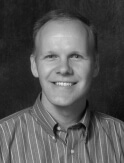 In June 2007, Richard Hendershot, MD, of Salt Lake City, Utah, participated in a 10-day humanitarian trip to El Salvador as a Major in the Colorado Air National Guard. On his first day in Izalco, El Salvador, he met Evelyn, a two-and-a-half year-old suffering from severe allergic eczema. Visibly, she looked like a burn victim. Due to lack of funds for treatment and poor access to qualified specialists, she's suffered with this condition for most of her short life, including several hospitalizations, and various medications and therapies that had not improved her condition.
Effective Treatment Learned During Training
Dr. Hendershot credits his training at National Jewish Health for helping him correctly diagnose Evelyn's condition and successfully treating her over those 10 days. He ordered extra medication from the United States for her as well as trained her parents and local physicians in the most effective treatment methods. One local physician who has followed Evelyn's case said that one week of Dr. Hendershot's care improved her condition more than anything has in the last two years. She even laughed and smiled—a first in a long time.
"As the sole pediatrician and allergist, I was in charge of pediatrics, allergy, asthma and dermatology," states Dr. Hendershot. "My fellowship training was invaluable in allowing me to serve the people of El Salvador and I cannot overstate how helpful it was. Even if you see these same disease processes, you're never going to see them as far progressed as this. It's more something people take pictures of and then publish them in textbooks," he concludes.
While a fellow at National Jewish Health, Dr. Hendershot researched severe asthma with Chlamydia pneumoniae as a risk factor for severe pediatric asthma. He trained with Drs. Stan Szefler and Marzena Krawiec.
"Dr. Hendershot clearly benefited from his exposure to treating some of the most difficult atopic dermatitis, food allergy and asthma patients seen at National Jewish Health from all over the United States during his two year training here. It was great to hear that this experience could be applied to the great humanitarian effort of this U.S. military group. I really enjoyed hearing about his experience and the pride he took in helping this needy group of people in El Salvador," stated Szefler, Head, Pediatric Clinical Pharmacology.
Humanitarian Missions
This was Dr. Hendershot's second humanitarian mission with the National Guard. These missions provide humanitarian assistance, expose physicians to medical conditions in the developing world and prepare them for real-life medical situations the National Guard may be called upon to serve. The most common problems physicians saw in El Salvador were related to malnutrition and parasites due to impure water and improperly cooked food. In 10 days, they saw more than 13,000 patients—30 percent more than projected.
In addition to providing free medical care and medicine, Dr. Hendershot and the other physicians worked with local physicians to help patients understand and work through the local medical system. They were able to help many patients overcome their fears of that system.